"Don't Let the Pearls Fool You." On Being the Only Lady at the Poker Table
Helen Ellis Talks Feminine Etiquette, Playing Coy, and Winning
Here's what I've been called at poker tables: the Librarian, the Velvet Terrorist, the Giggling Assassin; a beast; a bully; a bully in a pearl bracelet; a nice-looking lady who plays cards like an Internet kid; that actress who played Charlie Sheen's stalker-next-door on Two and a Half Men.
In Atlantic City, a guy said: "I've known some ladies, but you're like a lady lady."
In Vegas, I was asked: "You're so aggressive, were you ever a man?"
In Atlantic City, a guy said: "You got that candy, but you don't need to put that candy in our faces to play good poker. You keep that candy under your sweater."
In Vegas: "Ma'am, do you always smile at people when you screw 'em?"
Me: "Don't you like being smiled at while you're being screwed?"
In Biloxi: "Ma'am, are you a mom?"
Me: "No."
Him: "Dang, I thought you might have some Kleenex in your purse."
If I did have Kleenex in my purse, I wouldn't share it.
To take people's money, I need every edge.
Here's what's in my poker purse: four peppermints; two Advil; ten one-dollar bills to tip cocktail waitress; Aquaphor for my cuticles; lipstick, lip gloss, and compact; driver's license, Amex, and casino player's card; two bullets (slang for entry fee and a reentry fee); and two OB tampons for when I'm menstruating.
Here's what I've been called at poker tables: the Librarian, the Velvet Terrorist, the Giggling Assassin; a beast; a bully; a bully in a pearl bracelet.
Poker flashback: once I was so focused on a tournament clock, I pulled an OB tampon from my purse and unwrapped it like a peppermint. I don't think anybody noticed. I realized my mistake before I put it in my mouth.
*
I started going to casinos with Papa on my 21st birthday. Before I got up the nerve to sit at a poker table myself, I sat behind him for hours like a stenographer, upright with my hands in my lap, my chair at an angle so I could see his cards. Sometimes, other players would look at my face instead of Papa's to tell if he was bluffing, but I was as unreadable as a boiled braille Bible.
For close to 30 years of playing cards, I've worn constrictive clothes so I can't slouch: shirt dresses and skirts, button-downs and boatnecks, cigarette pants and heels. I wore quadruple clip bras and lace panties because my underwear is my armor. I wore all black because I myself am a pop of color.
I wore pearls. A single bracelet on my betting arm because I liked the way it looked on my wrist, my hand like a mannequin's tipped with red nails. I liked the way those pearls rolled against my skin with each action. Pearls made folding feel good. They gave me a sense of composure. I was prim. And in that primness, I was powerful. I looked like a 1950s TV housewife who'd crawled Ring-style out of an episode of Father Knows Best.
Poker is still very much a man's world. Only 4 percent of players are women. And most of those women look like they're trying to look like one of the boys, because if they look like one of the boys, they'll be treated like one of the boys.
My friend Patti says, "Helen, you like to play with the boys, but you've never been one of the boys."
I blame it on the bowl cut I had through the fourth grade. Ever since I got my first perm, I knew there was strength in that little bit of extra effort. That's right, gentlemen, scoot over and watch your language, there's a lady at the poker table.
Some women eat, pray, love. I bet, raise, shove. Only one person wasn't fooled by my housewife persona.
Poker flashback: at my first World Series of Poker, I won my entry fee into a field of mostly pros. I wore a magenta Diane von Furstenberg dress and madras plaid espadrilles. The Rio casino was so cold my nipples could cut the cards. A Japanese pro, who did not speak English, offered me his coat, which I thanked him for and draped over my shoulders. Then I called down a queen-high board with jacks and value bet ace-king when there was a possible boat.
On a break, World Poker Tour winner Kevin "BeLOWaBOVe" Saul asked, "Lady, who are you?"
I said, "I'm a housewife."
And he said, "Bullshit!"
We have been friendly ever since. He calls me his favorite housewife, and because he continues to cheer me on and help me with my game, I call him my Poker Yoda.
Poker rooms are filled with men who look like they've spent a weekend watching a Star Wars marathon. The look is very Chuck E. Cheese lost-and-found box: sweatshirts, flip-flops, cargo shorts, baggy jeans. You'll see more crack in a poker room than in an attic full of porcelain dolls.
Here's how to spot a poker pro: hoodie and a backpack. Want to know what's in that backpack? Energy bars, Red Bull, phone charger, and cash.
Players would look at my face instead of Papa's to tell if he was bluffing, but I was as unreadable as a boiled braille Bible.
Poker flashback: at a WSOP, my husband saw a guy open his backpack and transfer $100,000 into the backpack of another player. Nobody batted an eye. Those 5K bricks might as well have been Altoids. On second thought, Altoids would have pulled focus. Who needs 20 tins of breath mints? A degenerate, that's who.
Also beware retirees in windbreakers with WSOP circuit rings. They smell like Old Spice but bite like a bottle of hot sauce with a label of a gator on the toilet.
Poker flashback: eight of nine old men at a Tunica poker table lifted their shirts to show me their "zippers"—aka open-heart-surgery scalpel scars that they claimed ran from their necks to their nuts.
Papa wears ornate belt buckles, turquoise rings, and tinted bifocals. My husband wears a cardigan. Our friend Douglas wears funny T-shirts. He has one that reads same shirt, different day and one that reads i love bullfights on acid, which is a line from Caddyshack.
Douglas says, "I had one that said today is the greatest day ever, but I lost so much money wearing it I literally ripped it up and threw it in the garbage."
This I totally get because, yes, there is such a thing as a cursed Tory Burch sweater.
*
I've been trying out a new look because I'm not a housewife anymore. I'm a writer. There, I said it. This will be my third book published in six years. When I went on a book tour last year, I hired a housekeeper. With age comes a letting go. Of lifelong rules and regulations. I'm unbridled, I tell you. You know, less June Cleaver corseted in her kitchen, more Carole King on a windowsill on her Tapestry album.
I'm not as prim as I used to be. And it shows.
I dubbed the 2019 WSOP "My Summer of Balloon Sleeves." I have so many peasant blouses you'd think I was trading my Upper East Side two-bedroom apartment for a van to follow the Grateful Dead. When I walk into a poker room, I billow. Nothing says card sharp like delicate embroidery.
I wear Papa's leather belt from the 1960s that I took from his last garage sale. The belt is brown and etched with floral vines. Thanks to the return of high waists, it fits. It makes me feel hippie without being dippy.
I wear color now. I came in 11th out of 300 entries at my last no-limit hold'em event, the "Little Monster" at the Beau Rivage Million Dollar Heater, wearing a sweater as yellow as a 25K tournament chip.
A floor manager said, "Ma'am, that is your color. Not everyone can wear that color. My mama was into auras and all that. People tell me if I ever quit this job I could run a department store."
I said, "Or be a personal stylist."
I bought a pair of jeans with torn knees and a faded rainbow on the butt. I bought beaded gemstone stretch bracelets in a metaphysical shop in New Orleans. It took an hour to pick them out because the quartz means different things. One's pink, one's purple, one's marbled. Creativity, Strength, Lack of Inhibition. Or are they Gratitude, Passion, and Mindful Tidiness? I do not know. I can't remember what they're supposed to draw out of me. Same goes for my plastic mood ring that my friend Paige gave me on one of our grown-ass ladies trips. I lost the chart for what means what, but I feel like a sorceress when that stone turns the same bright green as the poker table felt.
But not everyone appreciates my new table image.
Poker flashback: In Biloxi, a dealer said, "Somebody stinks. And I mean, it's awful."
I was sitting in the one-seat, directly to the left of the dealer, and thought, Is it me? Because I've always thought Is it me? Ever since my eighth-grade gym teacher dismissed us after a personal hygiene lecture, at which she'd drilled it home that it was perfectly fine to sit on public toilet seats unless we had open wounds on our thighs or butt cheeks, and if we did have open wounds on our thighs or butt cheeks we shouldn't be spreading our business on public toilet seats to begin with.
The gym teacher shouted, "Change out! And while you're at it, somebody needs to change her sanitary napkin because it stinks!"
I wasn't even on my period, but I thought, Is it me?
It's never me.
But that day at that poker table it was.
The dealer leaned into my personal space. And he sniffed.
Now, hold up in your reading for a second. Let me repeat and expound: a man I had never met before, a professional doing his job at his place of work in front of nine male players, leaned in and took a full Silence of the Lambs Anthony-Hopkins-through-the-psych-ward-looking-glass whiff of me.
He said, "Jesus Christ, I thought it was the Pakistani in the ten-seat, but it's you."
Oh yes, that is exactly what he said.
Then he said, "What are you wearing?"
I said, "Lavender."
To be specific it was a blend of essential oils, called something like Weeping Warrior, that I'd bought from an Instagram herbalist: lavender, sage, bergamot, and other essentials that a lady like Ruth Gordon grows on her kitchen windowsill in Rosemary's Baby and then rings round her neck to harness the power of Satan. Or in my case, PMS. The blend was supposed to provide a soothing effect during a woman's menstrual cycle. The blend was not doing its job.
The dealer pulled his uniform shirt collar up over his nose.
I said, "There's nothing I can do about it."
He said, "Well, you stink."
I was so humiliated, I wanted to cry. But unless you're Matt Affleck losing with aces to jacks, and thereby your shot at the final table of the 2010 World Series of Poker, and then being hounded by ESPN cameras all the way to the men's room on national TV, there's no crying in poker.
I kept playing.
And when my aces were cracked by eight-ten off-suit, I said, "Nice hand."
Side note: Nice hand is the poker player's equivalent to a southern lady's Bless your heart. It can mean anything from "You played your cards well" to what I meant then: "Sir, you've got a lucky horseshoe so far up yer ass, you couldn't find it with a search warrant."
There's a saying at the poker table: If you can't figure out who the worst player is in the first thirty minutes, it's you.
But it's never me. Don't let the pearls or patchouli fool you.
__________________________________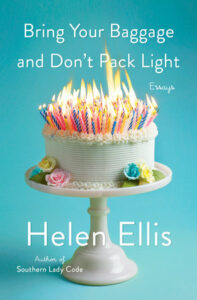 From Bring Your Baggage and Don't Pack Light. Copyright © 2021 by Helen Ellis. Published by arrangement with Doubleday, an imprint of The Knopf Doubleday Group, a division of Penguin Random House LLC.
---