Aside from his scintillating prose, deadpan wit, and fearless approach to dealing with some of the darkest corners of American history, Colson Whitehead's literary career has been marked by an audacious versatility. Though many of his works feature some element of the outlandish or fantastical, no two are alike. Over a twenty-year writing career, Whitehead has produced a SFF racial allegory (The Intuitionist), a post-apocalyptic zombie story (Zone One), an autobiographical coming-of-age comedy (Sag Harbor), an exploration of 90s manhood though folkloric biography (John Henry Days), a small town satire of marketing culture (Apex Hides the Hurt), a darkly imaginative epic of slavery (The Underground Railroad), and a harrowing work of realist fiction (The Nickel Boys)—not to mention a history of Gotham (The Colossus of New York) and a memoir about poker playing (The Noble Hustle).
If you haven't done yourself of reading the (double!) Pulitzer Prize-winning novelist's work—who turns fifty-one today—here's where you should start.
The Intuitionist (1999)
Whitehead's high-concept, noirish debut novel tells the story of Lila Mae Watson, the first black female elevator inspector in the history of the Department of Elevator Inspectors, who gets sucked into a mystery involving the department's two warring factions. 
"… a strikingly original and polished début … seizes upon an unsung wonder in our midst, the elevator, and sings its history, its technology, its romance, adding to the novelist's solid research a scintillating pinch of sci-fi fantasy … Whitehead unfolds his raddled undercity with the terse poetry and numinous dignity of the early Malamud. The prose is a gas, bubbly, clean, often funny in its bursts of mock-mandarin social exposition … Whitehead can try too hard, but generally his writing does what writing should do; it refreshes our sense of the world."
–John Updike (The New Yorker)
"… marks the arrival of a dazzling new voice in American fiction. Original, smart, magical—Whitehead's achievement ranks alongside Catch-22, V., The Bluest Eye and other groundbreaking first novels. And the comparison to these three books is apt: Whitehead shares Heller's sense of the absurd, Pynchon's operatic expansiveness and Morrison's deconstruction of race and racism … There are no false notes, no sophomoric stumbles or indulgences. Just lucid, infectious writing, compelling characters and situations, even-handed social commentary and a gripping story … Whitehead is the real thing: a writer of humor, imaginative prowess and fierce intelligence who understands both the highbrow novel of ideas and the lowbrow novel of suspense … Most impressive of all, Whitehead creates a completely believable fictional universe that's frighteningly familiar yet also slightly surreal and otherworldly … Whitehead has emerged as one of the most promising novelists of his generation."
–Andrew Roe (The San Francisco Chronicle)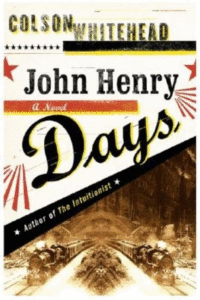 John Henry Days (2001)
An imaginative retelling of 19th century folkloric figure of John Henry, a black railroad laborer endowed with superhuman strength. Whitehead juxtaposes Henry's narrative with that of a disaffected, middle-aged black journalist who travels to West Virginia to cover a celebration of the legendary man.
"Chief among the pleasures of John Henry Days is the zest with which Whitehead nails the world of pop-commerce publicity and its paid disseminators … John Henry Days is funny and wise and sumptuously written, but it's only rarely a page turner. There is very little story to speak of beyond the pageant, the scripted performance, of the eponymous event … Whitehead writes compellingly about John Henry himself, about the first black folklorist to investigate his legend and about a midcentury blues singer who is induced, via drink and dollars, to cut a recording of 'John Henry' … Unfortunately, in his pursuit of the exhaustive, Whitehead also serves up an unremarkable bio of Paul Robeson … Just when you're about to give up on the book, though, you hit another of Whitehead's outstanding comic riffs … Again and again, you hit passages of wry and largehearted descriptive prose that are the clearest measure of Whitehead's achievement and promise as a writer … Whitehead manages, what's more, to wrest from the book's essentially static structure a lovely, satisfying ending. John Henry Days may end up haunting you the way 'The Ballad of John Henry' haunts its pages. The novel is an aleatory fugue on the difficulty of manhood in an age that measures a man by what he buys or what he wears, not by his labor, not even by his human decency."
–Jonathan Franzen (The New York Times Book Review)
"… an inventive, funny, and bittersweet inquiry into the significance of folk hero John Henry … Masterfully composed and full of myth and magic, Whitehead's great American novel considers such dualities as nature and civilization, legend and history, black and white, and altruism and greed, while deftly skewering the absurdities of the information age."
–Donna Seaman (Booklist)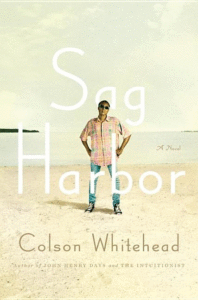 Sag Harbor (2009)
In this hilarious, autobiographical coming-of-age novel, Whitehead—using the perpetual mortification of teenage existence and the desperate quest for reinvention—explores racial and class identity, illustrating the complex rhythms of the adult world.
"Whitehead proves himself, among many other things, a poet of the American summer and its aspirations … in Whitehead's hands [the setting], reeking of burning sucrose, is the perfect theatre for every anxiety of puberty: monetary, digestive, racial, sexual and criminal … this remarkable novel goes far beyond gentle musings on awkward youth … In this elegiac, spirited prose there are echoes of Melville, one of the first to write about Sag … Whitehead's language here is relaxed and playful, a tribute to youth. But Ben's take on life is a fond, proud, nervy shout, and a triumph of rueful reason."
–Todd McEwen (The Guardian)
"Now Kanye, Questlove, Santigold, Zadie Smith and Colson Whitehead can do blackness their way without fear of being branded pseudo or incognegro … Whitehead's delicious language and sarcastic, clever voice fit this teenager who's slowly constructing himself … Still, with the story meandering like a teenager's attention, the book feels more like a memoir than a traditional plot-driven novel. It's easy to come away thinking not much happens—Whitehead has said as much—but Sag Harbor mirrors life, which is also plotless … It's time for us to hear more post-black stories like [Benji's]."
–Touré (The New York Times Book Review)
Zone One (2011)
This tribute to the horror and sci-fi Whitehead devoured in his youth, this tender and thoughtful "literary zombie novel" concerns a group of Americans attempting to resettle Manhattan three years after a zombie pandemic has struck the planet.
"…should have known that Whitehead, the 41-year-old MacArthur Foundation 'genius,' wouldn't do the zombie walk in lock step with George Romero, but what's most surprising about Zone Oneis how subtly he reanimates those old body parts for a post-9/11 world … Readers who wouldn't ordinarily creep into a novel festooned with putrid flesh might be lured by this certifiably hip writer who can spin gore into macabre poetry … That grim humor slithers through most of this novel, along with touches of Whitehead's topical satire… Mark's soul-weariness infects the tone and pace of the novel, too, which offers more eulogy than suspense … Everything comes to life in this perfectly paced, horrific, 40-page finale shot through with grim comedy and desolate wisdom about the modern age in all its poisonous, contaminating rage."
–Ron Charles (The Washington Post)
"Idea versus performance, though, can be a useful way of overcoming reading prejudices, particularly in a book as boundary-blurring as Zone One by Colson Whitehead …Whitehead isn't your usual zombie singer. He never overburdens the zombies with allegory or omits the requisite gore, but he does what all artists do: he observes, closely, and reports back what he sees …does have a tendency to overwrite—sentences sometimes grow so rhythmical, you fail to take in their actual meaning as the words wash over you—but he achieves a kind of miracle of tone. A fragile hope permeates these pages, one so painful and tender, it's heartbreaking."
–Patrick Ness (The Guardian)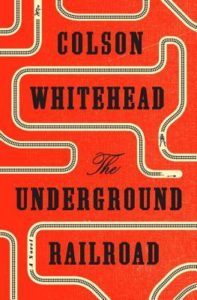 The Underground Railroad (2016)
Whitehead's all-conquering magnum opus, this chronicle of a young slave's travails as she makes a desperate bid for freedom in an imagined antebellum South where the Underground Railroad is no metaphor, is arguably the most celebrated novel of the 21st century. 
"…a potent, almost hallucinatory novel that leaves the reader with a devastating understanding of the terrible human costs of slavery. It possesses the chilling matter-of-fact power of the slave narratives collected by the Federal Writers' Project in the 1930s, with echoes of Toni Morrison's Beloved, Victor Hugo's Les Misérables, Ralph Ellison's Invisible Man, and brush strokes borrowed from Jorge Luis Borges, Franz Kafka and Jonathan Swift … [Whitehead] has told a story essential to our understanding of the American past and the American present."
–Michiko Kakutani (The New York Times)
"The Underground Railroad isn't the modern slave narrative it first appears to be. It is something grander and more piercing, a dazzling antebellum anti-myth in which the fugitive's search for freedom—now so marketable and familiar—becomes a kind of Trojan horse. Crouched within it are the never-ending nightmares of slavery's aftermath: the bloody disappointments, usually sidelined by film and fiction, that took place between the Civil War and civil rights. In Whitehead's hands the runaway's all-American story—grit, struggle, reward—becomes instead a grim Voltairean odyssey, a subterranean journey through the uncharted epochs of unfreedom."
–Julian Lucas (The New York Review of Books)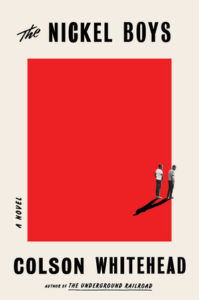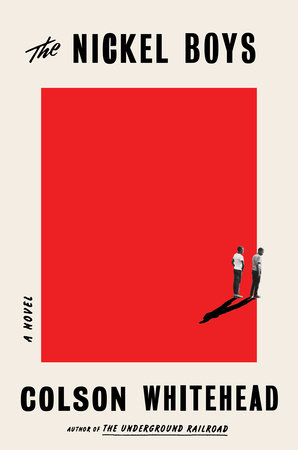 The Nickel Boys (2019)
A taut, brutal tale of two black teenage boys—one idealistic, the other skeptical—trying to survive the horrors of a Jim Crow-era reform school (based on a real-life Floridian institution), The Nickel Boys was released to rapturous reviews and won Whitehead his second Pulitzer Prize.
"The Nickel Boys—a tense, nervy performance—is even more rigorously controlled than its predecessor. The narration is disciplined and the sentences plain and sturdy, oars cutting into water. Every chapter hits its marks. Even if your prose taste runs to curlicue and adornment (mine does), the restraint feels significant. Whitehead comports himself with gravity and care, the steward of painful, suppressed histories; his choices on the page can feel as much ethical as aesthetic. The ordinary language, the clear pane of his prose, lets the stories speak for themselves … while Whitehead is frank about the barbarity his characters endure, there are few scenes of explicit violence—most of it happens offstage. And none of the violence is exaggerated. A reverence for the victims can be detected in this refusal to sensationalize their suffering … Whitehead has written novels of horror and apocalypse; nothing touches the grimness of the real stories he conveys here, of a cinder-block building that still stands, a school that was closed only eight years ago. Its starkness and irresolution recalls the historian Yosef Hayim Yerushalmi's point that the opposite of forgetting is not merely remembrance. It is justice."
–Parul Sehgal (The New York Times)
"Not a moment is wasted, and for someone who writes as vividly as Whitehead, there's also a graceful economy here. He uses words carefully, as if he doesn't want them to get in the way of the truths he's excavating … Whitehead evokes the current-day madness of children kept in squalid conditions, of young ones lost in a system that cares nothing about them, and a government more concerned with incarceration than compassion. Whitehead captures how humanity is stripped away … Whitehead, whose last novel, The Underground Railroad, won the Pulitzer Prize for fiction, has again found dark inspiration in an overlooked corner of our nation's history … If God exists, he had long ago turned his back on such forsaken places. In The Nickel Boys, Whitehead's novel won't allow us to do the same to the kids who survived, or those finally freed from an unmarked graveyard that could hold its silence no more."
–Renée Graham (The Boston Globe)