Doesn't Everyone Reread Their Favorite Books All the Time?
Natalie Jenner on Perpetually Returning to
Austen, Wharton, and More
Recently someone asked me if I ever reread books.
I was a little taken aback, because I do, and often, and I always assumed everyone else did too. It's why Marie Kondo will never have her way with my shelves, physical spaces slouching under the weight of all the books I can't bear to ever part with, or forget.
But it also got me thinking: why do we reread? Why, when we know exactly what is going to happen and how it all will end? And which books do most of us turn to again and again?
First for me is voice. Certain authorial voices calm me down, like a child listening to its parent. Whenever I read Jane Austen or Edith Wharton, something about their syntax soothes me in the same way the measured, marching tone of a cantata by Bach does. Austen and Wharton's matchless gifts for prose has run deep grooves into my brain upon every reread, and each time I open their books I get more satisfaction with less effort, until it feels like their voices and my own have merged. Lines like Wharton's "they all lived in a kind of hieroglyphic world" or Austen's "I am half agony, half hope" are as much music to me as anything I have ever heard.
Second, the seasons. I read To Kill a Mockingbird every summer, when many of its key events take place. And each time I race forward to meet the line about ladies wilting in the heat like "soft teacakes with frostings of sweat and sweet talcum." It doesn't matter that I already know that Boo Radley is hiding behind the door in Jem's bedroom, or that poor Tom Robinson will end up convicted, escaped, and dead.
I reread Harper Lee's classic each summer because it reminds me of all the past summers of my life, the sunscreen-stained paperbacks, the cartwheels on the lawn as a child, the readings by the flashlight long into the night. The wonderful, transgressive, and optimistic years when neighborhood friendships turned on a chain-link boundary and a hole in the fence.
I reread to visit my old friends like Isabel Archer, Elizabeth Bennet, and Holden Caulfield. I miss them—miss their superegos, their relatable pride, their all-too-human folly.
And each Christmas I reread A Child's Christmas in Wales just to luxuriate in the endless descriptions of useless presents—"bags of moist and many-colored jelly babies and a folded flag and a false nose and a tram-conductor's cap"—and of candy—the "hardboileds, toffee, fudge and allsorts…humbugs, glaciers, marzipan and butterwelsh"—and of all the aunts and uncles doing exactly what they have always done on this most festive of days, year after year. Nearly 70 years later, Dylan Thomas's book captures the anticipatory essence of the day so well that the book itself has fused with Christmas in my mind, until it is anticipation itself.
Third, I reread to visit my old friends like Isabel Archer, Elizabeth Bennet, and Holden Caulfield. I miss them—miss their superegos, their relatable pride, their all-too-human folly. I especially miss the characters that, despite it all, win: they get the guy, they get the gold, they get the keys to the city.
And I even miss the near-disasters: every time Mr. Darcy in Pride and Prejudice starts his first proposal scene, I alternate between horror and wanting to shake him silly to make him stop. Or when Anne of Green Gables mistakenly serves her new "bosom friend" Diana red currant wine instead of raspberry cordial—and gets her drunk. Usually I can't bear to witness mortification of any kind, but rereading is the one time I allow myself to get close to social humiliation in total safety, knowing it will all turn out in the end.
I am also a sucker for a good plot, and tend to race through the best of them. But when I reread, I catch glimpses of the man behind the curtain, pulling all the mechanical levers up and down. As a result, I can now pay more attention to everything else: the hidden Easter eggs in Austen's Emma, the sheer poetry of The Great Gatsby, the pain behind The Bell Jar, the isolation of Villette.
I rely on all my old favorites as touchstones for my own essential self.
Emma, in particular, is genius for revealing its hidden secrets so gradually. I swear Austen is up there somewhere rewriting the darn thing. How else could one miss the importance of a sweaty brow upon arrival, a haircut during the delivery of a piano, or the leisurely fixing of a pair of spectacles, to uncovering the hidden engagement at its core?
But ultimately, I'd like to think we reread in order to recover a sense of the distance traveled between our younger and present selves, and how—despite the passage of time—we can be just as thrilled, moved, and satisfied by the very same things now as then. I rely on all my old favorites as touchstones for my own essential self—every time Father Ralph leaves Meggie Cleary on Matlock Island in The Thorn Birds, or Mr. Rochester finally comes clean with Jane Eyre and says he feels as if there is a little string running straight from his heart to hers, I feel the same romantic thrill that I did when I was 14, and I "own" the romanticism that has been my own folly, and guide, throughout my life.
Maybe I should bemoan the fact that my adolescent reactions haven't changed at all. Or maybe this simply means that I still have the same capacity for hope, and faith, in life's thrills. Lately I think we all need to know that more than ever. And so we read on, like the boats against the current in the wondrous last line of The Great Gatsby. Rereading allows us to be "borne back ceaselessly into the past," again and again and again, with our favorite books as the compass to both our pasts and futures, and to our own hidden worlds of fear and desire.
__________________________________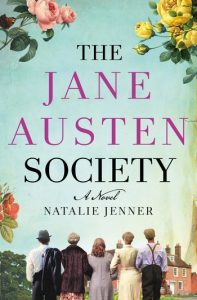 Natalie Jenner's debut novel, The Jane Austen Society, is out now from St. Martin's Press.
---