Discovering My Jewish Family Member's Star Badge
On the Material Legacy of the Holocaust
It was a morning like many others, except that the elusive spring sun shone in abundance on London. I have lived in Britain for the best part of two decades. That day I had followed my usual routine: taken out our lazy basset hound and feisty terrier, overseen my children's breakfast, battled to ensure that teeth were brushed and school uniforms donned, homework packed into the unicorn-adorned backpacks. 
I walked my children to their school down the sycamore- and cherry-tree-lined lanes of our neighborhood. I chatted about exams and play dates with other parents at the school gates, picked up a black coffee at the Italian cafe by the underground station, and wandered into the park, tugged along by our eager dogs, both straining to chase squirrels and sniff out evidence of nocturnal happenings. 
On my return, I found the postman approaching our house. He greeted me and handed over a small bundle of letters. I enjoy getting old-fashioned paper letters. There is a moment of connection in receiving an object, a physical link, that is lacking in the virtual instantaneity of email. I like to hold something that someone else has touched, unsealing the envelope that they have sealed, feeling the paper, reading the words they have formed in haste or with care.
There is a ritual moment of anticipation and relish, an appreciation of the tiny decisions that led to the words reaching their destination in their own way. The color of the ink, the choice of stationery. I always look for the handwritten envelopes first and leave the tedious bills and notices until the end. 
There was only one handwritten envelope that day among a sheaf of everyday commercial correspondence and I recognized my cousin Madla's even and rounded script. 
At that time, I had already been researching my family history for a few years, with a view to collating an account of some sort. My early inquiries had naturally included a request of my cousin Madla for any relevant stories or papers to add to the materials I was assembling from other sources. She had already sent me the box with the letters and Lotar's album, which her mother had kept after he had died, but she seemed to have found some more loose bits and pieces here and there in unopened desk drawers and forgotten boxes in the attic; she had mentioned in an email that she was sending them to me. Madla and her husband, a retired immunologist, are keen sailors, and she had said she would post them before embarking on one of their expeditions. I had assumed she meant more photographs or papers, but the envelope felt oddly bulky. 
Reminiscent of the dress templates for my daughters' paper dolls, around each star's border were small lines showing where the user was to cut.
As I carried it up the steps to the front door, I squeezed it. It contained something other than papers, something soft. I went inside and sat down at my desk by the window and moved the computer back to make room. I opened the envelope carefully and pulled out a disk and a postcard. I knew the disk would contain scans of papers, since much of the material, in particular the older letters, was too fragile to post.
The picture on the postcard was a melee of blues, ochers, and greens, an oil painting of a seashore by Edvard Munch. As I took up the card to read it, a piece of fabric fell from the envelope to the floor. 
As I write, I recall that I was struck by the brutality of the color. I did not make a sound or catch my breath, but I touched the fabric, and instead of bringing it up to my desk, I felt the need to move from the chair and take it with me down to the floor. There I sat cross-legged, in the spring light that poured through the windows. I stretched out the crumpled fabric so I could read the black words that I knew were there . 
Jude. Jude. Jude. 
I counted ten stars. All in rows, and within each was printed this word in a loping black script. Two sides of the cloth were straight and the rest jagged, angled where stars had been scissored out. 
The thick weave of the cloth and the dissonant color were unexpected. The fabric is thickly woven, presumably to be more durable. The color is a very dark yellow, almost orange. It is the most strident and rude shade of yellow imaginable. It made me think of the sulfur yellow of New York City cabs. Obvious, glaring. Unmissable against any background, noticeable in any light. There were two pieces of this coarse fabric in the envelope, each covered in the stars bearing the stark words.
Reminiscent of the dress templates for my daughters' paper dolls, around each star's border were small lines showing where the user was to cut. Someone had taken the time to design this, to make sure that whoever excised them had enough fabric left around the edges to be able to stitch them on, to make it easier for the designated wearers to label themselves for identification, exclusion, deportation, and far worse. 
The shade of these stars was harrowing in its undeniability, its ugliness and intensity. I held the creased cloth, the same that my grandparents, uncle, and father had held, and realized that I too would have had to cut along those dotted lines and wear a star. As would my children. I would have had to sew one of these stars above the red unicorn on each of their school jumpers. 
On September 1st, 1941, all Jews in the Protectorate of Bohemia and Moravia were compelled by decree to identify themselves with such stars. A fortnight later, the first batches were distributed, and all Jews were given three days to comply with the order. They were expected to wear a star whenever they were outside their home. They were warned that failure to bear the mark could result in a fine, a beating, imprisonment, or death by shooting . 
As trustee, Otto would have been tasked with handing out the stars in Libcice. He would have had to collect the money, as the stars cost a crown each. The majority ofJewish families were not allowed to work and were living in miserable conditions, but they were still made to pay for the stars. 
Lotar himself wrote later about the stars in a letter to his uncle in the US: 
Then came a further landmark in our lives; ignominious labeling with a yellow star. This was such a ghastly humiliation that many took their own lives rather than move amongst others differentiated and disgraced in this way. It gave every blackguard an opportunity to spit, slap or kick you. And it was as if the German SS men had found a new sport, that of throwing the Jew out of the moving tram.
They would watch and laugh and wait to see whether the poor wretch would break a rib or an arm or a leg. The worse the break the louder the laugh. It was a prelude to what would come a month later in October 1941, the transports. 
Apparently, the public labeling also fostered further anti-Nazi sentiment in the Protectorate. Some Czechs tipped their hats at Jews with the insignia, a sign of solidarity with the Jews and an open demonstration of defiance to the German invaders. These gestures of rebellion were sufficient to ensure that Nazis wasted no time in passing another law that any sign of deference to a Jew was henceforward considered a crime. 
Jews had been prohibited from leaving their place of residence since 1940.
Initially, it struck me as strange that anyone would choose to keep this cloth. Then I realized that pieces like these had been stored in cupboards and packed in boxes and that those who survived had seldom opened them again. How could they bear to? Over 70 years on, even I, an inhabitant of a different world, could scarcely stand holding the thing. 
The box that held the crumpled stars had also contained a pipe and a metal ring. Madia later told me that her father had shown them to her when she was young, but she had never seen the stars again until she found them, a few days before sending them to me. 
I try repeatedly, but I cannot picture it. Not in color, not in shades of gray. Otto, Hans, Ella, and Lotar—all with their yellow stars. I have very few photographs from this time, and although they would have had to wear them, the stars cannot be seen. They would certainly all have been forced to wear them outside their home, at work, as they traveled.
Ella would have had to wear one each time she left the house in Libcice. If she had not worn it, she would have been unable to run errands and would have had to stop her riverside strolls. Lotar would have had to wear one as he walked around Prague, to his job and back. 
Jews had been prohibited from leaving their place of residence since 1940, but Hans, Lotar, and Otto had obtained permits that allowed them to travel on the public transport system to work at Montana. A document issued in January 1941 is addressed to Becker, the despotic Nazi-appointed head of the family company.
It is a permit, issued by the office of the senior Nazi representative for the Protectorate, the Reich Protector, allowing the Jews Otto Israel Neumann and Lotar Israel Neumann of Libcice to travel by train to work. Though these Jews must be replaced as soon as possible by Aryan workers. 
Every morning beginning in September 1941, Otto and his two sons would have taken the train and the tram, and then walked in the gray commuter throng, with their strident yellow stars, the size of a fist, sewn onto their coats just above their hearts. 
__________________________________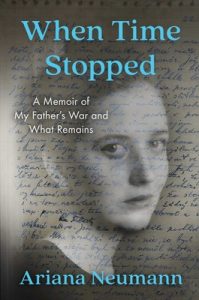 Excerpted from When Time Stopped by Ariana Neumann. Copyright © 2020 by Ariana Neumann. Reprinted with permission of Scribner, a Division of Simon & Schuster, Inc.
---