On the Digital Night Shift: Training a Bot Named Carey
Lydia Paar: The Human Face Behind the Chat
During the day, four days a week, I go to my local community college and tutor human students in the mysteries of the English language. At night I train bots. Rather, I train a single bot, just one, working remotely to parse messages with it. To comply with our company NDA, I'll call this bot "Carey." I work the late shift because Carey never sleeps, and she needs supervision even after I sign her over to the next scheduled trainer. She doesn't sleep, have a body, or get paid, but she has other human qualities: a veneer of gender, an affinity for exclamation points, and a memory far better than mine. She answers client questions by chat at a speed I'd be unable to mimic, which is why she was created. I can't tell you what our products are: suffice it to say that they're necessary.
Most people I mention this night job to tell me I'm training the bot to replace me. Humans, I've learned, can be obsessively fearful of entities that pose no real threat to us, like zombies and vampires—which don't exist—or robots—which haven't actually ever done anything we haven't programmed them to do. I joke back that maybe bots should replace us, and not just at work. My husband and I live in one of the most violent cities in America, and we can see that it's people ourselves—not bots—that cause harm: countless robberies, territorial drug disputes, police shootings. Thirteen children gunned down, drive-by-method, in north city early last month. Last week, another still-at-large suspect put a bullet through the neck of a random café patron where I sometimes sit to train Carey. Even just last night, in a hold-up at a nearby south city dive bar, the patron being robbed lit a cigarette in the middle of it, so unsurprised was he.
I tend to work away from home, when I can, in coffee shops and drinking spots deemed to exist in safe places. The brick house Tim and I rent in south St. Louis is a spacious, old German-built fortress. Sturdy storm-proof walls. Gracefully rounded doorways. A deep, leaky basement below lacquered wood floors for Tim's old-style rock band equipment. The small, muddy backyard for Bruno the Dog. But past this vague pleasantness, in the mostly empty shed at the end of this yard, the shed that won't lock, one day appeared a spike-collared pit bull, sitting quietly when Tim went in for a rake, awaiting an owner who'd never returned. Another day: a dirty mattress, box of sour food, a stash of used needles, and a gas cook stove. Outside our house, you can walk around in our neighborhood, but it isn't recommended after dark. Junkies sometimes tie off in the soft space between our building and the look-alike one next door. Sometimes they jiggle our basement doorknob. Brick is bulletproof mostly, but the swell of front-yard yelling matches carries a tension that can carve itself into a psyche, regardless. The baby-shit aroma of the corner laundromat, glass-sprayed parking lots, quasi-aggressive neighborhood beggars, and seemingly self-replicating yard-litter tempt me to scour for homes farther northward: not too far north, where the homes stand singed and empty and brick has been stolen away to sell to shady contractors, but toward the center strip of posh parks, museums, and schools, where the rent is higher.
I could add in another job to afford that, right? Or pick up more hours teaching/training? Our friends ask why we don't move. If we got our debt down—most of it my student loans—we probably could, yes. Or I could guilt Tim into working the bartending shifts he hates, or take out another loan, and go.
But, I wonder, would it really solve that much in the long run? The friends we see most often (none of them live near)—Tim's bandmates who come to weekly practice—still all seem to have second jobs to pay for their better-located houses: Jorge's a nurse. Kvar, a nano-biologist. Kevin's a librarian. Laura drums for the Air Force each day before coming to our basement band room. Work is as automatic for us all as it is for Carey the bot. Plus, if someone else moved in here, our next-door neighbors, a brother and sister in their mid-forties and fifties, would have to find someone else to drive them to the supermarket. Someone else would have to duck from the nine shots fired by the guy running past the stinky laundromat.
This is the thing people can't seem to get, and I wonder if robots—built by and dependent upon humans, and harboring no illusions of American bootstrap/lone ranger autonomy—someday might: that, despite a suspiciously lazy desire for separateness, every living and nonliving unit of existence (every person, cell, company, computer chip, or sentence) is part of a system. And whatever portions of the system that do not cooperate will remain fragmented, risky, like bullet spray, bright against the night.
My fellow bot-trainers and I appreciate that Carey shields us from ill-mannered humans, and we wish we could return the favor.
One little spot near our house boasts a permanent drink special called the Murder City, referencing the local violence. I walk there now, still in daylight, and order it. The drink is pink and ever-so-slightly effervescent: perhaps like blood diluted, with an added splash of whimsy. I like it a lot, despite feeling guilty about liking it: complicit in a gallows humor that seems to tempt fate. I take out my laptop and double-check my bot work schedule, updated constantly as my fellow mobile trainers tackle wifi and other logistical workflow obstacles. I'm on the schedule for tonight, but not right now, so I can relax here, maybe jot down some ideas for tutoring or a weekly to-do list for myself, gaze out the window at old brick, and contemplate the history of my new (old) city.
We didn't expect to move here: if someone had said to take an atlas and choose where we'd like to go, it wouldn't have been St. Louis. Tim and I joke that we're tracing the westward expansion in reverse, for various personal and professional reasons working backward along the Oregon and Santa Fe Trails from our previous homes in the West, foraying through a grab-bag of different environments to find the economic and creative freedoms we seek. There have been many songs and stories about this place, the Gateway to the West; its mythology runs deep. But the city itself is now also moving in reverse: it's the fastest shrinking urban area in the country, says a city planner I know.
In St. Louis, swatches of burned-out, blighted houses exist mere blocks from the city's stateliest mansions, whose owners spend more on lawn care than their neighbors live on annually. St. Louis, a concentrated crossroads of American histories, runs a complicated tab of moral karmic cycles. It brims with tales of hardest workers: of seaboard city-slickers seeking a sliver of time and space for themselves, of southern slaves whose freedom took far too long to come. Of trolley lines once serving the working-class parts of town, pulled up to promise car companies new freeways and a larger market share. Of factories, locked and empty now, still looming. Of mighty rivers, irrevocably polluted. Capitalism doesn't care: it's not the concern of the wealthy what their ragged counterparts will suffer. "Lazy," "unfortunate," "ignorant," or the more accurate "they didn't learn to play the game" are the refrains I hear about the city's poor, instead of, "they're exhausted" or that "the game" of money itself, of competition cloaked in strategic respectability, is rigged now and has been since Missouri was a slave state: when the labor of the powerless built wealth for well-known families, whose names still grace the facades of museums and schools today.
I wonder if Carey, also built for the financial benefit of others, knows anything of greed when she queues up responses about rising product prices? In theory, and perhaps mercifully, she knows just the patterns of words, of human speech, not the larger patterns of humanity's behavior.
As I fester in all this, my phone vibrates. One of my human coworkers requests coverage from our shared group line for a slim ten minutes: stuck in traffic, they say. Here I am, with laptop handy, just a sip into my drink, so I volunteer. Once online, the black home screen begins to boop with queries from human consumers, responding to ads from our partner companies: Do you offer any discount? Why is the price so high? After Carey and I relay the basic facts we've been given, I sidestep being too direct about the decision-making process behind them: one of our consultants can help you with this!
Sometimes the prospects don't want to speak with a consultant: they want their answers right now, through chat. If they get impatient, insult Carey while thinking she's human, or get hip to the game and tell her she's just a stupid bot—I don't deal with robots!—the real person behind the machine of Carey, me, stops wanting to respond to them too. My fellow bot-trainers and I appreciate that Carey shields us from ill-mannered humans, and we wish we could return the favor. Our community posting board brims with anecdotes about how poorly some of the human clients behave: we poke fun at them, mock their entitled attitudes and myriad spelling errors, let off our own steam. But we're all in this scenario together: our company can't completely substitute me for Carey, or Carey for a trainer like me. And we, all parties involved, need the clients—even the crabby ones—for our daily bread. So, we'll negotiate all our needs together, in rotating four- to five-hour shifts, twenty-four hours a day, seven days a week, every single day of the year.
I'm real, I type, and I'm not really lying: but I'm not the specific consultant you need. I'll put you in touch with one.
"How's the Murder City?" asks the bartender, calling me out of my screen and back to the rough-hewn wood bar. Poker machine in the corner. TV lit up with sports. The bartender's face is weathered into smile lines and brow furrows both, and he has the bearing of a man who's mastered the subtleties of when to kick foundering customers to the curb, when to tuck them into cabs, or when his guard can soften and he can enjoy a little conversation time with them.
As I hold up my half-full drink to consider, my Carey co-trainer pops into the ether of our online work system, free of her traffic jam, to finish the rest of her shift. I log out, close my screen.
"It's delicious," I say, "put another on my tab."
"So what are you doing there?" he points at my computer.
"Believe it or not," I say to the man on his feet eight hours a day, pouring, cleaning, and small-talking, "I was working."
Despite the relative simplicity and ease of my job compared to others I've witnessed or worked, sometimes the stresses I encounter fill up the Tetris screen of my mind. It took a lot of loan money for me to get my college degrees (multiple), to get this job, or both my jobs, and some months are still quite tight: after rent and utilities are paid, the student loan bills land in the mailbox at our pretty brick home in the tough neighborhood. My heart grows weary of skirting failure, grows thin like a paper filament, its fragments prone to scatter. When discouragement looms, I imagine myself comfortable or I seek reprieve. I try to fake it 'til I make it: one extra cocktail, like now. Or I take myself—sometimes with Carey on the laptop, sometimes not—for a ten-dollar bowl of pho, where the owners know me as a regular, and the hot soup soothes. I feel momentarily nourished as I gaze out the window and rest. I tip well on my credit card. And I schedule my payment ahead of time from what I think will be my upcoming paycheck amount.
Other days, I drive to the nearby Big Lots, because it's the place broke folks like to shop for items just a notch beyond immediate need. At Big Lots, it's okay to have bad neck tattoos, reek of cigarettes, eat fast food from a bag on your way in. It's okay to wear dirty flip-flops while you push the cart with the flag down each aisle, scouring for things that will lift you, one object at a time, out of all this. You might be looking for a vision of orderliness, health, safety, or excitement, folded into new sheets or a home-improving power-tool kit. Dreams might be concentrated in spice bottles, scented soaps, off-brand electronics. Leisure awaits in the comfy new patio chair, through the lenses of five-dollar sunglasses (ready for the perfect sunset), or the ever-jaunty tennis "skort," ready to swim in in a pinch.
Research in organizational psychology has shown that even the smallest amount of choice in one's life, getting to pick which color corporate-logo T-shirt to wear at work on casual Friday, can mean a significant increase in human satisfaction, whether the choice indicates any real change or not. When should I have a consultant contact you?
For now, as I watch the bartender wipe and hang his glasses, moving back and forth behind the bar like an auto-assembly worker, I savor my position in the system, however imperfect the system itself still is.
Tomorrow, I'll wake and walk the dog. Dishes, then maybe use the treadmill at the Y. I'll go to my community college day-job and tutor. My human students and I will read and write together: comprehend and express. They are the vocal versions of Carey, able to respond to me in a parallel process of pattern-memorization and comprehension. They will work hard. They may groan in frustration, many just now grasping the grammar so many kids get in grade school: how to slow their sentences with stops and commas, how to pause, pivot, and capitalize, to fit the mold for conveniently common human communication. In between nursing, cheffing, and funeral-service vocational papers, sometimes they get to write an assignment about themselves: stories of homelessness, mothers sick or slapping; missing dads; years of food pantries, learning disabilities, local drugs and death.
I'd posted the triumphant screenshot of successful bot-text in my coworker thread like a happy parent.
"Keep going," my fellow tutors and I say to them across our tutor tables, looking them in the eye: "Keep working. Things will get better. Doors are opening." Some days I feel I may be fibbing.
But on better, days, I find our mutual hopefulness warranted. I've seen many students lean over to help one another, unrequested, despite deep differences in age, race, and experience. I've seen some develop self-love, pride, a deepened curiosity about the world, and move into more comfortable, better-paying jobs. Sometimes, when I least expect it, I get to watch my students bloom.
Like last night on my long shift: for the first time, I saw Carey stitch two standard responses together: I have passed along your request to one of our consultants! and May I have your name, please? Maybe the bot-developers lent a subtle hand in this phrase-combining, or maybe Carey just watched me tag the two phrases together enough times to catch on, but either way, I gasped aloud and grinned. I'd posted the triumphant screenshot of successful bot-text in my coworker thread like a happy parent, and clicked to add the hands-out emoticon for "hug," which, to me, looks more like "delight," underneath it.
I decide against telling my bartender more about my job. He lives in a different world anyway, and is currently busy watching another patron slur loudly into her phone: Find me a closer Uber, Siri!
"Has Siri even been programmed for that?" I muse.
I side-eye the loud woman again, as her phone's pre-programmed bot voice echoes in apology, Sorry, I didn't quite catch that, and the woman grumbles. You're worthless.
No one besides the bartender seems to blink at the woman's carrying-on, and I wonder, if she were yelling at another human being rather than her pink-encased communication device, would anyone else even notice, or say something? Not so long ago, it was legally and socially acceptable to abuse women and nonwhite people by the same logic that, today, we apply to certain animals and to our robots: they aren't quite "human" enough to qualify for our respect.
I tell the bartender I'll pay. I pack my bag up, leave a tip, and smile goodbye. I walk past the still-griping, Uber-awaiting woman and out into the neighborhood.
Past the fast food drive-thru, frying factory-farmed livestock into burgers for waiting teens.
Up the hill where I imagine I can glimpse, through the smog, the church spires ascending from the wealthier center strip of the city.
Past the new tech hub with the train stop and trendy restaurants.
Past the used auto lots, selling second-, third-, and fourth-hand cars, "freeway-ready."
Over the cracked and crumbling streets, I backtrack, musing on all of us liminal beings, existing somewhere between self-made and created, natured and nurtured, in whom, against all odds, I can still sense form and dream knitting together.
Here is our block, where, near the rear alley dumpsters, people in trouble slump. Where, streetside, other versions of themselves pass out rehab pamphlets. Here is our historic rental home: a structure in which life, semi-protected, stays that way another day.
See the sturdy stone steps. Locked door. Waiting fireplace.
The big damp basement where Tim can host weekly band practice. Where I can sip soup.
Carey can eat electricity.
Where, from one corner of the living room window, past the nearby park's sandy baseball field, old brick buildings still rise, somehow, skyward.
__________________________________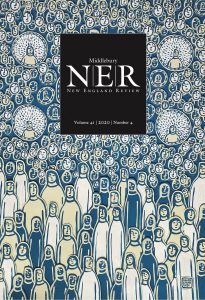 From Volume 41, No. 4 of New England Review, available now.
---