Defiant Women and Defiant Books: A Reading List
Amy Butcher Recommends Chanel Miller, T Kira Madden, and More
The book I wanted to write when I first entered graduate school for creative writing was a book entitled, I'm Scared of Everything. I imagined a cover featuring a young female counterpart to Home Alone's Kevin McCallister, that iconic cheek grasp, pink lips parted. The book, as I envisioned it, would be a collection of essays in which I worked to explore and overcome a broader litany of terrors. Which is to say: I had a lot of fears, and yet I never questioned their place of origin. My hypothetical book, instead, was always fixated on the what now: how to flood out, how to mediate, how to deal—in other words—with the complications of a fearful present.
But the truth is, I'd arrived in Iowa just one month after a close friend had walked me home, made a joke about a dachshund, and then returned to his own apartment, where he fatally stabbed a 19-year-old girl 27 times in the neck and upper torso. In Iowa, I was living alone for the first time, renting an old apartment buoyed by fraternity houses and their drunken brothers, and dating men whose behavior scared me—because I believed that dead girl should've been me, or because I felt the facts of my experience necessitated that I try to keep it from happening to someone else.
It would take three years and two separate therapists to finally accept a diagnosis that I was suffering from Post-Traumatic Stress Disorder, and yet in the years that followed that diagnosis, I played girlfriend and, more generally, caretaker to first one and then another reckless man who was cruel to me in countless ways, including physically. I think I felt that I deserved it. Sometimes, I would shake myself from this assertion only to find myself courting a closer danger. I once spent the night beside the Iowa River in a yellow tent beside another man, for example—a fling—who'd sent his girlfriend to the hospital after slamming her head against the wall, fracturing her skull in three separate places. This I'd learn only later. Every time I came face to face with male anger, with male violence, I'd turn around and run only to find myself staring down the shadow of that same old familiar monster.
Writing, then—or reading, for that matter—has never been a habit of simple pleasure. Literature has always been the relief. Writing and reading has taught me what it is to be a woman in this world, which is to say that I have experienced simple pleasures, yes—a yellow tent, spring's shimmering woods, a first date spent sampling twelve varieties of spicy mustard—but also unthinkable and gendered terror. To be a woman in America is to know both: the pleasure of living inside this body but also the danger it, daily, invites. To be a white, straight, cis-identifying woman is to know far fewer dangers, and I don't frankly know what this amplification must mean and feel like in the bodies of other women.
With October's Domestic Violence month now just behind us, and with 11 more months that will see gendered violence continue, regardless, and now without a spotlight, I want to share some of my favorite works by women—books whose disruptive and critical narrators helped to light my way and shine a flashlight towards the future. I didn't know enough, a decade ago, to put pressure on where all my fear came from, but the disruptors in this collection are doing that work for me, and they're doing their own version of encountering the origins of their fear; these women, make no mistake, are every bit as interested in the whys and hows of the present as they are the past that brought them here. I can't say enough good things about them and the very important work these books do.
*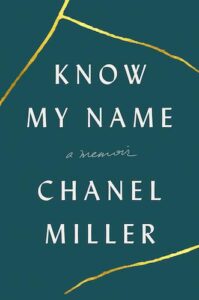 Chanel Miller, Know My Name
(Penguin Books)
I am with you, Chanel Miller writes to all the girls and women who have been dismissed, who have been doubted and deserted and silenced by an American criminal justice system designed to protect its perpetrators and the patriarchal society that birthed them. Once known only as Jane Doe in the sentencing of Stanford swimmer rapist Brock Turner, Miller's startlingly vulnerable and intimate memoir grew from a victim impact statement read by over eleven million people in the span of four short days. Know My Name exposes a culture designed to extend protections primarily to offenders, punish society's most vulnerable, and allow an epidemic of sexual assault continue to thrive and prosper. An unthinkably intelligent, important book.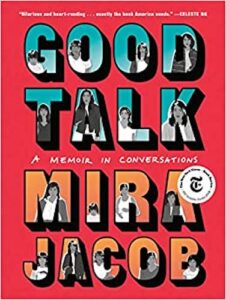 Mira Jacobs, Good Talk
(One World)
How do you explain to a 6-year-old child that America is a different America for Americans of color? This is the question that frames and establishes Jacob's intimate and tender graphic memoir, and Jacobs sets about the task of answering with candor, nuance, humor, and grace. Perhaps the most important book I have ever read or will ever read on the post-9/11 experience for Americans of color, and a broader political and social commentary on the way our nation's propaganda and policies are designed to comfort and protect certain Americans at the expense of other Americans' safety, daily experience, and well-being. A vitally crucial book.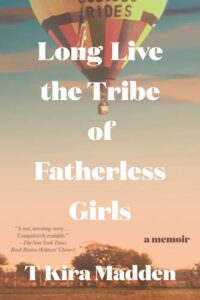 T Kira Madden, Long Live The Tribe of Fatherless Girls
(Bloomsbury Publishing)
I have never loved the act of reading more than I've loved reading Madden's memoir. Chronicling her experience coming of age as a queer biracial teen in Boca Raton, Florida—an experience marked and marred by outrageous love and pleasure and beauty but also hurt, addiction, explosiveness, and instability—the narrator is outrageously lovable, quick-witted and sharp, animated but sensitive. Moreover, the writing is fun, fun, fun, reminding me each and every time of the deliciousness of sentence fragments and the flash form as a vehicle for delivering emotion. It doesn't hurt that in her spare time, Madden demystifies the writing and publishing process on social media—answering questions for writers of all skills and levels, commenting of topical issues, and sharing her resources and knowledge. Could we love her any more?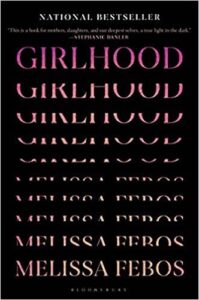 Melissa Febos, Girlhood
(Bloomsbury Publishing)
We tell ourselves stories in order to live, Joan Didion once famously wrote, but in the story of America, who is most frequently doing the telling, and who do these narratives disproportionately affect? In this incredibly sharp and difficult collection, Febos writes of what it has meant to live in a woman's body that reached sexual maturation at age eleven, arguing, "It was a race that I had won without trying, and to win it was the greatest loss of all." Throughout these seven bold and brilliant essays, Febos works to rectify the stories women and girls are told about themselves and their connections to the world, all the while seamlessly weaving elements of personal narrative, history, reportage and cultural criticism in ways that urge transformation of the self and, more broadly, transformation of America. It is like looking in a mirror that also looks reflects the past and future. A mind-blowing examination of girlhood and all that extends beyond it, I've highlighted at least one sentence from every page.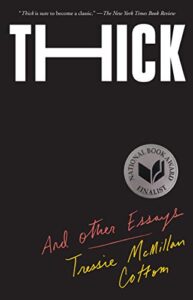 Tressie McMillan Cottom, Thick
(New Press)
Roxane Gay said it best when she called this collection "transgressive, provocative, and brilliant." It is all three things in spades. Highly sophisticated and deeply critical, Cottom's eight-essay collection casts its gaze towards popular culture and the media, beauty, gender, race, and capitalism, revealing within each incredible, intersectional insights into mainstream Americana and the various bodies, systems, and ideologies it exploits. Initiated to Cottom by her powerful and heartbreaking TIME essay, "I Was Pregnant and In Crisis. All The Doctors And Nurses Saw Was An Incompetent Black Woman," THICK reminds me of the powers and paradigms always at play in contemporary America, especially for those who do not identify as cis-, straight, and white. At once deeply political, social, and personal, Cottom's collection is the smartest thing I've read in years.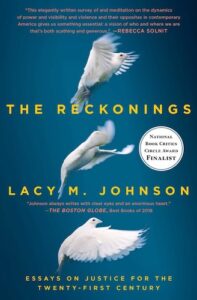 Lacey M. Johnson, The Reckonings
(Simon & Schuster)

I find myself alive with anger every time I revisit this collection by fiercely intelligent essayist Lacey M. Johnson, whose work is grounded firmly in her own experience with sexual assault. In perhaps my favorite essay she's ever written—"On Likability," for Tin House, and adapted from a talk by the same name—Johnson writes that a common criticism of her essays is that her narrator (read: her) presents as unlikable. "As if by labeling me unlikable," she writes, "they don't have to listen to the story I needed to tell. Raped women are unlikable, apparently. So are strong women. Women who survive. Ambitious women are unlikable, women who are good at their jobs, women who tell the truth. Women who don't take shit are unlikable, women who burn bridges, women who know what they are worth." Johnson reignites a fire inside of me even when it feels terribly dim, and she stokes questions about violence and power and retribution and what, exactly, justice means. This collection is everything.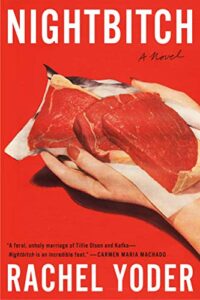 Rachel Yoder, Nightbitch
(Doubleday Books)
I'm an essayist at heart, but despite its outrageous pretense—a suburban mom going positively canine in response to a humdrum life of stay-at-home mothering, beginning first with a rogue tuft of fur along the neck followed by sharper canines and a taste for blood—Night Bitch feels utterly essayistic at heart, exploring what so many women both consciously and unconsciously give up in an attempt to have it all. "Insist on your joy," Yoder writes. After all, "how many generations of women had delayed their greatness only to have time extinguish it completely? How many women had run out of time while the men didn't know what to do with theirs? And what a mean trick to call such things holy or selfless. How evil to praise women for giving up each and every dream." At times deeply hilarious and incredibly tender and insightful, Night Bitch has me scanning the woods.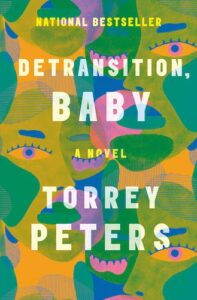 Torrey Peters, Detransition, Baby
(One World)
I would be amiss in my litany of disruptive women not to mention this incredibly poignant and deeply profound debut novel from Torrey Peters, which deftly follows three narrators—transgender and cis—in their decision to have and raise a baby. Despite making history as the first trans writer to write a book featuring trans characters to a big five publisher, Peters' novel remains both hyper-trans specific and wildly accessible, describing with nuance and grace the experience of trans, cis, queer and gender politics in contemporary America. As Elif Batuman puts it, this novel reads like an updated and transcended, 2021 version of Sex And The City, with more sex, more heart, more swag.
__________________________________________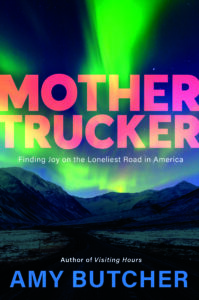 Mothertrucker by Amy Butcher is out now from Little A.
---