Dave Eggers on Lorrie Moore, Frankenstein's Monster, and Corduroy the Bear
Rapid-fire Book Recs From the Author of The Every


Welcome to the Book Marks Questionnaire, where we ask authors questions about the books that have shaped them.
This week, we spoke to the author of The Every, Dave Eggers.
*
Book Marks: First book you remember loving?
Dave Eggers: Don Freeman's Corduroy. Every page of it is burned into my mind.
BM: Favorite re-read?
DE: Saul Bellow's Herzog or Walt Whitman's Leaves of Grass. Or Joan Didion's Slouching Toward Bethlehem. Or Ellison's Invisible Man. Or Camus's notebooks. Actually, the book I've re-read more than any other is probably Cannery Row, by John Steinbeck. That book is perfect.
BM: What book do you think your book is most in conversation with?
DE: Wow, that question really invites self-aggrandizement. I guess my answer would be the Bible.
BM: A book that blew your mind?
ED: Mansoor Adayfi's Don't Forget Us Here: Lost and Found at Guantanamo. The way Adayfi, wrongfully imprisoned for years at Guantanamo, is able to maintain his sanity and even sense of humor is astonishing.
BM: Last book you read?
DE: John McPhee's Coming into the Country. It's about his travels through Alaska in the 1970s. Beautifully written, and very brave in its thesis about the use and misuse of the last real American wilderness.
BM: A book that made you cry?
DE: I'll say that the first book that made me cry—oddly enough given the recent interest in the series—was Dune Messiah. I was fifteen years old, and when [character who will not be named so as not to spoil it] died, I was truly shaken.
BM: What book from the past year would you like to give a shout-out to?
DE: There's a ferocious wit and propulsive energy to Wajahat Ali's Go Back to Where You Came From: And Other Helpful Recommendations on How to Become American. I can't imagine anyone putting that book down.
BM: A book that actually made you laugh out loud?
DE: There's a novelist named Vendela Vida who makes me laugh more than any other.
BM: What's one book you wish you had read during your teenage years?
DE: Anything by Lorrie Moore. Not that she writes for teens, but when I did discover her, at age 20, I was sorry for the years I'd been without her.
BM: Favorite book to give as a gift?
DE: The Mueller Report.
BM: Classic book you hate?
DE: None comes to mind. Actually, would The Fountainhead count?
BM: Classic book on your To Be Read pile?
DE: Parade's End.
BM: What's a book with a really great sex scene?
DE: Chang-Rae Lee pulls off a bunch of them in My Year Abroad.
BM: Favorite book no one has heard of?
DE: Willa Cather's Shadows on the Rock is criminally underrated. I think it's her best novel, but I can't find anyone who will read it. Something about "a French apothocary and his daughter living in near-total isolation in the fur-trapping regions of 17th century Canada" doesn't get people stampeding to the bookstore. But the book really is a joy.
BM: Favorite book of the 21st century?
DE: Impossible to name one. But I think a lot about Emerson Whitney's Heaven.
BM: Favorite book you were assigned in high school?
DE: My AP Lit teacher, David Hawkins, brought everything we read to crackling life—Catch-22 in particular.
BM: Book(s) you're reading right now?
DE: I'm in the middle of two books by authors who came through 826 Valencia when they were high school students. One is Javier Zamora's Solito, about his journey over the Sonoran desert as a kid. It comes out next year and is harrowing and brilliant. And a book in manuscript, Sanctuary City, by Tanea Lunsford Lynx. It's a lyrical and unsettling fever-dream about growing up in the ever-shrinking Black community in San Francisco. Her prose is radically original and her story has never been told.
BM: Favorite children's book?
DE: I love Mac Barnett's books. They're what I would have read as a kid, had he been born when I was a kid.
BM: Book you wish would be adapted for a film/tv show?
DE: Mary Shelley's Frankenstein has been adapted a thousand times, but as far as I know, not one of those adaptations bears any resemblance to the book. In the actual text, the monster is a wildly eloquent being who delivers long and aggrieved monologues to his creator. I can't figure out why he's been permanently changed into a grunting imbecile. A talking monster is far more interesting, right? We learned that from the Nixon tapes, and Grendel.
*
Dave Eggers is the author of many books, among them The Circle, The Monk of Mokha, A Hologram for the King, What Is the What, and The Museum of Rain. He is the cofounder of 826 National, a network of youth writing centers, and Voice of Witness, an oral history book series that illuminates the stories of those impacted by human rights crises. He has been a finalist for the Pulitzer Prize, the National Book Award, and the National Book Critics Circle Award, and is the recipient of the Dayton Literary Peace Prize and the American Book Award. He has attended the JetPack Aviation academy in Moorpark, California, but is not yet certified to fly off-tether. Born in Boston and raised in Illinois, he has now lived in the San Francisco Bay Area for three decades. He and his family often consider leaving, but they do not leave.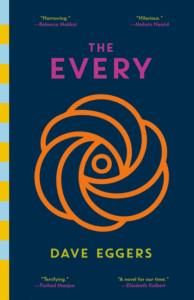 Dave Eggers' The Every is out now from Vintage
*
---