Curtis Sittenfeld on Folk Music, Gossip, and Politics
The Author of Rodham Takes the Lit Hub Questionnaire
Curtis Sittenfeld's novel, Rodham, is out now, so we asked her a few questions about reading, writing, and what she likes to watch.
* 
If you could choose a career besides writing, what would it be?
I've always had a lot of respect for doctors and nurses—for how they're smart and hard-working and truly make a difference in individuals' lives. And now of course it turns out they're brave, too.
Who do you most wish would read your book?
As research, I read books by the four female senators who ran for president in this election: Kirsten Gillibrand, Kamala Harris, Amy Klobuchar, and Elizabeth Warren. I suspect they might get a kick out of Rodham, and I'd love to know what they think I got right or wrong about women and politics.
What do you always want to talk about in interviews but never get to?
I do really enjoy hearing gossip about other writers.
Which non-literary piece of culture—film, tv show, painting, song—could you not imagine your life without?
There are a bunch of female singer-songwriters, most of whom straddle the folk/country line, that I've listened to off and on, but mostly on, for the past 25 years: Mary Chapin Carpenter, the Indigo Girls, Dar Williams, Brandi Carlile. (I don't think Trisha Yearwood writes her own music, but I also really like her.) I return to their voices over and over for comfort, inspiration, and insight.
Is there a book you wish you had written?
The Life-Changing Magic of Tidying Up by Marie Kondo because if I had, it would mean I was magnificently organized.
__________________________________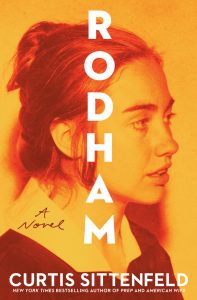 Rodham by Curtis Sittenfeld is available now from Random House. 
---