Literary Hub is pleased to reveal the US cover for Wole Soyinka's new novel, Chronicles from the Land of the Happiest People on Earth, which will be published on September 28 by Pantheon Books. This will be Soyinka's first novel to be published in 48 years, and also the first since he won the Nobel Prize. The cover is designed by Linda Huang.
Of the book, Erroll McDonald, Vice President and Executive Editor at Knopf/Doubleday, had this to say:
They are for me a visionary company, avatars of excellence, the only Black writers to have been consecrated by the Nobel Foundation with its prize in literature—and within a dizzying seven years: first was Wole Soyinka of Nigeria in 1986, then Derek Walcott of the Caribbean island Saint Lucia in 1992, and Toni Morrison of the United States only one year later. No other Black writer in the diaspora has won the prize in nearly three decades. Of the three Black Nobel laureates only Soyinka, age 86, is alive, and he is writing at the peak of his powers.
Nearly forty years ago, as a novice editor at Random House, I had the honor of publishing Soyinka's classic memoir, Ake: The Years of Childhood, still in print in Vintage and arguably the book for which he is best known in America. Today I find myself blessed again—on the cusp of publishing, in Pantheon Books, his first novel in nearly fifty years, Chronicles from the Land of the Happiest People on Earth. Informed at once by Soyinka's cultural rootedness and his wide-ranging cosmopolitanism, it is a wicked, gleefully irreverent, and rollicking satire on how power and greed can corrupt the soul of a nation. Soyinka has given us a brilliant and necessary book for our times.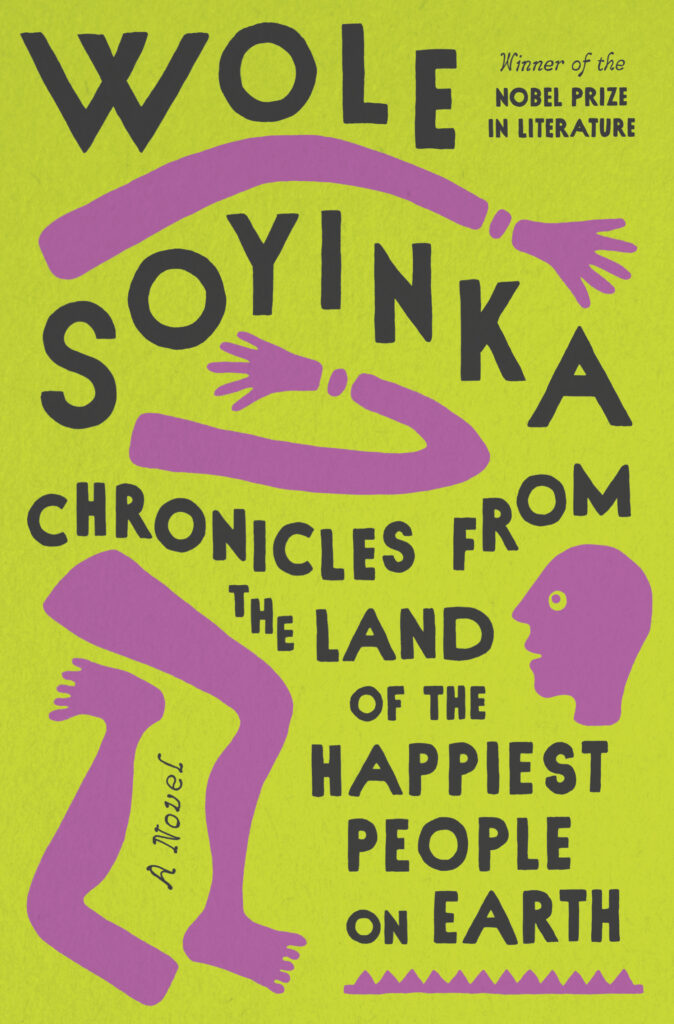 Here's a little bit more about the book from the publisher:
In an imaginary Nigeria, a cunning entrepreneur is selling body parts stolen from Dr. Menka's hospital for use in ritualistic practices. Dr. Menka shares the grisly news with his oldest college friend, bon viveur, star engineer, and Yoruba royal, Duyole Pitan-Payne—the life of every party—who is about to assume a prestigious post at the United Nations in New York. It now seems that someone is determined that he not make it there. Neither Dr. Menka nor Duyole knows why, or how close the enemy is, how powerful.
Chronicles from the Land of the Happiest People on Earth is at once a literary hoot, a crafty whodunit, and a scathing indictment political and social corruption. It is a stirring call to arms against the abuse of power from one of our fiercest activists, who just happens to be a global literary giant.