Literary Hub is pleased to reveal the cover for Rachel Eliza Griffiths's novel Promise, which Danielle Evans calls "a stunning exploration of the weight and triumph of legacy" and which will be published by Random House in July.
Here's some more about the book from the publisher:
The Kindred sisters—Ezra and Cinthy—have grown up with an abundance of love. Love from their parents, who let them believe that the stories they tell on stars can come true. Love from their neighbors, the Junketts, the only other Black family in town, whose home is filled with spice-rubbed ribs and ground-shaking hugs. And love for their adopted hometown of Salt Point, a beautiful Maine village perched high up on coastal bluffs.
But as the girls hit adolescence, their white neighbors, including Ezra's best friend, Ruby, start to see their maturing bodies and minds in a different way. And as the news from distant parts of the country fills with calls for freedom, equality, and justice for Black Americans, the white villagers of Salt Point begin to view the Kindreds and the Junketts as threats to their way of life. Amid escalating violence, prejudice, and fear, bold Ezra and watchful Cinthy must reach deep inside the wells of love they've built to commit great acts of heroism and grace on the path to survival.
In luminous, richly descriptive writing, Promise celebrates one family's story of resistance. It's a book that will break your heart—and then rebuild it with courage, hope, and love.
And here's the cover, featuring art by Megan Gabrielle Harris: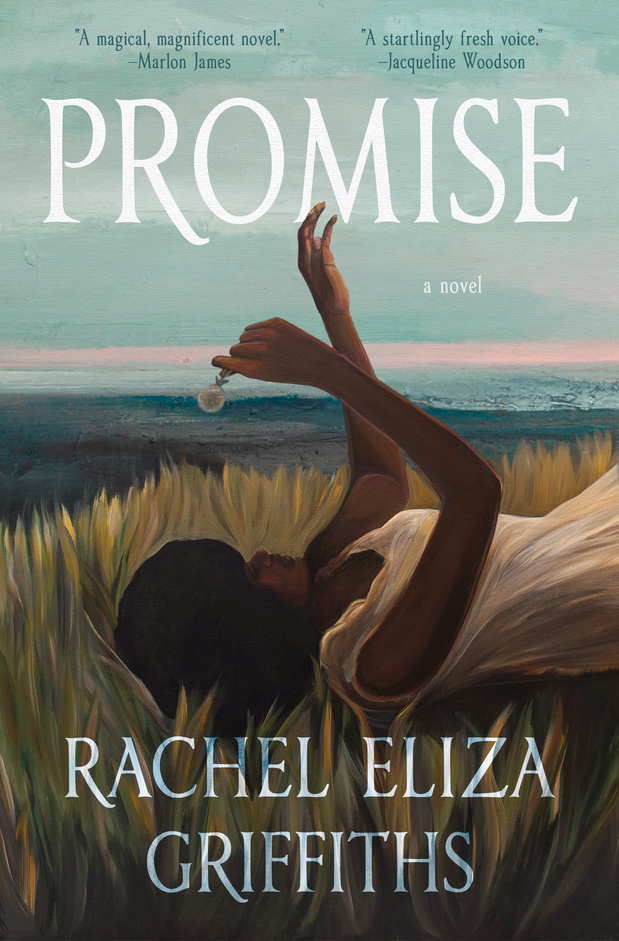 "I'd always written poetry and fiction, both mediums living in me as much as my need to claim myself as a visual artist," Griffiths told Literary Hub.
When my mother died in 2014, I began to write my first novel after so many earlier attempts. So the genesis of Promise began as a love letter to my mother and the motherless ache I sensed in myself. The novel is a story of two Black sisters coming of age in a small Maine town in 1957, who vow to love themselves in spite of the harm the world has promised them—something they begin to feel acutely when they hit adolescence and develop a transformational awareness of their bodies. When I first glimpsed the painting that would become the cover of my novel, it was if I was seeing one of my young heroines reflected back at me. The figure of a young Black girl lying with her face raised to the sky while clasping a dandelion is nearly how my novel begins. In that single dandelion, and the wishes I imagine the girl might be making on it, I see the wild horizon of possibility, joy, harm, and vulnerability that are so often tied to youth and its loss. I also see my own urgent wish to gather love, respect, and power in the name of Black women's lives, which I set out to do in this book and in everything I make.
The painting in question is "Ruminations" by Megan Gabrielle Harris. "When I learned that Rachel Eliza Griffiths chose this painting for the cover of her debut novel, Promise, I was overjoyed and felt that it would be a perfect fit," Harris told Lit Hub. "When I created this painting I hoped to convey the deep desire to be free in all aspects as well as the desire for ultimate peace. I feel that those themes resonate with the Kindred sisters as they navigate the changes happening within themselves and the world around them."
Promise will be published on July 11, 2023. You can preorder it here.