Literary Hub is pleased to reveal the cover for Michael Chang's Synthetic Jungle: Poems, their latest poetry collection forthcoming from Curbstone Books. Chang's poetry has been nominated for Best New Poets, Best of the Net, and the Pushcart Prize. In 2021, they were awarded the Poetry Project's prestigious Brannan Prize. 
Synthetic Jungle, as described by the publisher, explores self, sexuality and perception. The "hilarious and scathing" collection  is "fractal and kinetic in the quick-witted spirit of John Ashbery and Emily Dickinson, Chang's tender poems dance around, between, and through the personal and philosophical." Readers will find humor and insight with Chang's discourse around things like the "repudiation of the literary landscape or a critique of a failing justice system, to laugh along with Chang is to recognize your mistakes and, ultimately, grow from them." 
And here's the cover, which was designed by Emily Mahon: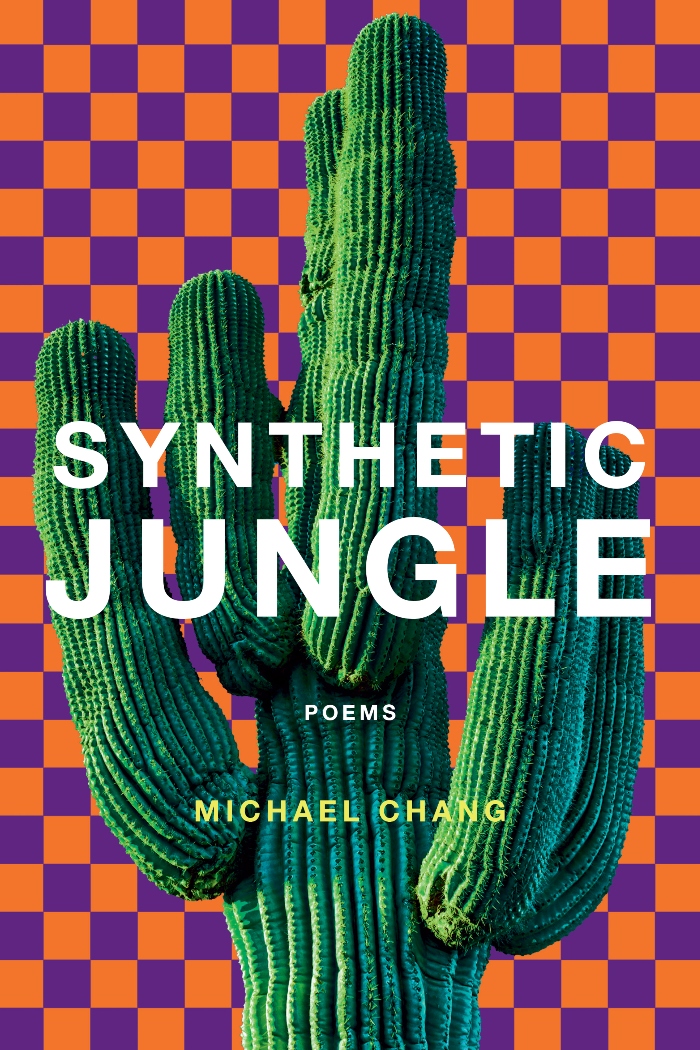 "I must admit that their emails were unlike any other author messages I've received. Their ideas felt refreshing and helped guide my direction." Emily Mahon, the designer and an Art Director at Doubleday Books, told Lit Hub, on collaborating with Chang. "I felt like the cactus as centerpiece was conceptually and visually interesting. I distorted some, tried images of ornately tangled cacti and others of just one tree, added vibrant colors, and tried to incorporate fonts that played off an 80s aesthetic. It was Michael's idea to focus on the singular cactus and add a checkerboard (AKA Vans vibe) to the background. We eventually settled on the orange/purple palette against the green succulent with a simple font."
The author, Michael Chang, reflected on their inspiration to Lit Hub, "I wanted a nod to the West Coast and the time I've spent in L.A. and Las Vegas, while avoiding the cliches. I attended an event at Bergdorf Goodman celebrating the release of Matt Albiani's photography book Lifeguard on Duty, and have been struck by the vibrancy and sunkissed-ness of his images ever since. Ichendorf, meanwhile, is a Milanese glassware company that has been around for over a hundred years. They recently released a terrific desert-plant collection that fit my desired Southwestern cacti vibe perfectly. So I put together a mood board with these elements, and the cover concept really started to take shape." Chang continued, "[to] me, Synthetic Jungle has a retro look and feel while also being aspirational in proposing a different path forward—to reflect this duality, I wanted an effervescent, future-nostalgia palette. Ultimately, the cover feels cohesive and comprehensive yet surprising—I really love the way Emily brings everything together while letting simple elements sing."
Synthetic Jungle: Poems will be published by Curbstone Books on March 15, 2023. You can preorder it here.