Literary Hub is pleased to reveal the cover for Joy Castro's new novel One Brilliant Flame, which will be published by Lake Union in January. Here's how the publisher describes the book:
Key West, 1886. The booming cigar industry makes it the most prosperous city in Florida. As a rebel base for the anticolonial insurgency in Cuba, it's also a tinderbox for six young friends with ambitious dreams.
They all brim with secrets: Zenaida, the daughter of an assassinated Havana journalist; power-hungry Sofia, who plots a fast track to success; Chaveta, Zenaida's loyal comrade in arms who fearlessly flouts tradition; Feliciano, a charismatic Spanish anarchist; Libano, the cafetero, silent and watchful; and Maceo, a daring guerrilla soldier who fights a brutal undertow. As lives intertwine, revolution smolders, and passions ignite, the bustling coral island is set to explode.
Against the backdrop of the Great Fire of Key West, One Brilliant Flame explores the luminous fates of consuming passion and encroaching peril in the face of insurrection, sacrifice, and inextinguishable hope.
And here's the cover, which was designed by Kimberly Glyder: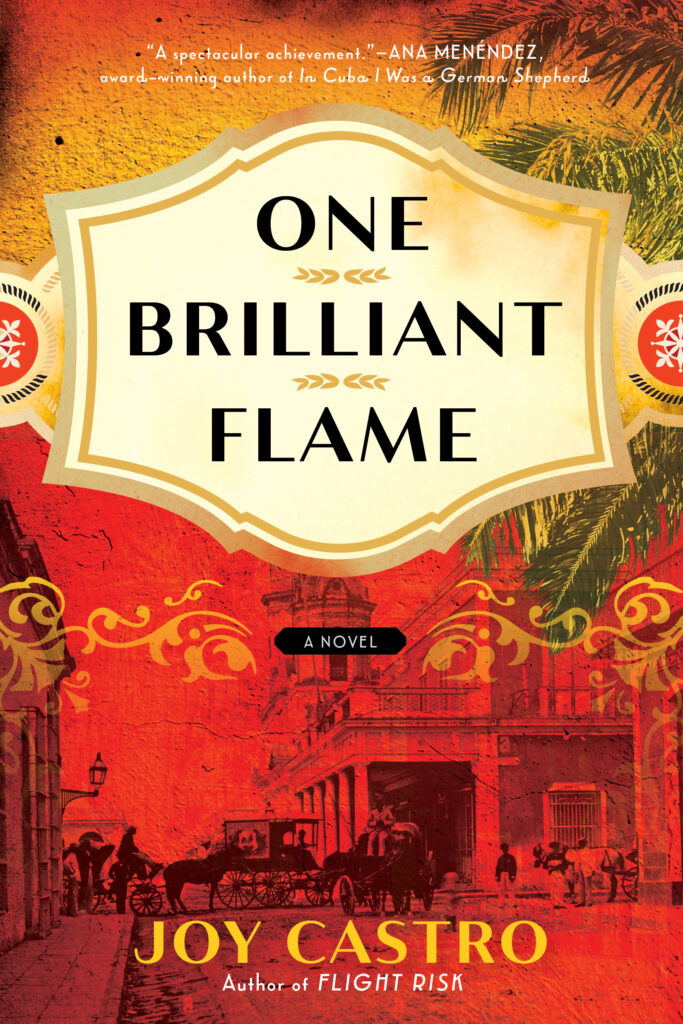 "What's so gorgeous to me about Kimberly Glyder's design is the way it beautifully and subtly captures so many layers of the complicated narrative of One Brilliant Flame, which is set during a volatile and utopian historical moment that's mostly unknown today," Castro told Lit Hub.
The palm fronds signal the tropical setting—Key West—and the horses, carriages, and architecture quickly convey that the novel is historical. When the devastating real-life fire of 1886 (on which the plot hinges) destroyed the city, politically motivated arson was suspected, because Key West then served as the rebel base for the anticolonial Cuban insurgency against Spain, and the red-dominant color palette and curling gold graphic element work wonderfully to suggest flames; the burnt edge enhances that effect. But the most elegant touch, given the fact that most of the characters labor in or depend upon the transnational Cuban cigar industry, is the way that Kimberly Glyder wove in the cigar label motif. Perfect. It does everything I could have dreamed.
"We wanted the cover for Joy Castro's One Brilliant Flame to instantly evoke for readers a sense of the 19th century cigar industry and the Great Fire of Key West, so we chose deep red hues and warm yellow tones to immerse readers in the heat and flames of the Great Fire central to the story," said Adrienne Krogh, Art Director at Amazon Publishing. "This book takes place at a time when one's outcome in life was directly related to their social class. Rather than focus on a single character or a specific location, we wanted to highlight the myriad characters, from all walks of life, whose lives were inextricably woven into the cigar industry."
One Brilliant Flame will hit stands on January 3, 2023. You can preorder it here.