Literary Hub is pleased to reveal the cover for Meet Me Tonight in Atlantic City, the debut memoir by Kundiman fellow Jane Wong, which will be published by Tin House this spring. Here's how the publisher describes the novel:
In the late 1980s on the Jersey shore, Jane Wong watches her mother shake ants from an MSG bin behind the family's Chinese restaurant. She is a hungry daughter frying crab rangoon for lunch, a child sneaking naps on bags of rice, a playful sister scheming to trap her brother in the freezer before he traps her first. She is part of a family staking their claim to the American dream, even as this dream crumbles. Beneath Atlantic City's promise lies her father's gambling addiction, an addiction that causes him to disappear for days and ultimately leads to the loss of the restaurant.
In her debut memoir, Wong tells a new story about Atlantic City, one that resists a single identity, a single story, as she writes about making do with what you have—and what you don't. What does it mean, she asks, to be both tender and angry? What is strength without vulnerability—and humor? Filled with beauty found in unexpected places, Meet Me Tonight in Atlantic City is a resounding love song of the Asian American working class, a portrait of how we become who we are, and a story of lyric wisdom to hold and to share.
And here's the cover, which was designed by Jaya Miceli: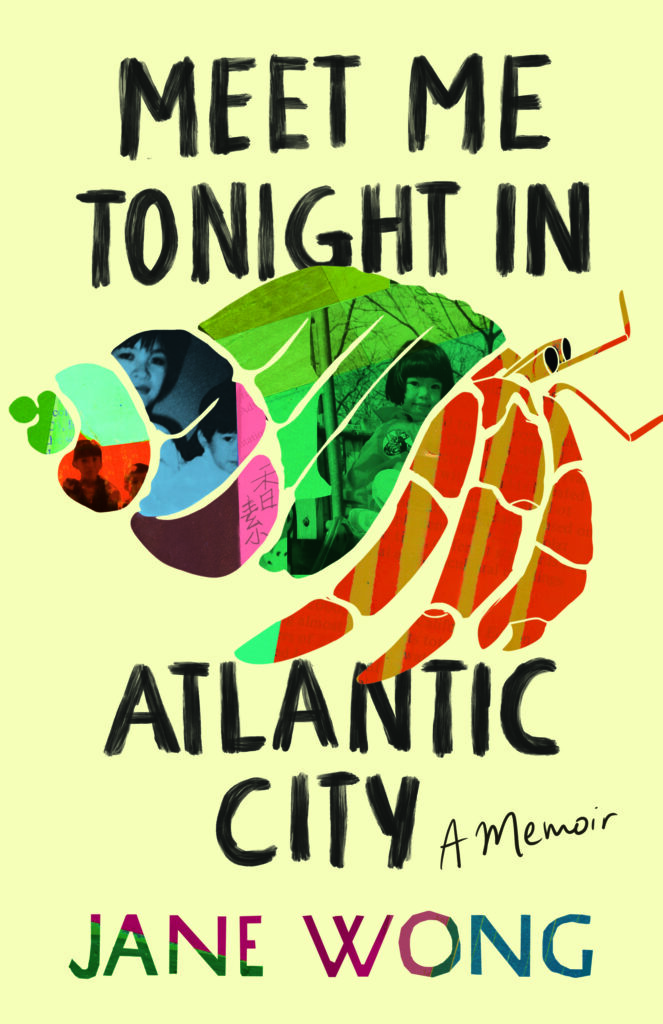 "Meet Me Tonight in Atlantic City is a beautiful and expressive coming of age memoir centered around a young girl's upbringing in a Chinese immigrant family," Miceli told Literary Hub.
One section recalls one of the many times she and her brother would wait on the boardwalk in Atlantic City with their mother while their dad gambled in the casino. Their mother, who never indulged them with games or treats on their waits, on this particular day bought hermit crabs for her and her brother to play with, and it brought them so much joy. I used the crab as the symbol to collage together pieces of their family life.
Wong fell in love with the cover immediately. "When I saw this cover by Jaya Miceli, I sat in the sandy layers of emotion!" she said.
There are so many fragments of my life here, woven into the spectacular colors of this hermit crab. I love how our faces peek through, how there's a story already brewing inside this crustacean's home. In pink, there's the hint of my Chinese name; in steel blue, a glimpse of my mother's badass pixie cut. I love how this hermit crab strolls on the boardwalk of the cover, its feelers in search of some other shore. I love the sharpie-like font of the title too, written like an invitation. See you there?
Meet Me Tonight in Atlantic City will be published by Tin House on May 16, 2023. You can preorder it here.