Literary Hub is pleased to reveal the cover for Gerardo Sámano Córdova's Monstrilio, a "literary horror debut about a boy who transforms into a monster, a monster who tries to be a man, and the people who love him in every form he takes," forthcoming from Zando in March 2023.
Here's a little more about the book, from the publisher:
Grieving mother Magos cuts out a piece of her deceased eleven-year-old son Santiago's lung. Acting on fierce maternal instinct and the dubious logic of an old folktale, she nurtures the lung until it gains sentience, growing into the carnivorous little Monstrilio she keeps hidden within the walls of her family's decaying Mexico City estate. Eventually, Monstrilio begins to resemble the Santiago he once was, but his innate impulses—though curbed by his biological and chosen family's communal care—threaten to destroy this fragile second chance at life.
A thought-provoking meditation on grief, acceptance, and the monstrous sides of love and loyalty, Gerardo Sámano Córdova blends bold imagination and evocative prose with deep emotional rigor. Told in four acts that span the globe from Brooklyn to Berlin, Monstrilio offers, with uncanny clarity, a cathartic and precise portrait of being human.
And here's the cover, which was designed by Alex Merto and art directed by Evan Gaffney: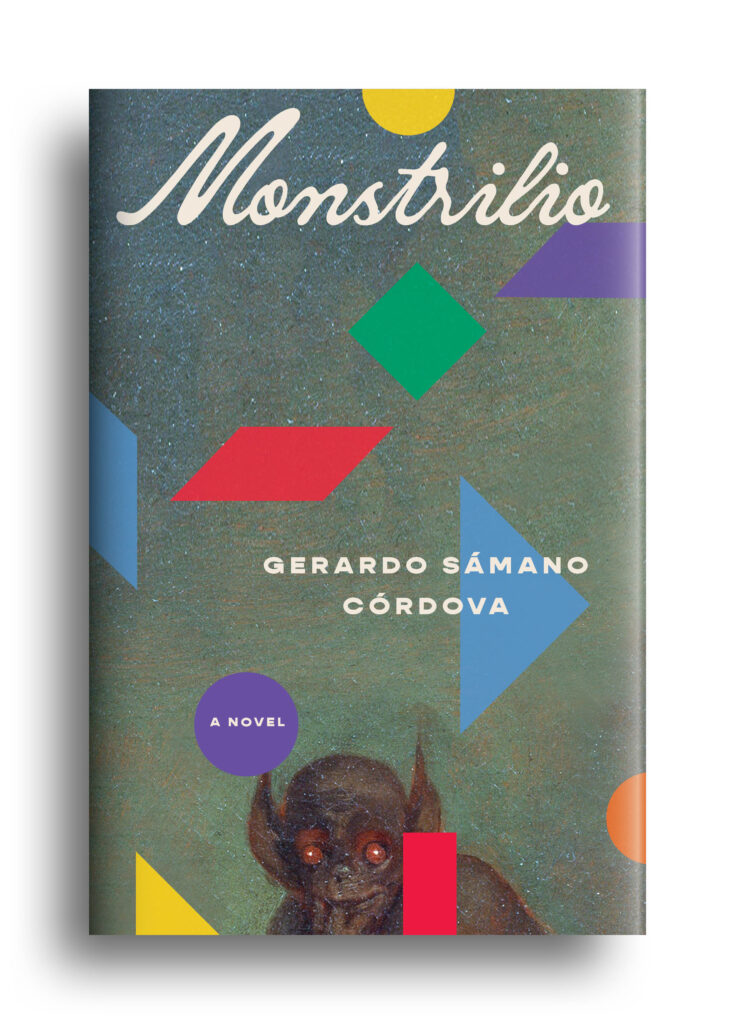 "I imagined so many covers for Monstrilio, trying to picture what they would look like on the shelves of a favorite bookstore," Gerardo Sámano Córdova told Lit Hub.
None of what I imagined came close to the unexpected and utter delight of this cover. It is uncannily perfect for the book. (And weirdly also so me.) 'How?' I keep asking. There are some striking visual elements to choose from in the novel: we talked about the jar, the arm-tail (maybe an abstract one?), houses falling apart, maybe fangs (I don't know why I'm so obsessed with fangs), maybe fur. But nothing we talked about inched near capturing what this cover does. It conveys what the book is right to the marrow. The cursive sweetness of the title evokes the novel's tender moments as it plays with the threat of the monster peeking from below. I admit I was weary of having a monster in the cover ('Who would be so literal?' —me before I saw this cover), and though I still want readers to concoct their own versions of Monstrilio, this monster, aptly unlike Monstrilio's physical description in the book, with its eyes glowing menacingly red, evokes the mischief and silly sweetness—'Hello, may I take a bite?'—that encapsulates Monstrilio's essence perfectly. In his brilliance, Alex Merto interrupts the background with bold geometric shapes—very '80s/'90s—creating a fresh, fun vibe that feels contemporary and reveals the book's mood like a happy gut-punch. The fact that the background, including monster, is cropped from 'Nightmare,' a Danish painting from 1800 by Abildgaard, adds a layer of oddness which I adore and resonates back to a bountiful tradition of imagining monsters, a tradition the book hopefully honors. I'm such a fan of Alex Merto, and I'm beyond delighted with the team at Zando and Alex for such a perfect design. I'd jump to pick this book up if I saw it in a bookstore. And isn't that an author's dream come true?
"Gerardo Sámano Córdova not only wrote a brilliant book, but he also requested a brilliant designer, Alex Merto, who conjured the perfect mix of horror and humor," said Zando's Art Director Evan Gaffney. "At the center of the design process was a quandary: Monstrilio, the half-human, half-monster child at the heart of the story, really shouldn't be depicted, but he couldn't not be depicted. Reaching back into art history solved this problem, as it sidestepped literal depiction, but also placed this book within a literary tradition of monsters and the monstrous. The floating shapes evoke a children's game, as well as the saturated colors of Mexican culture, which is at the narrative heart of the story. But they also suggest that something is being pieced together—in this case, how to parent a son who really is a little monster (and not just acting like one)."
Monstrilio will be published on March 7, 2023. You can preorder it here.