Lit Hub is pleased to reveal the cover for the story collection Growing Up Chicago, edited by David Schaafsma, Roxanne Pilat, and Lauren DeJulio Bell with a foreword by Luis Alberto Urrea, which will be published by Northwestern University Press in May.
Growing Up Chicago is a collection of coming-of-age stories, primarily memoir, that reflect the diversity of the city. Northwestern University Press describes Growing Up Chicago as "collect[ing] work by writers who spent their formative years in the region to ask: What characterizes a Chicago author? Is it a certain feel to the writer's language? A narrative sensibility? The mention of certain neighborhoods or locales? While the authors represented here write from distinct local experiences, some universals emerge, including the abiding influence of family and friends and the self-realizations earned against the background of a place sparkling with promise and riven by inequality, a place in constant flux. The stories evoke childhood trips to the Art Institute of Chicago, nighttime games of ringolevio, and the giant neon Magikist lips that once perched over the expressway, sharing perspectives that range from a young man who dreams of becoming an artist to a single mother revisiting her Mexican roots, from a woman's experience with sexual assault to a child's foray into white supremacy. This book memorably explores culture, social identity, and personal growth through the eyes of Chicagoans, affirming that we each hold the ability to shape the places in which we live and write and read as much as those places shape us."
Here is the cover, created by artist and graphic novelist Emil Ferris and designed by Morgan Krehbiel: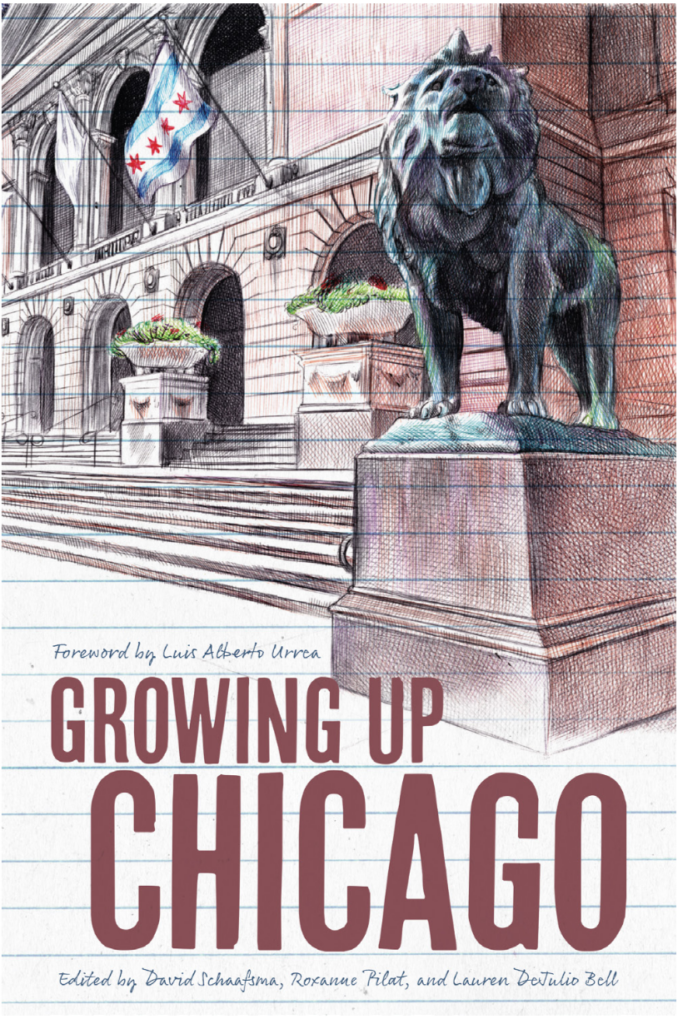 "I chose the Art Institute of Chicago [for the cover of the book] because that great museum is my spiritual sanctuary," Ferris told Lit Hub. "I get a shiver of excitement prior to every visit. During my past nine-month episode in recovery from West Nile virus, I wheeled my wheelchair into that sanctuary and absorbed courage from every great painting, drawing, and sculpture I saw there. As every artist knows, being creative requires courage and a belief in the unseen.
When I'm creating, I start with an image in my mind, one that makes me hungry to draw it. As I draw I feel the physical substance of what I'm drawing—the softness of skin or of fur, the coolness of marble, the grain of wood. I also feel the emotional weight of the beings I draw, and I think that goes into every stroke of the pen. I sculpt the image into existence by means of thousands of loving strokes. Having lost the ability to draw during my time with West Nile virus, I cherish the gift with my whole heart and always seek to give the most I can to my wonderful viewers."
You can preorder Growing Up Chicago now.