Consider the Lobster (and the Greenland Shark): On the Animals That Don't Age
Nicklas Brendborg Explores the Lives of Animals That Get Stronger with Each Passing Year
Beneath the surface of the ice-blue Greenland Sea glides a huge shadow. The twenty-foot giant isn't in a hurry; its top speed is less than two miles per hour.
In Latin it's called Somniosus microcephalus—"the sleepwalker with the tiny brain." In English, it has a slightly more flattering name: the Greenland shark. As its Latin name suggests, this shark is neither fast nor particularly quick-witted— though despite this, you can find the remains of seals, reindeer and even polar bears in its stomach.
Our mysterious companion takes its time because time is something it has a lot of. When the United States was founded, it was already older than any human has ever been. When the Titanic sank, it was 281 years old. And now, it's just turned 390. Despite this, researchers estimate that it could have several more years to live.
This is not to say that the Greenland shark has no problems. Its eyes are infected with bioluminescent parasites that are slowly making it blind. And, despite its impressive size, the Greenland shark shares an enemy with all other inedible fish— Icelanders. You see, the flesh of a Greenland shark contains so much of a toxic substance called trimethylamine N-oxide that you get dizzy—"shark-drunk"—from eating it. But, of course, the brave people of Iceland have found a way to do so anyway.      
Our way of aging is the most common one and we share it with most of the animals we're in daily contact with. However, it is by no means the only pattern of aging in nature.
The Greenland shark is exactly the kind of animal that belongs at the top of some kind of list. And that is where we find it. With its impressive lifespan, the Greenland shark is the longest-lived vertebrate ever recorded. Being a vertebrate—an animal with a backbone—it is actually our distant relative. We might not look much alike, but the basic anatomy is recognizable: a heart, a liver, an intestinal system, two kidneys and a brain.
Of course, there is still quite some distance on the evolutionary tree between us and a giant fish. Humans are mammals, and that means we have certain fundamental characteristics that we don't share with the Greenland shark. In biology, the rule of thumb is that the closer an animal is to us in evolutionary terms, the more we can learn about ourselves from studying it. That means we can learn more from fish than from insects, but also that we can learn less from fish than we can from, for instance, birds and reptiles.
Not to mention our closest relatives—other mammals.
Oddly enough, the Greenland shark shares its home with another lifespan record-holder that is a much closer relative of ours. If you're fortunate in the seas around Greenland, you might encounter the sixty-foot-long bowhead whale. While the surface characteristics of a bowhead whale don't resemble ours either, its inner wiring is much closer to humans than that of the Greenland shark.Whales have large brains, even for their size, four-chambered hearts like us, lungs and many other common characteristics.
We used to hunt these magnificent animals to use their blubber in oil lamps, but fortunately they are protected today. Only native peoples, such as the Iñupiat people of Alaska, are allowed to continue hunting them—at subsistence levels, as they have always done. Occasionally, after a successful hunt, the Iñupiat will visit local authorities to hand off old harpoon tips recovered from the whales' blubber. These harpoon tips stem from unsuccessful hunts in the 1800s.Together with molecular methods, they have been used to determine that bowhead whales can live more than 200 years. That's the longest lifespan recorded for a mammal.
Moving away from humans on the evolutionary tree can reveal some even more impressive lifespans. The best examples come from actual trees, for whom aging doesn't really exist—at least, not in the way that we typically understand it. While our own risk of dying increases as we age, trees only get larger, stronger and hardier. That means trees have a decreased risk of dying each year they live. At least up to the point where they get so tall that they get knocked over in a storm. But dying in an accident has nothing to do with aging.
This means that some trees are really old. One of the oldest single trees, Methuselah, is a 5,000-year-old bristlecone pine in a secret location somewhere in the White Mountains of California. At the time Methuselah sprouted from the soil, the pyramids were still being built in Egypt and the last mammoths roamed Wrangel Island in Siberia.
Yet even Methuselah is a spring chicken compared to the wooden record-holder. In the Utah Fishlake National Forest, roughly 350 miles northeast of Methuselah, is an American aspen named Pando. Pando (Latin for "I spread") is not a single tree, but a kind of superorganism—a giant network of roots filling an area around one eighth the size of Central Park in New York.
Pando is the heaviest organism on the planet and sprouts more than 40,000 individual trees. Most of these trees live between 100 and 130 years, dying off in storms, fires and so on. But Pando continuously sprouts new trees, and the root network superorganism itself is more than 14,000 years old.
While some organisms can live significantly longer than us, others have different ageing trajectories altogether. That is, aging happens to some organisms in a completely different way than it does to us.
The king of the crustaceans doesn't get weaker or less fertile as time passes. Quite the contrary, actually—lobsters grow continuously throughout their lives and get stronger and stronger over time.
As humans, we age exponentially; after puberty, our risk of dying doubles approximately every eight years.This happens as our physiology gradually declines, making us ever frailer. Our way of aging is the most common one and we share it with most of the animals we're in daily contact with. However, it is by no means the only pattern of aging in nature.
There's a particularly weird group of animals that reproduce only once, followed by immediate and rapid aging. This is called semelparity, and if you like watching nature documentaries, you might recognize it from the life cycle of Pacific salmon. Pacific salmon hatch in small streams, where the tiny salmon mature in relative safety. Later, they head out to sea, where they stay until eventually becoming sexually mature.
At some point, it's time to make the next generation of Pacific salmon, but unfortunately the salmon only breed in the exact stream in which they hatched themselves. That means the poor fish must swim back inland—sometimes a distance of hundreds of miles—against the current and uphill. It still boggles my mind that any fish is actually able to make it up a waterfall. It's a wild journey.
Even more unfortunate for salmon is the fact that we are not the only animals aware of how tasty they are. When the salmon start migrating, every single local predator—bears, wolves, eagles, herons and so on—is patiently waiting, ready to feast. To give itself a shot, the Pacific salmon pumps its body full of stress hormones and completely stops eating. Every day and night becomes a tireless battle against Mother Nature herself. Most salmon don't make it, but the few who do go on to spawn the next generation in the very streams in which their own lives began.
Having achieved this feat, you might think the hardy salmon would have no problems returning to the sea. After all, this trip would be downhill and helped along by the current. But the salmon show no interest in even trying. Once they've spawned, they go into terminal decline, like plants withering in an instant. A few days after hiding their fertilized eggs in the sandy riverbed, the entire previous generation is dead.
This kind of bizarre and rather tragic life story is actually more widespread in nature than you might think. Here are some of my other favorite examples:
• Once female octopuses have laid their eggs, their mouths seal up, they stop eating, and they dedicate their entire selves to protecting the eggs. A few days after their eggs hatch, the mothers die.
• The males of the small mouse-like Australian marsupial Antechinus stuartii get so stressed, aggressive and sexually exhausted during the mating season that they die shortly after.
• Cicadas spend most of their lives (up to seventeen years) underground, coming to the surface only to lay eggs. Soon afterwards, they die.
• Mayflies don't live more than a day or two after hatching. In fact, there's a certain type of fly that doesn't have a mouth and only lives for about five minutes. Its only mission is to reproduce once.
• There are even some plants that display this pattern of aging. American aloe, which is also known as century plant, can live for decades, but shortly after blooming for the first and only time, it withers and dies.
Conversely, there are also some animals that don't age at all—at least, not in the way we traditionally define aging. One such example is the lobster. Just like trees, the king of the crustaceans doesn't get weaker or less fertile as time passes. Quite the contrary, actually—lobsters grow continuously throughout their lives and get stronger and stronger over time.
Of course, this doesn't mean that they live forever. Nature is cruel, and eventually predators, competitors, diseases or accidents will do the job. If not, the biggest lobsters end up dying from physical problems due to their large size. Old age for a lobster, however, is not at all the gradual decline we know ourselves.
___________________________________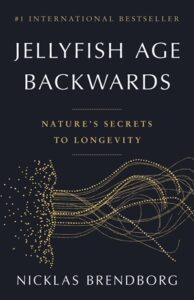 Excerpted from Jellyfish Age Backwards: Nature's Secrets to Longevity by Nicklas Brendborg. Copyright © 2023 by Nicklas Brendborg. Used with permission of Little, Brown and Company. All rights reserved.
---