Congratulations to National Book Foundation Lifetime Honoree Edmund White
Read a Selection From His Novel-in-Progress A Previous Life
Every now and then, Edmund White stops by my house for a party. A long-time non-drinker, he often arrives and leaves early, but in that short window, when he's sitting on a stool or a chair or on the sofa, a little line forms. One by one men—and they're usually men—enter the room, see him, and walk directly over to thank the author of A Boy's Own Story and two dozen other books.
Some of them, I suppose, feel he saved their life. Some he made feel less alone. Then there are people he simply entertained, and you'd be hard pressed to find a more companionable storyteller. Others he educated, or informed. To read across White's work is a clinic in lightly worn erudition. The charm of not letting the sweat show. He has written on Proust and on Genet, on Henry James, and on a great many deep and profound loves. Last year, White published his fifth memoir, The Unpublished Vice, and revealed that nearing 80 he was about as up on contemporary literature as almost anyone around.
My own personal favorite among White's books are Forgetting Elena, his mandarin early novel, with its Nabokov blurb (about which Ed has a great story, as usual), set in the pines on Fire Island; Skinned Alive, his harrowing stories from the worst years of the AIDS crisis in America; his fantastic Genet biography; Flaneur, his light-footed walk through Paris; and City Boy, his chatty, often hilarious memoir of New York City in the 1970s, when he was just beginning as a writer, and a vigorous walker on Seventh Avenue might bump into Richard Howard.
White has a talent for friendship, and it shows in City Boy, which caroms among the people and luminaries that made his own life possible, lightly chronicling the slow unwinding of an era which was a little less professional, New York a bit more habitable to people who moved there to make a life of the mind. In person White still feels like a person of this time—his warmth a kind of halo directed at the people around him who have stayed. He gives off the feeling that the racket of writing is hard enough, why not have a little fun.
This year marks 45 years since Edmund White has been publishing—and think of what has changed in that time. The category of coming-out-story did not exist before he wrote A Boy's Own Story, and in his quartet of novels he mourned the lives of friends, lovers, neighbors and strangers killed by AIDS. His other books investigate various periods of American history with a deeply uncynical gaze. His curiosity conjures time so beautifully, not to mention love, the way friendships define one's days. His fiction is full of men and women you wish you could have known.
In his autobiographical fiction, though, the great quartet of novels, you do get to know White, a bit. The nervous, deeply intelligent, wonderfully perverted and also fantastically well-mannered man. The one who upon meeting my father at a party sat and told stories back and forth with him about Ohio in the 1960s, rather than circulating the room to get something he didn't need. This is the Ed White a lot of people who have passed through his orbit know, the one who often goes out of his way for people—be it friends, or students, or just someone he felt needed a hand.
Every now and then I'll have a meal with Ed, and in the course of it, he almost always tell me about someone who deserves a bit more attention than they are getting.
Today, the National Book Foundation is giving White the lifetime achievement he so richly deserves. Our literature would be so much the poorer without him, so much less intelligent and sane, so much less respectful of all the ways that time makes ruins of us all.
Next August, Edmund White will publish his twelfth novel, A Saint from Texas, which begins in an East Texas town where two twin sisters begin their lives—one destined for Parisian nobility, the other for Catholic sainthood. In true White fashion, when I asked if he had anything we could publish on the site he didn't send us a section of this book, still nine months away from being out, but the next one, a book he has underway entitled A Previous Life—here are those fresh pages.
–John Freeman
From A Previous Life
by Edmund White
She entered the room where the fire was blazing and looked with admiration at the familiar face. Yes, he was in his seventies but still slender and handsome with his strong profile (big Italian nose, huge eyes, full lips still red).
She was laughing to herself as she sat on the tabouret next to his high-backed tapestried chair.
"What's so funny?" he asked and looked with an expression at once wary and charmed; was she laughing at him (which she sometimes did) or had she noticed some new, never-remarked-on-before endearing trait?
"All evening," she said, "I kept looking up from my book and wondering if you ever slept with anyone for money."
He stood up, expressionless (this was how he showed indignation). "Have you forgotten I'm a very great prince from Sicily? That I was always well-off? That I may have been raised by my grandfather, but he was far from indifferent to my character. I was sent to boarding school with the Jesuits, then I went to Dublin and Trinity, which in those days was very stern and Catholic. Why do you ask?"
" Calm down. You've always been so handsome, "she said, smiling now but not laughing. "Surely someone must have offered you some money, if only to see your strong body. And you've always been—well, not amoral but a good sport. If you're so attractive now, you must have been irresistible at thirty. I've seen the photos. I know."
With each flattering supposition, he relaxed. He sat back down. He looked at her as if verifying her degree of sophistication. At last he smiled. "Well yes, once, when I was forty and still looked thirty, the writer Edmund White (we were great friends but he was already in his eighties) paid me twenty symbolic dollars. I undressed though he kept his clothes on. He wrapped the bill around my member. The situation (unique in my experience) made us both laugh; he loved pretending. And I was (and am, as you know) such a narcissist that it made me hard."
"And?" she asked, after denying that he was a narcissist.
"Well, I don't need to spell it out. But he loved to play—that night he decided he was a naïve American tourist in shorts and with a camera around his neck and I a wily, not very clean scugnizzo."
She'd heard the word but forgotten what it meant.
"A street boy in Naples, always cheerful, looking like Caravaggio's Bacchus, dirty feet, a hung-over green color who will do anything for a few lira. Of course I was the one who ended up with the expensive camera."
"I've performed fellatio on you," she said, a bit too blunt for his taste. "Quite a mouthful. Did you like it? Did he?"
"Remember we were great friends and though I knew he was an invertito we usually talked books. Or baroque music. He didn't know as much about music as I did, but like European writers he was widely cultured and a good conversationalist."
"But he was American," she objected.
"Yes, but he lived in France and Italy more than half his long life."
"Didn't submitting to his attentions make you a bit of an invert, too?"
"In those days, in that century, especially in the old Mediterranean world, our idea was that it was the part you played that determined your identity, not the sex of your partner."
She got up and poured them a bit of brandy and while concentrating on her little task and not looking at him, she said, "And were you always the active one?"
He laughed and said, "Guess."
"You were always the active one."
He patted his crotch; the conversation was exciting him. "I don't mean to be crude but with this huge member I never was allowed to be passive. By definition, I suppose, with a woman a man is usually active unless she wears a strap-on or ties him up, and undergoing penetration or bondage never appealed to me. The few men I granted happiness to, once they saw Bruce" (their nickname for his penis), 'ils ont voulu chaque fois en profiter." Like his ancestors who spoke Latin when they said dubious things in front of ladies, Ruggiero reverted to French, the language of his nursery and his grandfather's table, when he said anything off-color. She wasn't as at home in French as he was but she knew he meant all the pederasts and most of the ladies had been eager to submit to that hard, giant member.
He sipped his drink and slouched slightly back in his chair. She could see the outline of his penis, held by his trousers in a bent position, which made it look even thicker. He said, "But at the risk of being indiscreet may I ask did you ever take money for sex?"
He was forty years older. She'd been married twice and he once and they'd both agreed soon after they met never to talk about their past lives; transparency had destroyed their earlier marriages. He'd said he "detested nostalgia," but she thought that was just an indirect way of saying he wanted to avoid the penalties of frankness. Their avoid-the-past rule had led them into frustrating impasses. He'd begin, "I knew a woman who traveled all the way to Shanghai in search of the perfect orgasm"—and he broke off. Or she'd say "My father dated a woman I myself had seen for a while"—and again she had "to nail the beak shut," as the French said. They strode past each other clothed in great black capes of mystery. If Ruggiero was in one of his possessive moods, he could turn what she reported as one of her innocent little vacation adventures into a major orgy. We all model ourselves, trying to be more agreeable, on what one's partner praises or damns in a previous lover. In their case, they were flying blind, since they had none of the usual cues of the other one's recollections. Now, though, they'd found such harmony together that, though by nature he was secretive and compartmentalized, she liked to think he could be bullied into confessing. Her love for him was so all-consuming and her respect so great that she assumed he'd be honest about himself and accepting of her avowals. Which side would win out? she wondered. He was too honorable to enter a contract he wouldn't remain faithful to.
"You like to write," she said, touching his thigh, "and I'd like to try. You've always said my emails were entertaining, especially when we were apart and writing each other five times a day. You read my silly little novel about my ex… Even then, when we met, you were in your late sixties and I would have imagined you would have already sussed out all your emotions, but I always felt your urgency, your questions, your intensity—which made our correspondence exciting."
"Yes, well I feel that way now," Ruggiero said, "and though we're happy all the time I'm never bored. We're always discovering new things."
"But once you said you were easily bored."
"By ideas—even musical ideas—that unfold in an obvious way, a way I can easily second-guess, but not by the emotions of the woman I love; I feel I hang on every word, as if every word will determine my fate."
"But you must know by now," she said with a smile, "that with me your fate has long since been sealed in your favor." She noticed that whenever she said something to him that was deeply felt she could tell tears were welling up at the back of her eyes. Why? Perhaps she was just expressing her own ardor, or maybe honesty about such serious, unchanging matters suggested their opposite, the transience of all things human. Nothing could last forever, not even the life of a beloved man already on the far end of his seventies, despite his taking such good care of himself, as he did partly out of vanity, partly out of consideration for her, largely because he hated leaving the party. Since he didn't believe in the afterlife, he accepted that this was the only party in town. Like Achilles he thought it was better to be a living peasant than the lord of the underworld—and he was no peasant but a Sicilian Magnifico from Castelnuovo. His surname was Castelnuovo, his palazzo was called Castelnuovo and he lived on Castelnuovo Street, something that his university registrar thought must be a joke.
"But what should we write?" he asked with a slightly false respectfulness, as one might ask a child which color one should paint a room.
"Our confessions," she said. "In an edition of one, for each other's eyes alone. To be burned after a single reading. The truth, the whole truth and nothing but the truth."
"Let's shake on that," he said, extending his hand, which she grasped. "And when will the delivery date be? We must present our confessions to each other on the same date. And read them out loud. I have to see your reactions to what I read."
"In two months? At the new year's?"
"It's a little unfair since I've lived so much longer."
"But you've forgotten more," she said, keeping up the bantering tone.
"Can we skip childhood?" he asked. "I find childhood so dull."
"But that's the part I remember best," she objected, then said, afraid he'd back out if he had to write something that didn't amuse him, "All right. So we'll begin with early adolescence."
"D'accord."
____________________________________________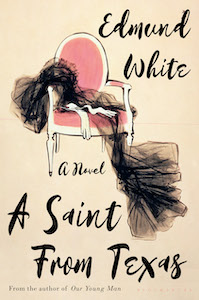 Edmund White is the author of many novels, including A Boy's Own Story, The Beautiful Room Is Empty, The Farewell Symphony, and Our Young Man. His nonfiction includes City Boy, Inside a Pearl, The Unpunished Vice, and other memoirs; The Flâneur, about Paris; and literary biographies and essays. He was named the 2018 winner of the PEN/Saul Bellow Award for Achievement in American Fiction. His forthcoming novel, A Saint From Texas, will be published in August, 2020. White lives in New York.
---