Confessions From a Lifetime of Looking
Scenes from Laurie Stone's Home Movies
I love talking to you. I love making you laugh. I love a cat's paw resting on a dog's head. If you get into my bed in the middle of the night with cold feet and want to talk, I'll say fine. Eighteen on Bleecker Street, a man with a narrow brim, a narrow tie, a narrow eye. No one knows where I am, and it's the same thing as a secret life. An ashtray filled with yellow butts. A dark filling in the back of a mouth. Meanwhile, everyone is lonely and my dreams smell of leather.
Another time we watched fireworks with the neighbors of a friend. We trooped up to the roof. The neighbor had prepared deviled eggs and potato salad. It was terrifically sweet. Tall buildings obscured the display somewhat, but we could see bright formations shoot up and hang in the air, and when it was over, cheers and applause rose from nearby roofs. Afterward a group of us went to eat at Odessa Restaurant. I had sauerkraut. When we peeled back the past from the faces of the rocks, the rocks looked like us.
I feel the old desire to walk the length of the city. Once the thong on my flip-flop broke. We were on a small side street. I thought I could sew it to the sole well enough to walk if I could find a needle and thread. I went into a shop, and a young man directed me to an outdoor market. I was walking with one bare foot and the other in a flip-flop. Everyone spoke English the way everyone spoke dog. The streets were cobbled with small square stones and poured into the canals. A woman who was very tan with high cheekbones was wearing silk shoes made in China and sold me a pair. Pleasure is always out of sync with history.
Tonight, we watched Day for Night (1972), Truffault's love letter to making movies, and I remembered my life. I mean I remembered my youth. Everyone in the film looks young. Even the characters meant to be old look young. Movies are the most important thing in the lives of the characters in the film within the film. I remembered having a most important thing I shared with other people, even if there were doubts around the edges and even if, like me, nothing felt certain or secure. It snowed hard here today, and the lights flickered a few times. It was like standing on a dry spot with water all around.
When I say I haven't changed, I mean I still find it hard to read what people want. In Day for Night, Truffault is saying goodbye to a certain kind of filmmaking that is freewheeling and financed by people who don't need to get rich. A friend who is Russian is writing with knowledge and grief about Russia, and I think he is writing about a kind of disappointment that can't be soothed. People talk about being kind, and I'm not sure what they mean. Maybe they mean give something of yourself away as often as you can remember to.
I can't tell you what movie my life would be if I left when I told myself to leave, because this has never happened.
I was at a party for translators. One was deaf and wore a device in his ear. The party was noisy, and I strained to make out what he was saying. I was interested in the relationship between translating and working to be understood. I asked him about the device in his ear. He said it was a cochlear implant introduced when he was eight. He had talked without hearing and had never signed. I said, "Wow." He said, "Do you need to make sounds when you talk?" Another man said he had to get home to drink a liquid. I said, "You're having a colonoscopy?" He said, "Yes." I said, "You look young." He said, "I'm 50." I said, "You look 35." He said, "It's the lighting." I said, "The drug is amazing. All the time you are drinking the liquid, think about the drug." He said he would. Then I went to a bar with friends and ate calamari. It was a time before eating squid became illegal because squid are sentient beings. I also like fried clams, but they aren't easy to come by except at Howard Johnsons and fish shacks in seaside resorts.
I cannot remember a time when I did not have feelings that were sexual, looking back I can see that's what they were. Attraction and arousal set apart from other feelings. Age three, four, five. If a fantasy is arousing to me, I keep it in my filing system, even if the things I find arousing in fantasy would not be things I would want to do in real life. I have seldom seen a scene of sex in a movie or TV show I found erotic or believable. Naked men on screen and pictures of the male body are almost always exciting to me. I have been reading what is considered pornography from the age of fourteen, perhaps, learning about things it is possible to do. The idea that words could arouse you was amazingly wonderful to discover, also something I don't remember telling anyone at the time of learning this.
I love the walks we took in the desert. They were unpleasant. I love the pink powder that rubs off red rock and coats you on the trails. I love the rocky emptiness and sparse vegetation. You hardly see anything dead in the desert. Everything that remains has learned to split down the middle.
One day I was calm, and it felt like a calm that doesn't care why you need to be calm.
I'm surprised I have ever used the word relaxation. I remember a man I used a spoon in his apartment that tasted like cat food he said he had washed. Mozart refused to wear livery during performances for his patrons. When I tell myself to leave, I never leave, and it always becomes clear I should have left. In this way, my life is The Exterminating Angel by Buñuel. I can't tell you what movie my life would be if I left when I told myself to leave, because this has never happened. Maybe it would be the novels of Thomas Hardy or the movie with Cary Grant and Deborah Kerr, where she winds up hit by a car. A friend once told me, "If you imagine grief as a martini, the vodka part is anger."
When a man I was with was painting trompe l'oeil designs at the Helmsley Palace Hotel, we worked the graveyard shift from midnight to five AM, marbleizing columns, sponging clouds onto domes, applying gold leaf to moldings. In the lobby, you saw the late-night action of hustlers and sharks, upstairs you walked down winding corridors to secret attic rooms.
I had a friend who didn't know the extent of her beauty. I don't know what she saw in the mirror. We visited her mother in Mexico, and her mother kissed me as if I were one of her children. My friend was someone I loved from the moment I laid eyes on her. It was the strangest sense of always having known her. She didn't feel herself speaking English, although that was the language we spoke. She said of her family, "They are holding onto an idea of how things are supposed to be, and although they don't work out that way, their expectations don't change. Each time they are left disappointed, but they don't want to do things differently. The loss of money is worth holding onto their sense of trust." My friend could see right through me and not mind. One day I was calm, and it felt like a calm that doesn't care why you need to be calm.
The serial killers who owned the property we bought dumped their belongings and assorted body parts in large sections of the land, and let brambly shrubs and rotting tree limbs—and anything else that grows and falls from who knows where—have their way. Today we were exploring a quadrant in the western zone we have not previously been able to penetrate. Thick and thorny and boggy. We couldn't tell the shape of the land and what might be possible to do with it. Suddenly and with the smell of spring in the air, we started to cut things, and pull things up from the ground, and haul things to a giant pile.
Little by little in a world like this, you find yourself in love with tools. We have a small chainsaw that runs on a battery, and it is beautiful, and it will do things, OMG, it's like discovering a new organ of sense. On my own, I cleared away debris from an old lilac bush that was tangled up with tubes of dead bamboo, and blackberry runners, and who the hell knows what kind of vines, and as I was snipping and hauling and seeing the curve of the hill the bush was on, I was nine or ten. I was exactly the same as the kid in Long Beach, who used to build things in the dunes.
My best friend and I would set off for new kingdoms, the kingdom of the golden grain heads was one because the tall beach grass looked golden in the sun and waved in the wind, and I don't remember who named it that, but it might have been me. We would build raft things and shelter things out of stuff we found on the beach. We would play in houses under construction, where there were piles of sand and dirt. I was nine or ten today, building a world out of the means available. The man I live with sketched where we would cut paths, and lay down trails, and plant gardens, as we have done elsewhere. The thing I want to tell you is the way I slipped through a porthole, and I felt exactly the way that kid felt. I'm pretty sure of it.
__________________________________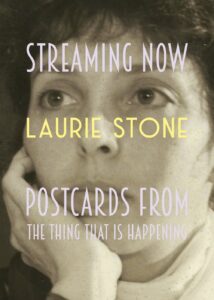 Streaming Now: Postcards from the Thing That Is Happening by Laurie Stone is available via Dottir Press.
---