"Confessional Writing" Is a Tired Line of Sexist Horseshit, And Other Insights
A Red Ink Roundtable on Literary Misfits
The following is an edited transcript from Red Ink's panel discussion on literary misfits. Red Ink is a quarterly series curated by Michele Filgate; the next discussion, featuring Morgan Jerkins, Jami Attenberg, Esmé Weijun Wang, Elizabeth Crane, and Scaachi Koul on resilience, will take place on May 11.
Michele Filgate: What makes you a misfit? Is a word you bear like a badge of honor, or is it a painful word too?
Sarah Gerard: I always felt a misfit, and at some point I decided to embrace it—which is not to say it doesn't still cause pain. The residual pain of being a misfit throughout my life resurfaces in particular stories, and those are the stories I decided to pursue.
Melissa Febos: I think when I started feeling weird, it was the beginning . . . maybe because my mom was a bisexual Buddhist feminist psychotherapist and my dad was a sea captain. We didn't eat meat or watch TV. People did not understand any of those things. I have come to see it as this compulsory allegiance to what I am. I dropped out of high school when I was 14. But it wasn't confidence; it's just that was the only thing on the menu or me. I could not bear it. Similar to how later I would try to work in offices and I would just want to lie down and die overcome with this paralyzing lethargy. It's not hyperbolic; I really couldn't function.
Lidia Yuknavitch: I think a piece of misfitting has to do with our bodies, and living in a body—and this could be all kinds of people—that is literally pained by the cultural narratives coming at it. And in some ways, maybe that's everybody, because the cultural narratives coming at us are idiotic. But for some of us, it's acute, and some of us didn't make it, so there's that too. So next time you look out at the night sky say hello to those who didn't make it.
Emily Raboteau: Everybody is somewhere on the spectrum of feeling misfit. For me, it was feeling racially misfit because I'm the product of a biracial marriage. I have a black dad and a white mom, and I grew up in a town where that was unusual, so our family stood out. I felt like my body was supposed to be expressing something—hope and unity—that has actually failed.
I think anybody who has become an artist has learned to claim being a misfit as something that's cool. Standing outside of the frame is part of what enables us to have insight.
Marcy Dermansky: I've never embraced being a misfit. I feel like my whole life, I've always been trying to be a chameleon. I wanted to fit in with whomever I'm with, so if I'm with the weird people I want to be as weird as the weird people. And with normal people, I want to be as normal as them. I'm always not telling people who I am so that I'll fit into a room. I'm almost 50, and I feel like I'm still doing that all the time. When people read my writing, they expect certain things, and when they meet me they're like "You're so normal." And I'm just like "Oh, you're just looking at me as the clothes that I wear."
Michele Filgate: So some of you were talking about the body. And Lidia, your forthcoming book is a retelling of the Joan of Arc story. You've also mentioned Joan in your terrific anti-memoir The Chronology of Water where you say, "I took the image of a burning woman into my heart and left belief to the house of father forever." All of your books in some way are about burning down the myths and ideas society tries to cram down our throats. They're about creating new stories. So how do our bodies help us tell new stories?
Lidia Yuknavitch: As an adolescent, I just full-blown fell in love with Joan. I was overwhelmed and overtaken with the fact of her body; the only way they could repress, suppress this belief and agency and power was to burn her. And that, to me, was a bigger deal than a whole belief system coming out of the Christ's body. What I took into my heart was this burning girl who didn't die.
I bet in every one of our cases, the body is the place where invention happens. It's the place where crap happens, when you receive unfortunate things, but it is also the place where you invent different meanings than the ones you've been given. I mean a tattoo is a version. But also bruises and scars and wrinkles and the lines we carry are evidence that we've lived a life and we've used our bodies to get through it and managed to pass through it and invent ways through it. So I kind of like this idea that the body is literally an epistemological site. It's a place like language—it's a place where meanings are generated. And possible meanings and stories emanate from bodies and they're destroyed as well. And if the body is something like that, then what we do to it culturally is really stupid.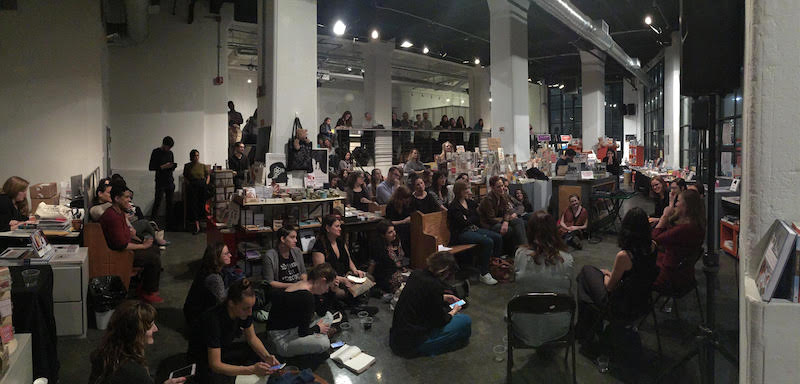 Michele Filgate: Melissa, you write about tattoos in Abandon Me, and you write so beautifully about growing up as the child of a sea captain and a psychotherapist. You say in the book, "I was a middle-class child with an ambiguous ethnic background who had dropped out of high school, picked up drugs, and become a sex worker." And later on you say, "In the decade of sobriety that has followed I have replaced my instinct for secrecy with an instinct for confession." I always tell my students to write from a place of vulnerability, and I'm wondering how you access that vulnerability that leads to confession when writing about your own life.
Melissa Febos: I've been in therapy for many, many years. When I was a kid, I used to take random objects from our house that no one would miss and bury them in the yard, and I would draw little maps. And then I would hollow out books horribly and I would hide the maps. This is connected to what Lidia was saying—the world that I had was not in the shape of me. There was no space in the shape of me, and there was no story that fit my experience. And beyond that, I was so desperate to know if the inside of other people and whether their experience was anything like mine.
All of that sort of resulted in just feeling too much. Secrets and hiding places felt like building a world, or defining a space and calling it a world, and being the god of that world. Some of my favorite thinkers, Sissela Bok and Carl Jung, write about this, that secrecy is a very natural form of childhood development; it's how we differentiate from other people. But at a certain point, the feeling of empowerment that secrecy gives you, and being able to define a certain space—if you hold onto it too long, or if you keep shame in there, it starts to shrink around you and make the world smaller and become like a prison.
I had this instinct for secrecy; then I was also obsessed with the idea of confession. We were Buddhist, feminist, atheist types, but I have this little Puerto Rican grandmother who is incredibly Catholic, and she would take me to church sometimes. I would also try to go to church with my church-going friends, and I was obsessed with the idea of confession. I wanted so badly to go into a little wooden box and tell a faceless stranger all my secrets. And I think it's an honest impulse, to spill it all to a person who we don't have to take care of afterwards. The most instant gratification I've ever gotten is telling a secret; the roof just blows off of my interior world.
Michele Filgate: As women writers, we are criticized more than male writers for what people dub as "confessional writing." This irritates the hell out of me. Don't you feel like that's something we have to fight against?
Sarah Gerard: I spent many years of my life feeling ashamed for having feelings, and I've always felt like I just feel things more than other people. Which is to say, it's a myth that I carried around about myself for many years, and now I realize that everyone probably feels these things just as intensely, except I can't seem to carry them around in my body. And I expressed that in really unhealthy ways: self-mutilation, drug abuse, anorexia, promiscuous sex, jumping off a freight train. And I finally decided one day that I don't want to die.
I've never been very good at articulating how I feel with my mouth, and when I was a kid that was because I literally couldn't speak. I'd get all tongue-tied and stutter. But when we got a computer, I could then talk to myself about the things I was feeling and I'd also always carry a journal around. Writing is a place where I don't feel like a complete moron when I try to talk about how I feel. Feelings hurt; feelings are physical things that we carry around, that we can't carry around forever. And that's where I come from.
"Being emotional is associated with the female. The intellectual is valued higher and associated with the male. These things are not fucking mutually exclusive."
Melissa Febos: Can I make a proposition related to what Michele brought up about personal narrative? Because I think it's just the most tired line of sexist horseshit. Can everyone agree to not co-sign that ever again? The next time you're in a fucking MFA workshop or standing outside of a reading and some dude is just talking and talking and uses the word "navel-gazing," can you just be like, "Shut the fuck up?"
I'm sure everyone on this panel has had this experience, and I can say personally as a memoirist who has written about sex, the body, my experience, and my feelings at great length, it is there's just no way to not see how incredibly insanely sexist it is. And, you know, being emotional is associated with the female. The intellectual is valued higher and associated with the male. These things are not fucking mutually exclusive. If I'm writing something about my period, it doesn't mean that I'm not an intellectual. I can be totally intellectual about my period. I can write an intellectual essay about my navel or a whole book about my period.
Lidia Yuknavitch: Historically, we took on the word "confessional" to talk about women's writing, in particular, and the moment that that word got pressed upon writers of color and women and LGBT writers, it robbed us of our own agency as people who make art. And I have another proposition to follow Melissa's: that we ditch this word "confessional writing," because when women or anyone from those communities is writing about their bodies and emotive states and physical realities, they are being precise. Intellectually precise. And the historic tradition I use as a touchstone started with Whitman. So maybe interrupt the idea that women's writing is confessional. That's a market-driven label that has been pressed upon women writers that have been writing our hearts forever, and the only way to make it go away or change it is to simply begin to reject it and admit that women are participating in intellectual tradition and not off to the side, crying and weak.
Sarah Gerard: Can I say one more thing about the word? You don't confess to something that isn't a crime. And women writing about our lives, we're not writing about crimes that we've committed. It's not a crime to have a period. It's not a crime to cut yourself. It's not even weird to have your period. I'm just highly suspicious of the word confession. I'm not confessing to a sin when I sit down to write about my life.
Marcy Dermansky: Another thing women writers face more—which I don't think men ever get—is we're criticizing for writing unsympathetic characters. And I never understand that, because I always think that if you wrote about a character who only did good things that she wouldn't be interesting, and people who do really bad things and get into trouble are so sympathetic. There's this need to attack women's writing for their unsympathetic characters. I feel like they're attacking the author, even though they're attacking the characters. So as a writer, because we all read reviews, I'm always like "Wow, you really dislike me."
Melissa Febos: Inherent in that is the reinforcement of this belief that women's primary value is being likable and nice and serving other people and that you could have another value is inconceivable. I mean it's so blatant I can't even believe it.
Michele Filgate: Emily, Searching for Zion is a book where your aim is to look to other communities in search for a home. You write, "The Promised Land is never arrived at. A black president is not the end of race. One man does not rule a nation. No country is what it should be, just as no man is perfect." How did your perception of America change over the course of writing this book and since finishing it, now that we find ourselves in the Trumpocalypse? Do you feel more at home in your body and your country after writing this book?
Emily Raboteau: My first book was largely autobiographical, as a lot of people's first books are, but it was a novel and it was very much about the experience of not belonging racially. And then the second book was a work of non-fiction, a departure for me. And perhaps because I'd been confessional with the first work, my impulse was to interview other people who had had the balls to leave America out of similar feelings of the lack of belonging, only much more acute.
So I explored black communities all over the globe who did that reverse migration, who left America—although many people come here thinking of it as a promised land—people who left out of feelings of disinheritance, dispossession, disenfranchisement to the degree that they were second-class citizens here. I talked with black people from the ghettos of Detroit who fled because they were going to wind up dead or in jail and went to Israel and claimed to be Jews so that they could be free. And I thought, that's crazy and insane and interesting and I want to know if they found the Promised Land they were seeking.
Then I explored other communities, black communities in Ghana, communities of Caribbean ex-patriots who had moved to Ethiopia. And in all of these cases and communities, utopian communities with really beautiful ideals, the answer was no, they didn't find it. Somewhere inside the years of my traveling, I began to feel like it was the wrong question; the question that I was asking, and the question that many of them were asking was Where do I belong? It was wrong. The appropriate question is what can I be doing to make where I am a better place for my neighbor?
Michele Filgate: In an essay I wrote for The Rumpus on being a melancholic person, I said, "Writers in particular are very lovely creatures. It's as if we're born outside the perimeter of the world, destined to observe what's around us, but not always understand what our own role is." I'm wondering if you think that one has to feel like they don't belong in order to be a writer, or is that something we tell ourselves to justify our loneliness?
Sarah Gerard: I find a really pleasant loneliness in my work, and I know that I like to be alone. I really don't do well in crowds. I spent all day thinking about this panel and how you'd all be looking at me and how stupid I felt. So that can feel really lonely. But I find that space really generative too. When you put a word on a feeling it reduces that feeling—loneliness is multifaceted. Sometimes it can feel really happy and other times it can be excruciating. So I just write into that feeling. I write about loneliness.
Melissa Febos: I can't speak for everyone, but the writers that I love are lonely. I'm lonely. Some random jocky dude, straight guy writer might just be verbally inclined. I don't know—I don't have many men in my life. But we're all alone in our consciousness. We're all dealing with that in some way, and writers are just people who deal with it by writing. The epigraph in my new book is "It is a joy to be hidden and a disaster not to be found." And again I carried that shit around in my pocket for years. I tried it out and it didn't quite fit, but it speaks to this.
So much of being human is dealing with potential and wanting to hide and be seen at the same time and our vulnerability. I play with vulnerability as if it's scorching. So hot. If I can expose myself in isolation, which is what writing is for me, then I can sort of present that self in a way that feels safer.
Lidia Yuknavitch: I don't get lonely, and I love being alone more than I love being with people. I was made to feel bad about that for most of my life, until kind of recently—if a decade is recent—I decided that it's nothing to be ashamed of, and I have been convinced that connection to other mammals is healthy. And I have a partner and a son, and I like them a lot. They convinced me to come out of the aloneness, and I see that there are reasons to be social with other mammals. But I would rather be alone inside making art than any other state I've encountered in life. And I'm not going to be sorry for that ever again.
The part I have to work on is finding reasons to come out and feel worth in human interaction. You're all beautiful, loving, wonderful people. I adore you. But I want to put a marker out for those of us who love to be alone and don't experience loneliness. I didn't even get lonely when I was in a jail cell. I felt some other things, but loneliness wasn't one of them. And that experience of incarceration actually helped me understand how to be in the world better later in life because I was lucky enough to get out, unlike some people. But I've never been more lonely than in crowds or in exuberant groups of people who are good at being social. I'm my worst. I'm inching my way to the bathroom.
Emily Raboteau: There's a wonderful quote by May Sarton which is this: "Loneliness is the poverty of self and solitude is the richness of self." She took off to live alone for a year to write, and everyone told her she was crazy to want to do that. I have to say, because I'm the mother of two very young children at three and five years old, that I really miss solitude. I still experience loneliness, but solitude—I don't have the luxury of solitude in the same way that I used to, meaning that I don't have the time that I used to, and as a writer, I've had to learn how to use time differently in order to be productive.
Marcy Dermansky: When you're writing that's when you are who you are. I think you're not lonely when you're actually writing because that's when you're making characters; people come in and do whatever they want. I'm really happier when I write, so I wonder why I don't write a whole lot more because it's so much fun.
Melissa Febos: You can exist in the world of your characters. That's one kind of community. And it's quite depressing actually to have to leave that world. But there's another element to being a writer and participating in community, which is belonging to a literary community. Whether it's sitting on a panel and teasing out a theme like this or sitting around a workshop table, it's another way of suddenly fitting somewhere. We're all misfits.
Marcy Dermansky: I love being a writer even when I haven't written anything for a really long time. So many people complain about going to a writer's party. But sometimes I go to a writer's party and I'm like, oh my gosh, I'm finally with my people.
Michele Filgate: Lidia, in your TED talk you say "There's a myth in most cultures about following your dreams. It's called the hero's journey. But I prefer a different myth, that's slightly to the side of that or underneath it. It's called the misfit's myth. And it goes like this: even at the moment of your failure, right then, you are beautiful. You don't know it yet, but you have the ability to reinvent yourself endlessly. That's your beauty." But how can writers see the beauty in the failure instead of wallowing in it?
Lidia Yuknavitch: If you look at them as creative opportunities, as generative moments, as our most human experiences—we are most human when we are vulnerable or fucking up, when we're making mistakes.
And when you're in love with someone, over time especially, you end up loving their vulnerabilities or their glitches or their failures or whatever you want to call them more than original things that brought you to them. Over time, you love those things that are their non-perfectness. So how to help yourself not keep living fucked up and ashamed? Put it to the page. Move the energy. Shame is an energy. Feeling like you get it wrong is an energy. You can move any energy and make it into something else, always. So remember the page. Holding on to it, letting it live in your body and not move into an articulation, that's where it gets stuck.
Photographs by Sean Fitzroy.
---