Community and Care: On Squirrel Hill and the Tree of Life Shooting
Mark Oppenheimer Discusses the History of His Ancestral Town and the Aftermath of the 2018 Shooting
Jews have been permanently settled in Pittsburgh since the 1840s, when my great-great-great-grandfather, William Frank, and three other Jewish men founded the first Jewish burial society there. (When Jews start a graveyard, they're staying.) Frank's daughter, Julia, married my great-great-grandfather, Moses Oppenheimer, son of Isaac, another of the first Jews to put down Pittsburgh roots. They lived on Bartlett Street in Squirrel Hill.
Pittsburgh Jews had settled in several neighborhoods, but by the time of the Great War, Squirrel Hill was on its way to being first among equals: not majority Jewish but with a sizable enough minority to support synagogues, Jewish bakeries, kosher butchers, a whole shopping district. My father was born, in 1945, to a prosperous family that moved, when he was four years old, to stately Aylesboro Avenue, the street where Tammy Hepps would later make her home. His Squirrel Hill was a little Jewish Eden.
Not that there weren't divisions. I was raised with the legends of those founding German Jewish families who went to temple together, often at the elegant Rodef Shalom Congregation; dined at the Concordia Club, which held parties and dances for their crowd; and married their children off to each other. These fancy Jews looked down on more recent arrivals from Eastern Europe.
But even such antagonisms added to the picture of a safe, lively, gemütlich urban ghetto. Upper-class Jews may have disdained their lower-class neighbors—and the disdain surely ran in the other direction—but at the end of the day, they lived side by side. North of Forbes was more upscale than south, but there were all kinds of Jewish families in both parts of the neighborhood. Everyone used the same supermarket, ate at the same delis, and attended Taylor Allderdice High School (although some lived over the line in the Peabody High district). My father's elementary school chums were not from families as fancy as his, but as a boy he couldn't have cared less. Squirrel Hill was, by midcentury, also home to a growing population of Orthodox Jews.
Jewish Squirrel Hill is not just geographically integrated, with different kinds of Jews living next door to each other, but spiritually miscegenated.
In Squirrel Hill, the public library, the post office, the movie theater, the ice cream shop, the shoe store, the kosher butcher, and synagogues of every denomination were all within a quarter mile of each other, give or take, so everyone walked the same sidewalks and, for the most part, nodded warmly as they passed.
The gunman who at Tree of Life perpetrated the greatest antisemitic attack in American history surely did not know that he was attacking the oldest, most stable, most internally diverse Jewish neighborhood in the United States. He did not know that, by 2018, Squirrel Hill had been a major Jewish center for a full century. It was Jewish before the Boston suburb of Newton or the Chicago suburb of Skokie, and it was still Jewish long after Philadelphia's Strawberry Mansion lost its Jews.
Whereas many American cities lost their Jewish populations to white flight after World War II, the Jewish population of Pittsburgh never relocated en masse, and half of it still lives in Squirrel Hill or the immediately adjacent East End neighborhoods. Often Jews who leave return. My aunt and uncle started married life in Squirrel Hill in the 1950s, moved to the suburbs for a time, then retired to Squirrel Hill, where they live in an apartment. It's an expensive one, but they could have found one at half the price on the same street. Squirrel Hill is more economically diverse than most Jewish neighborhoods; with its mix of apartments, side-by-side duplexes, and stand-alone houses of varying sizes, you can get into the Allderdice school district for a million dollars or for less than two hundred thousand.
Jewish Squirrel Hill is not just geographically integrated, with different kinds of Jews living next door to each other, but spiritually miscegenated. The normal boundaries between Jewish denominations don't seem to apply here. It's not hard to find someone who on most weekends worships at an Orthodox synagogue but sometimes goes with a friend to a Conservative synagogue. There are "mixed" marriages, in which the Reform wife goes off to her temple while the Conservative husband goes to his. Friendships cross these lines, too. The wife of a Lubavitcher Hasidic rabbi may power-walk with a secular Jewish neighbor.
In the days after the shooting, I wondered how the people of this unusual neighborhood, my ancestral neighborhood, were doing. Given its closeness, surely the whole neighborhood felt the weight of the tragedy. I'd grown up elsewhere, but I knew that Squirrel Hill was a place of friendliness and basic midwestern decency, with a strong civic spirit that had carried it through difficult times before.
I was curious to know how people dealt with the aftermath of mass violence. When the cameras and the police tape were gone, what stayed behind?
The city had also become known for its extraordinary economic and social resilience. Once a steel town, the mills had closed, one after the other, mainly in the 1970s and 1980s, as production moved overseas. But Pittsburgh had reinvented itself as a center of education, medicine, and computer technology. Carnegie Mellon University, in the western end of Squirrel Hill, was a leading center of robotics, and Google had a major outpost in the revitalized Bakery Square (its main building a rebuilt Nabisco factory). Pittsburgh was one of the great urban turnaround stories.
Quite understandably, much of the early reporting on the Tree of Life crime focused on the alleged killer, who apparently had spent his recent life in the ugliest depths of the racist internet. He did not interest me. And the victims were eulogized at length. I was interested in everyone else. I knew that in a neighborhood like Squirrel Hill, thousands of people would know at least one of the victims; everybody would be afraid the next time they went to synagogue (or church, or the grocery store); there would be trauma; there would be acts of extraordinary kindness. There would be discord. I was curious to know how people dealt with the aftermath of mass violence. When the cameras and the police tape were gone, what stayed behind?
Just as the shooting was an event unique in the annals of American Jewish history, the affected neighborhood was unique, too, and thus presented the perfect opportunity to look for answers to some very interesting questions. This was a neighborhood of joiners. Would it help people's recovery that the victims, many of their relatives, and those who survived the attack all belonged to houses of worship? What about faith in God, for those who had it? And what about the neighborhood's longevity—how much did it matter that Jews had been here for a century, and that many of these Jews today were third- or fourth-generation residents?
As somebody who lived in another dense, walkable neighborhood, with small lots and good sidewalks, I knew that the regularity with which I bumped into neighbors had helped me recover from my occasional troubles. I had to wonder if the Squirrel Hill topography would alleviate the isolation and depression that can follow serious misfortune. And what would it mean for people's healing that, as Pittsburgh Post- Gazette editor David Shribman wrote the day after the shooting, this "anti-Semitic rampage" had occurred in "perhaps the least anti-Semitic city in the country"? That's the way my father remembered the city, too.
American Jews have had good relations with their Gentile neighbors, but not always. When I began writing, in late 2019, there were ongoing violent attacks against Orthodox Jews in Brooklyn neighborhoods where Black and Jewish residents had lived together for decades, often uneasily. On December 10, 2019, the owner of the JC Kosher Supermarket in Jersey City, New Jersey, was shot and killed, along with an employee and a customer. Eighteen days later, during Hanukkah, an intruder stabbed five men at a rabbi's home in Monsey, New York. I was curious how the support—and it was overwhelming support—from non-Jews helped the Jews of Squirrel Hill.
With their dense settlement, deep roots, economic vitality, robust Jewish life, and warm relations with their non-Jewish neighbors, the Jews of Squirrel Hill might, I suspected, offer a model of resilience. Morbid as it is to say, if mass murder had to come, there was probably no place in America better positioned to endure it than Squirrel Hill.
Some lives changed in big ways, some in little ways. Some people performed the Jewish value of loving kindness so perfectly that I still contemplate their stories shamefacedly, wondering what I have done with my time. Such acts persisted, and not just from Jews—a Black Christian from Minnesota came to Pittsburgh to give Jews her sweet potato pies. In wintertime, a celebrity made a surprise visit to a boy's bar mitzvah.
When the warm weather came and the funerals seemed further in the past, people started to feel better. There were holidays and parties, and it became okay to have fun again.
But people struggled, too. Some non-Jews, especially African Americans, wondered why the Squirrel Hill murders got so much attention, when the murders of Black men had been so quickly forgotten. The Tree of Life synagogue remained closed, fenced off, a hulking shrine to the dead—and within the Jewish community, some wondered if Tree of Life should even reopen its badly damaged building.
There was no consensus over how to remember the dead. Many in Squirrel Hill believed that a meaningful response to their murders had to include a push for gun control and outspoken opposition to right-wing antisemitism and xenophobia—for how could we honor the dead without condemning that which had killed them? Others preferred that the deaths not occasion what they saw as partisan politicking. A year after the shooting, some of the apparent unity felt facile and dishonest. Despite all the stronger than hate posters and merchandise, not everybody felt so strong.
Not everybody was affected, of course. Plenty of good, upstanding people stopped on the day of the shooting, shed some tears, paid attention to the news for a week or two, and then moved on. They treated Tree of Life as so many of us treat most American mass shootings. But other people who stopped what they were doing, then did something different, at least for a time. Their response to a uniquely bloody slaughter of Jews transcended religion, ethnicity, and family ties; it teaches us something about the power of proximity, how the streets we walk affect how we treat each other.
_______________________________________________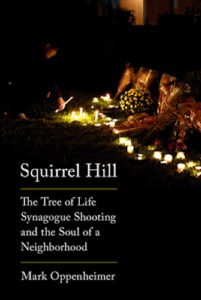 Excerpted from Squirrel Hill: The Tree of Life Synagogue Shooting and the Soul of a Neighborhood by Mark Oppenheimer. Copyright © 2021 by Mark Oppenheimer. Excerpted by permission of Alfred A. Knopf, a division of Penguin Random House LLC. All rights reserved. No part of this excerpt may be reproduced or reprinted without permission in writing from the publisher. 
---