Comfort Food in Uncomfortable Times
Michael Wiegers Makes French Onion Soup with His Daughter
You make us cry without hurting us.
I have praised everything that exists,
but to me, onion, you are
more beautiful than a bird
of dazzling feathers
–Pablo Neruda
*
On the road since mid-February, I returned as the coronavirus pandemic lockdown was upon my home state of Washington. My refrigerator was empty, save for a bag of onions and too many half-jars of condiments. My baker-daughter was also suddenly back home but the shelves in our small town grocery had emptied and options were limited. Lacking the community necessary for stone soup, I turned toward those onions and a personal comfort food: French onion soup. Onions and memories are my main ingredients; I can't say the measurements of either are ever very precise.
My parents divorced when I was young, and my mother had visitation rights every other weekend. She's 85 now but even when she was younger and healthier, she didn't quite have her Italian mother's ease in the kitchen, so our parent/child visits would often start with dinner at St. Louis's red-sauce Cunetto House of Pasta—where she would order the budget-friendly dinner salad while we ordered Linguini Tuto Mare—or at one of the Central West End's restaurants, like Balaban's or the hippy haunt, The Sunshine Inn. It's at the former where I first burnt my mouth on French Onion soup, with its island of crusty bread atop the sweet, caramelized onions bubbling over with molten, earthy-salty-sour Gruyere. Like the salad, it was inexpensive yet seemed an elegant, exotic indulgence.
Mom loves talking with strangers, and readily recounts her conversations, like when she met an interesting young novelist who was writing his first novel at her local cafe bakery—Jonathan Franzen—or about meeting the Pulitzer Prize-winning poet who taught at Washington University—Howard Nemerov (Nemerov's Inside the Onion, was an early poetry gift she gave me). Mom started going blind in her thirties, and as her sight was quickly failing she would rely upon my sisters to tell her about some handsome guy or another who caught her attention in the restaurant.
Before online stalking was ever a thing, our twice-a-month Saturday dinners became an opportunity for her to conspire with her kids to eavesdrop on some handsome man at a nearby table. As the youngest child, I was largely oblivious, studiously focused on scraping the bits of cheese from my soup bowl's rim. Sometimes she would cajole one of us to drive past the house of some kind man she'd met on the bus, trying to look in the windows to decipher whether he might be married and we'd play along, only after she bribed us with Ted Drewe's Frozen Custard en route home.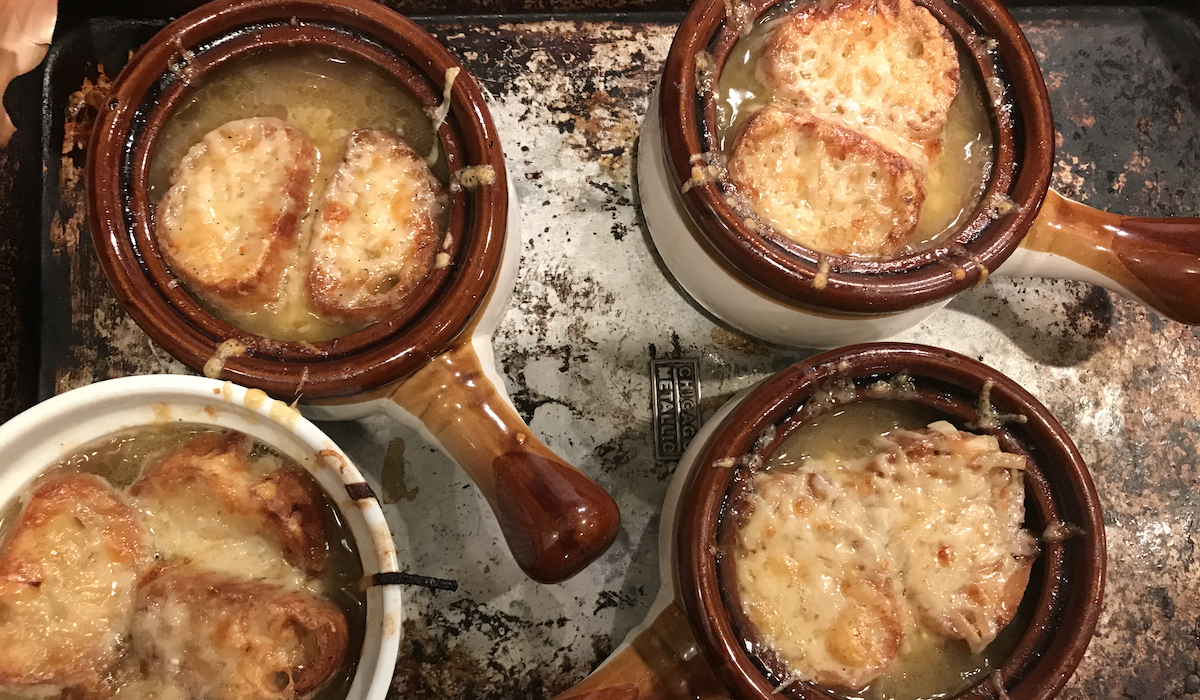 Eventually Mom bought a set of four classic French soup crocks so that she could attempt to make it herself at home—a bowl for each of her kids. One of them broke somewhere along the years, but I now have the remaining three and fill them with my unsophisticated recipe, complimented by the fresh-baked baguette my daughter makes:
• 5-6 onions, thinly sliced sweet yellow onions (sliced in rounds or semi-rounds)
• 6-8 cups beef broth (or substitute chicken or water or combination thereof)
• 1/4 cup red wine or sherry (optional)
• 1 tbs olive oil
• 2 tbs sugar
• 1 tbs flour (or other thickener)
• 1 tbs butter, plus extra for toasting bread slices
• Salt, pepper, thyme
• 2 cups grated  Gruyere cheese (or substitute provolone or jarlsberg or combination)
• Baguette or other crusty bread
Instructions:
1. Wash your hands.
2. In a heavy soup pot or dutch oven, melt butter with oil on medium-low heat. Once butter is melted, add onions.
3. Wash your hands.
4. Sauté until golden and translucent. (20-30 minutes depending on your heat.)
5. Wash your hands.
6. Meanwhile, slice the baguette into 1 ½ inch rounds, coat each side with butter.
7. Wash your hands.
8. Add sugar and stir for another 2-3 minutes. Add flour and stir 2-3 minutes to distribute evenly.
9. Wash your hands.
10. Add thyme, salt and pepper to taste, followed by broth & wine.
11. Wash your hands.
12. Slowly bring to a boil, while grating the cheese.
13. Wash your hands.
14. In a dry skillet toast the baguette slices until golden brown.
15. Wash your hands.
16. Transfer hot soup to oven-proof bowls; cover as much of the top surface of the soup with toasted bread slices and pile generous handful of cheese atop the bread slices.
17. Wash your hands.
18. Put soup under a broiler or an oven preheated to 450. It's finished when the cheese is bubbling and browning.
19. Wash your hands.
20. Don't burn your mouth.
---