Chuck Palahniuk on His Childhood Love of Ellery Queen and Writing in a Good Mood
The Author of Consider This Answers Five Questions From Lit Hub
Chuck Palahniuk's latest, Consider This, is available now. 
*
Lit Hub: What do you always want to talk about in interviews but never get to?
Chuck Palahniuk: "Young people are always looking for a roadmap or formula that will guarantee their success. No such plan exists, but I've reached a point where I can recognize the major influences on my career.  A specific series of groups catalyzed my writing, improved it, and sustain it to this day. These are Landmark Education (in which I first participated in in 1988, and which spurred me to begin writing), followed by the workshop Dangerous Writing led by Tom Spanbauer (which taught me the skills of Minimalism, and gave me feedback on my early work), then the Cacophony Society (a collective of pranksters and culture jamming hooligans who enfolded me in their secret world for three decades), and most recently Alcoholics Anonymous (a community that gives me refuge and humility no matter where in the world circumstances take me). I've loved and hated each group but recognize that each has made a crucial contribution to my success.
LH: How do you tackle writer's block?
CP: Regarding writers block, my policy is to avoid it. Therefore I never declare one project complete until I've fallen in love with the next. This passion to move on to the new work also gives me a greater freedom to be ruthless and realistic in editing the previous work. My heart is elsewhere. Likewise, when a past work finally reaches the market, I'm unhurt by people's reactions because I've already invested my emotions in the next experiment. For smaller episodes of block, for example when I don't know how to end a scene, or what gesture should support a line of dialogue, then I leave the writing and perform some manual task like ditch digging or gardening. That's where the best ideas occur.
Article continues after advertisement
LH: Which non-literary piece of culture—film, tv show, painting, song—could you not imagine your life without?
CP: This question I agonized over. In the end, the winner must be the Tony Scott film The Hunger. I'm always drawn to stories told in a seemingly distorted reality. My choice might as well have been Lynch's The Elephant Man or Wilder's Sunset Boulevard or Fosse's Cabaret. What attracts me is how the story distorts the telling, and the telling distorts the story, and it's all in service to provide the viewer with something unique on both counts. This is in contrast with Spielberg films that all seem to exist in a sunny, sharp-focused, every-man reality. I reject that standardized reality and believe that each person lives in a reality slightly (or vastly) different than her fellows'. Therefore a stylized film like The Hunger helps me justify spending outlandish amounts of time and energy inventing a storytelling style and voice for even my shortest works.
LH: What's the best writing advice you've ever received?
CP: "Art is what you can get away with," attributed to Andy Warhol. The second-best advice I've gotten is, "Write in a good mood.  Edit in a bad mood," told to me by everyone.
LH: What was the first book you fell in love with (why)?
CP: From the age of 12 to the age of 18 I fell in love with Ellery Queen. No single book, but all 5000+ titles in the series. I was primed to love them after a childhood reading the Encyclopedia Brown mysteries. From there I made the jump to Ellery Queen, like abandoning the easy Monday crossword puzzle for the slightly more difficult Thursday puzzle. The television series appeared with Jim Hutton, and it just reinforced my obsession.
My other obsession was reruns of The Big Valley, starring Linda Evans. In Ellery Queen, the namesake detective lived with his father, Inspector Queen, and no mention was ever made of the long-dead wife/mother. In Big Valley, everyone fretted over cattle rustlers and rattlesnakes, and no one moped around mourning the long-dead patriarch, Tom Barkley. Both narratives showed people succeeding despite huge emotional holes in their lives. I loved that, plus I could usually deduce the killer by the point Ellery did the unmasking. For a single-parent kid in the "latchkey kid" generation, these stories were lifesaving.
———————————————————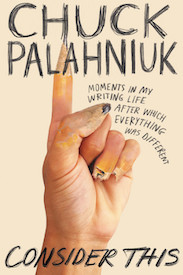 From Consider This by Chuck Palahniuk. Reprinted with the permission of the publisher, Grand Central Publishing. Copyright © 2019 by Chuck Palahniuk.
---