We've all seen the video by now: Amy Cooper, a white woman, lying to police about Christian Cooper, a writer and longtime birder who politely asked her to move her dog out of a part of Central Park designated for birdwatching.
Now, he's written a graphic novel about birdwatching for DC Comics, who just made the first chapter available online (with the rest of the book set to publish next year). It's a Bird is the story of Jules, a young Black birdwatcher whose binoculars show him the stories of Amadou Diallo, Breonna Taylor, and George Floyd.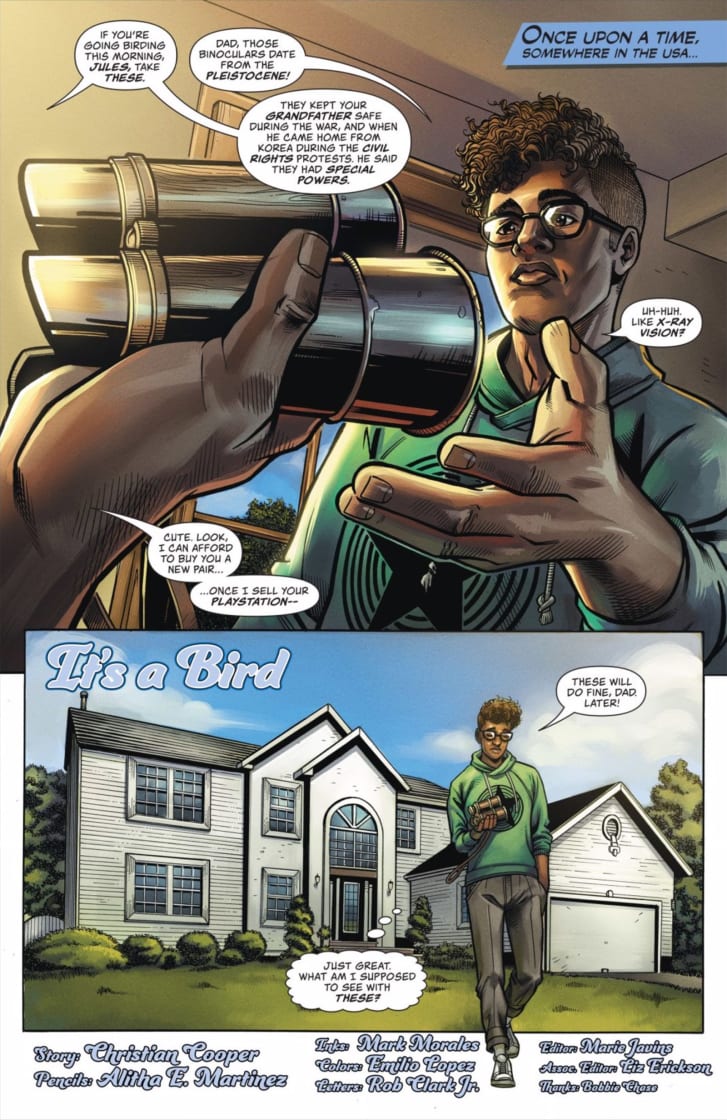 Cooper filmed the Central Park video the same day that police killed George Floyd in Minneapolis, setting off a summer of uprisings against the police and state violence. He said in a statement that he hopes young people who read the book will stay focused on the lives of people who have been killed by police:
I hope as many people as possible read it, but I'm hoping in particular that young people read it. I think a lot of them may not know some of these stories, particularly as we got into detail in the appendix. We not only give the bare bones details of how they died, but also a little bit about them, because they were people. They weren't just want happened to them.
I hope young people read it, and that they're inspired to keep the focus where it needs to be, which is on those we have lost and how we keep from losing more.
Cooper worked with artist Alitha E. Martinez, inker Mark Morales, colorist Emilio Lopez, and letterer Rob Clark Jr. on the book.
[h/t CNN]