Celebrating Women Writers & Readers With the Romance Writers of America
Finding Power in Emotion and a Level of Success Unparalled in Publishing
From July 26 to 29, thousands of romance writers and industry professionals gathered at the Walt Disney World Swan and Dolphin Resort in Orlando, for the 2017 Romance Writers of America national conference. Founded in 1980, the RWA is a non-profit membership association founded to advance the careers of romance writers and to advocate for the genre. Currently, the organization boasts 145 local and online chapters and 10,500 members, including writers, librarians, and booksellers. The annual conference offers workshops on topics ranging from story structure to self-employment taxes, inspiring keynote speakers, award ceremonies, and networking among 2,000 people who keep the heart of romance publishing beating.
A billion-dollar business annually, and one that makes up one-third of the US fiction market, romance is also a genre largely dominated by women, making it unique within the publishing world.
Eva Leigh, who also writes as Zoë Archer, is all too familiar with stereotypes and misconceptions about the romance genre and its authors. "It's not a secret that romance is one of the most embattled and denigrated genres of fiction," Leigh says. "Having experienced the highly competitive world of 'literary fiction,' it's evident to me that a key factor in the strength of the RWA community comes from the shared experience of being women writers and readers. We are professionals, but more than that, we are friends, and female friendships are incredibly powerful."
Says Courtney Milan, winner of the 2017 RITA award for Best Romance Novella: "We're invisible to everyone else, so we've learned to be our own best cheerleaders, marketers, and critics, with the result that we are some of the most savvy, business-minded people in the industry."
Since the genre is so infrequently awarded in broader literary circles, romance writers honor their own. Some of the most anticipated events at RWA conference are the presentations of awards. The RITA Award is given to excellence within published romance fiction, and the Golden Heart Award highlights the stars of tomorrow by recognizing unpublished manuscripts. Additionally, RWA also names a Bookseller of the Year and a Librarian of the Year, as well as presenting the Veritas award, which is given to the nonfiction print work that best depicted the genre in a positive light.
To see the positive impact of romance fiction in society, you needn't look any further than the "Readers for Life" literacy autographing—an annual conference event where hundreds of authors sign books to benefit literacy causes. This year's signing drew devoted readers from hundreds of miles away and raised more than $44,000 in just two hours. Over the years, RWA has raised more than $1 million through these signings—that's enough to teach 40,000 adult learners to read. In recognition, ProLiteracy awarded RWA with its 2017 President's Award.
Smaller gatherings within the conference illustrate that RWA is more than a national organization—local and special interest chapters are home to valuable education and networking. Anna Zabo, attending their third RWA conference, serves as the current Secretary of the Rainbow Romance Writers and attended the chapter leadership retreat. "There were so many great ideas about empowering members," Zabo says. "It gave me a lot of ideas to take back to the RRW (and my local chapter, too) to make it even better for members. [It] solidified my desire to run for VP and make a difference at that level. Pay it forward, as it were."
Pay it forward. Hang around romance writers for a day or two, and you'll hear variations on that statement again and again.  It's a sentiment underscored by the theme of this year's awards ceremonies: "Take My Hand."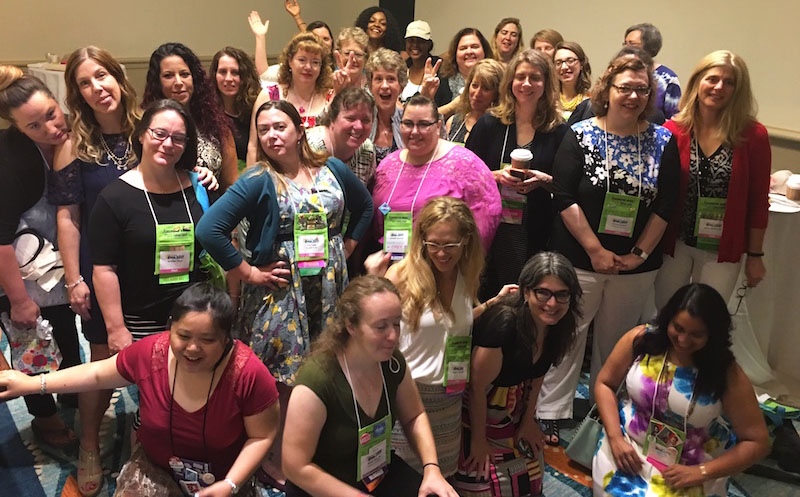 "One of the most striking aspects of the RWA National Conference is how the women of this community support each other through the ups and downs of not only the creative process, but also the variations in the business side," says Nico Rosso, a 2017 RITA award finalist. "One woman's success doesn't take away from another's, and you can feel how eager they are to help each other."
Leslie Kelly, RWA President, similarly found inspiration in the conference atmosphere. "I was thrilled not only by the overflowing energy of a conference center full of women, but also by the open, accepting attitudes they possess. I stated in my president's address that RWA is a place where all romance writers are welcome, and I saw examples of that again and again."
During the conference, diversity summit brought together RWA leaders with publishing professionals. The discussion acknowledged that both the organization and the industry have big strides to make when it comes author inclusion and character representation. To stay relevant, any genre needs to reflect the full spectrum of its audience, including race, ethnicity, gender and gender expression, sexuality, religion, disability, and age. Romance has a long way to go, but as an organization, RWA is committed to the effort.
Author Karen Rose moderated two sessions on the inclusion of disabilities in fiction: one, a panel of disabled and non-disabled authors, and the other, a workshop featuring only disabled authors to help other writers "get it right."
The audience was deeply moved by one of the panelists, former police officer Barbara Devlin, who shared the story of her disability for the first time. Her career had been ended by a drunk driver as she directed traffic around a highway accident. She spoke about her recovery and emotional state candidly, clutching the hand of the author beside her for support. Those in attendance responded with a standing ovation. 
"We as romance authors are a female-dominated industry. The vibe is very different from the other organizations of which I've been a part. We maintain an atmosphere of emotional and practical support at all levels of our organization. There is competition, of course. And it's not always sunshine and bunnies, but at its core the organization is massively supportive," said Rose.
Farah Heron attended RWA conference for the first time, after starting to write romance two years ago. "I'm a relative newcomer to the romance genre," she says. "I don't know why it took me so long to embrace this genre–maybe I thought these books were not for people like me. I am a very liberal, feminist woman, and a staunch supporter of all human rights. I'm also a visible minority, a Muslim woman. But the romance writer community has been so welcoming and so warm since I joined RWA."
New-York Times bestselling author Kristan Higgins explained the value of writers helping writers. "RWA has given me friends and mentors I'd never have met otherwise, introduced me to worlds and people I wouldn't have found on my own, opened my mind and expanded my world view, and given me the chance to use whatever wisdom or influence I have to help other women (and the occasional man) take a seat at the table."
Speaking of that "occasional" man…  Though the genre's numbers tip heavily toward women, the romance world has a number of male and non-binary readers and writers.  Author Andrew Grey received the RWA Centennial Award at this year's conference in recognition of his 100th published romance. Multi-published author Damon Suede sits on the RWA Board of Directors and is a regular contributor to the organization's magazine, Romance Writers Report.
Be that as it may, it's hard to ignore that female empowerment is a running theme throughout RWA conference. When keynote speaker Susan Wiggs included the now-iconic phrase "Nevertheless, she persisted" in her address, she sent a wave of spontaneous cheers through the crowd.
The most affecting moment of the conference belonged to Beverly Jenkins, recipient of the 2017 RWA Nora Roberts Lifetime Achievement Award. Jenkins is the bestselling author of more than thirty romance novels centered on 19th century African-American experience. In her acceptance speech, she related her family history from the 1870 census to today and a love of reading that began in childhood and ranged from Shakespeare to Superman comics. "You have no idea," Jenkins said, "what it means to be a descendant of a people who by law were denied access to the written word, and be here before you this evening as a celebrated, award-winning author. So now, here I stand:  Beverly Elaine Hunter Jenkins, first of her name, descendant of slaves, daughter of Dolores, slayer of words, and the 2017 recipient of RWA's Nora Roberts Lifetime Achievement Award."
A tearful-yet-joyful standing ovation followed from the ballroom full of romance writers: professionals who find power in emotion, strength in friendship, and a level of success unparalleled in publishing.
---