Celebrating Literature & Interrogating American Dreams in Sin City
A Report from The Believer and Black Mountain Institute's Inaugural Festival
I felt awed by the beauty I was unaware Las Vegas possessed as my Lyft driver pulled into Red Rock Canyon. The endless rock formations showcased a variety of colors, jagged edges of Aztec Sandstone in various shades of rusting red. I was headed to the amphitheater to attend the opening event of American Dreams: The Festival. It was the first of what will become an annual literary celebration in Las Vegas, this particular occasion marking the marriage between The Believer magazine and Black Mountain Institute. I have never been a fan of Las Vegas, having only indulged in its more stereotypical offerings, but when I heard about the American Dreams festival, I decided to see what literary life existed within Sin City. The two-day festival, which was free and open to the public, occurred across four different venues in Las Vegas with each event investigating the theme from a different perspective.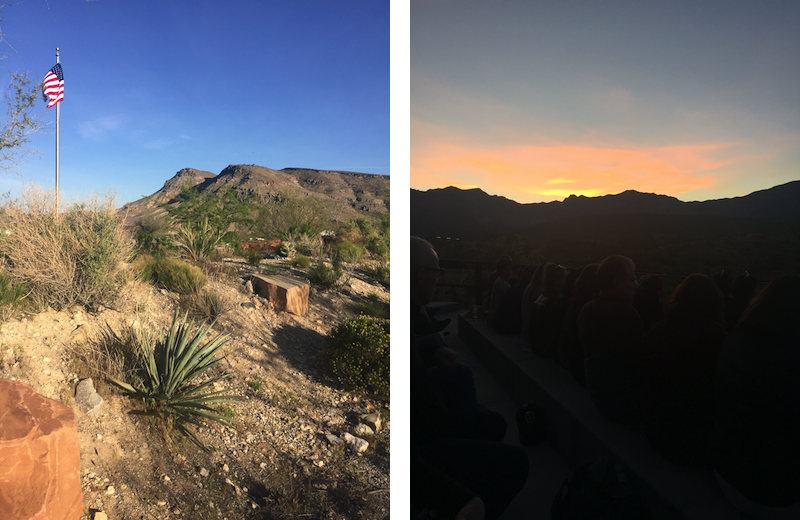 The Believer, a bi-monthly magazine of literature, arts, and culture known for its unique and off-beat content, was founded by Heidi Julavits, Vendela Vida, and Ed Park in 2003. It has never really had a home, blossoming from a small office in San Francisco with editors throughout the country. Of the decision to plant The Believer's roots in Las Vegas, Julavits explained, "it seemed to be a very Believer-y place by definition: unsettled in its settledness, a place that was idiosyncratic and identifiably American and timely and timeless and as interested in the ruins of culture as with cultural monuments, totems and sign posts towards the future." Since its founding, the magazine had been published by McSweeney's; to officiate its transition to the Black Mountain Institute, Julavits held up a symbolic poker chip, expressing her hopes that The Believer's new editors would continue to gamble hard, take artful risks, and work to increase the cultural value of the magazine. Their next issue will be available August 1, 2017, ending a two-year publishing hiatus.
"Why American Dreams? I should say to start that I recognize it's a total cliché. It's the variety of reflections off the American Dream that make it interesting to me," Joshua Wolf Shenk told us at the opening event. Along with Vendela Vida, he co-curated the festival, bringing together a variety of writers to reflect on their interpretations of the American Dream.
The opening event, "American Prayers," began with Donald Revell reading three poems that he wrote near Red Rock Canyon. "Vietnam Epic Treatment" is a poetic reflection on the Vietnam War sparked by the numerous films that were being released about the war in the 1970's while Revell was attending graduate school. Noting the somber attitude that overtook the audience when he had finished, he joked, "that was a feel good poem to cheer you up and put you in the mood for frolic and mayhem, and I'm glad to have been of service."
Revell then asked us to take a minute of silence, prayer, and reflection; to look down, and look up, and look in. I couldn't recall the last time I'd taken a moment to myself. Sitting in possibly the most beautiful place in Las Vegas beside a stranger who reminded me of an old friend, I felt that the festival was off to a wonderful start.
Heidi Julavits followed him, sharing her own work on the difference between a prayer and a dream. Laura McBride then read a piece about her long history with prayer and her family's immigration story. Angelo Santino Ligori's fingers curled and he grasped the air as he read his spoken word-esque poems captivatingly. Iranian writer Hossein Abkenar, whose books have been banned in his homeland, described an image of the Iran that he knew 40 and 50 years ago, images of men wearing ties and women in miniskirts at universities, on the streets, and in large department stores. He followed this with images of the past 30 to 40 years: "young men executed by hanging, of mass graves, of clergymen who have attained great wealth and power, and of people who have descended into poverty." As the sun set, Erica Vital-Lazare took the stage and requested that someone bring a wrap for Laura McBride, who was "too talented to freeze" before she began reading her latest poem, "Omarosa Runs North."
Despite the very apparent temperature drop, I remained resilient in my sleeveless dress, determined to hear the final two poets close out the evening. Sally Wen Mao read "The Girl Who Cried Flies" and Luis Alberto Urrea recited "American Psalm," in which he posed a series of questions to God:
God, when you look in a mirror, do you see your face or our faces? I had a nephew who had the wrong American Dream in his heart, he started out well, but found himself following a fake grace, that came in a needle, he thought money was the American Dream, but you knew that. Were you there when the Narcos set him on fire? Were you there when he burned like Joan of Arc? Are you the god of the flames?
By the end of the reading the sun had fully set, but it was well worth braving the cold for. The participants gathered with local MFA students and alumni at a private dinner that evening before calling it a night in preparation for the next day's events.
Saturday's opening event, "The American Dream: On Trial," took place in a historic courthouse located in The Mob Museum. ZZ Packer and Dan Hamilton presided over the hearings, calling writers to the stand to defend or disprove the American Dream. Nicholas Russell talked about the peculiarities of our obsession with a dream that so clearly provides preference to certain types of individuals. Timea Sipos told the story of her father, a Hungarian-born World Champion Greco-Roman wrestler who came to America and took a job delivering pizzas, a job that he loved and that also helped him fit into the American system.
Later that afternoon, Carrie Brownstein and Dave Eggers were introduced by Douglas Unger, co-founder of the Creative Writing International program at UNLV. Brownstein, who possessed a reserved humility as she took the stage, read from Hunger Makes Me A Modern Girl. After, she and Eggers discussed her career as both as a musician and a writer, including her directorial debut with her latest short film, "The Realest Real," which explores the intersections of social media and reality. Their discussion was fun and candid, with Eggers at one point forgetting whether "The Realest Real" or Portlandia was Brownstein's debut as director.  When she corrected him, Eggers returned in jest, "Don't correct me on stage, just go with it." Brownstein's reply brought laughter to the crowd. "You're 100% correct, this is the new thing. Yes, you're right. You're technically wrong, but you're right. This is the world now. If you have an opinion, you're an expert, you're right."
The resplendent Miranda July took the stage and read 27 anonymous submissions of sexual fantasies from women in the audience. There were an array of fantasies: a woman who described taking the role of the man, a self-identifying heterosexual woman imagining having sex with her most beautiful female friend, a woman who just wanted her husband to look into her eyes with love. The variety of emotions and depth of openness moved July to tears as she discussed them. The reading itself was almost orgasmic—a buildup of desire and a release of gratitude. July concluded by reading a short story about bestiality that Playboy had rejected.
The closing party featured music from Tift Merritt and Jim James of My Morning Jacket, as well as an impressive performance by Gina Pell of The What, who recited the first 200 digits of Pi by memory while Vida and Julavits held up posters with the correct numbers for the audience's reference. There were drinks in hand, twinkling lights in mason jars hanging from trees, and a feeling of community that I had never thought to associate with Las Vegas. I vowed at that moment to return next year.
When I arrived home Sunday afternoon, I received a text from a new writer friend. It included an image of a barren dirt lot containing a dumpster overflowing with various trashed objects and an abandoned shopping cart—a typical Las Vegas street in his neighborhood.
The accompanying caption read, "Don't you miss it here already?"
And believe it or not, I did.
---