Catherine Cho on Curtis Sittenfeld, The Book Thief, and The Little House on the Prairie
Rapid-fire book recs from the author of Inferno

Welcome to the Book Marks Questionnaire, where we ask authors questions about the books that have shaped them.
This week, we spoke to the author of Inferno, Catherine Cho.
*
Book Marks: Favorite re-read?
Catherine Cho: I love re-reading Eligible by Curtis Sittenfeld, I have it on my phone kindle app, and it always gives me a lift, no matter which part of the book I'm reading. I love the modern twist on Pride and Prejudice. 
BM: A book that blew your mind?
CC: Tomorrow, Tomorrow, and Tomorrow by Gabrielle Zevin which is publishing this summer. I'm fascinated by novels that play with structure and time. It felt so expansive, but somehow was also very intimate and emotional. I would like to re-read it again just to pay attention to how she built this world.
BM: A book that made you cry?
CC: I sobbed through most of The Book Thief by Markus Zusak, I have a distinct memory of reading it on a train, and not wanting to cry in public, but also not wanting to stop reading.
BM: A book that actually made you laugh out loud?
CC: Standard Deviation by Katherine Heiny. I read this book without knowing what to expect, and from the first or second page I was laughing out loud. I've become a huge fan of Katherine Heiny's, and I will read everything she writes. She is so funny and sharp, and each time I laugh it feels like a gift.
BM: What's one book you wish you had read during your teenage years?
CC: I Capture the Castle by Dodie Smith. I read this gorgeous novel as an adult, and I really loved it, but I think if I'd read it as a teenager, I would have felt less alone.
BM: Favorite book to give as a gift?
CC: When I gift books I find that it's usually to friends who don't read very often. The book I've given the most often is Red Rising by Pierce Brown. I love to give a book and see someone be completely swept away by it, and Red Rising is definitely one of those.
BM: Classic book on your To Be Read pile?
CC: I have many classics on my to-read pile, but Middlemarch by George Eliot has been on my bedside table for years. I have several copies of it somehow because I used to pick up a copy every time I saw it at a secondhand bookshop, but I have yet to read it.
BM: What's a book with a really great sex scene?
CC:  Cold Mountain by Charles Frazier — I don't think this scene is particularly explicit, maybe that's what makes it more powerful, but I remember it because of how honest and simple it is. The whole novel has so much yearning in it. We were assigned this book in high school when we were learning about the Civil War, and of course, being teenagers, everyone giggled about the scene, but I've always remembered it as being very romantic.
BM: Favorite book no one has heard of?
CC: The Blue Castle by L. M.  Montgomery. I've always loved all of L. M. Montgomery's novels, of course the Anne of Green Gables series, but this novel is delightful, and I love this story of Valancy's liberation from overlooked 'spinster' to a woman chasing her own happiness. And from knowing about L. M. Montgomery's life, I wonder how much of it is autobiographical.
BM: Favorite book you were assigned in high school?
CC: I remember reading Boris Pasternak's Doctor Zhivago in high school. We had a very morose English teacher who only assigned Russian and Irish literature. The semester was so fascinating and so different from all the books we'd been reading before, I was enchanted by it.
BM: Favorite children's book? 
CC: I have so many fond memories of books that I loved growing up, I would have to choose the Little House on the Prairie series by Laura Ingalls Wilder. I loved these books growing up, but I re-read them when I was recovering from psychosis. I was in a deep depression so I couldn't read anything long or challenging. I found a lot of comfort in the descriptions of food — orange in a Christmas stocking, white sugar! I think I also noticed for the first time how much hardship the family faced, and how straightforward they were about it, and how they continued to persevere.
*
Catherine Cho is a literary agent in the UK. Originally from the United States, she's lived in New York and Hong Kong, and she currently lives in London with her family. Inferno is her first book.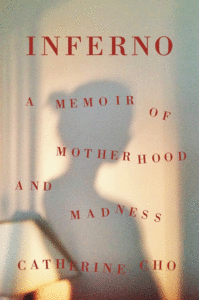 Catherine Cho's Inferno is out in paperback tomorrow from Holt
*
---