Capturing the Artists, Hustlers, and Junkies of 1960s Pittsburgh
How the Blues Inspired Playwright August Wilson
When Freddy Kittel moved to Crawford Street in 1965 and changed his name to August Wilson, he purchased an aged secondhand phonograph to keep in his boardinghouse room. Up Centre Avenue, there was a thrift shop run by the St. Vincent de Paul charity where he could buy used 78 rpm records for five cents apiece. He snapped up stacks at a time, whatever happened to be there, mostly old pop tunes like "(How Much Is) That Doggie in the Window?" by Patti Page. One day, he was sorting through his latest purchase and found a 78 whose faded title was covered with a yellowed, typed label that read: "Bessie Smith: Nobody in Town Can Bake a Sweet Jelly Roll Like Mine."
Wilson put on the record, and a piercing, plaintive voice filled the room:
In a bakery shop today, I heard Miss Mandy Jenkins say
She had the best cakes you see, and they were as fresh as fresh can be
And as the people passed by, you would hear Miss Mandy cry. . .
Wilson listened to the end and immediately wanted to hear the song again. So he replayed it, and replayed it, and replayed it until he had played the record 22 times in a row. Each time, he heard something new in Miss Mandy's shop window call, so simple and yet so full of pride, perseverance, and sexual longing:
Nobody in town can bake a sweet jellyroll like mine, like mine
No other one in town can bake a sweet jellyroll so fine, so fine
It's worth lots of dough, the boys tell me so
It's fresh every day, you'll hear 'em all say
Don't be a dunce, just try it once. You'll be right in line. . .
August Wilson had discovered the blues, and he was hooked. He started learning the names of the great blues singers and composers—Bessie Smith, Ma Rainey, W.C. Handy, Lead Belly—and looked for their records at the St. Vincent de Paul store. He had never studied music or played an instrument, so he knew nothing of the structure of the blues, of its major-to-minor chord progressions and three- and four-line stanzas. All he knew was that the music moved him in a spiritual way, and made him feel that he knew the characters in the songs, that he understood their history and felt their joy and pain.
Wilson knew little of the blues in part because it had never really been black Pittsburgh's music. In the 1920s and 1930s, that music had been the blend of ragtime and classical influences that inspired Earl Hines and Lois Deppe. Before World War II, it had been the swing music that Billy Strayhorn absorbed in the dance halls of the Hill and raised to new heights of sophistication in his collaboration with Duke Ellington. After the war, it had been the bebop sound that Billy Eckstine brought to town with his sidemen Dizzy Gillespie and Charlie Parker; the elegant crooning of Eckstine and Nat King Cole, a frequent visitor; and the virtuoso piano stylings of Pittsburgh natives Mary Lou Williams, Ahmad Jamal, and Erroll Garner.
"All he knew was that the music moved him in a spiritual way, and made him feel that he knew the characters in the songs, that he understood their history and felt their joy and pain."
Now, in the mid-1960s, it was more likely to be the "soul-jazz" heard every night at the Hurricane Club on the Hill, the best known of the "chitlin' circuit" spots where Jimmy Scott, Shirley Scott, and Brother Jack McDuff made the Hammond B-3 organ swing. Run by Birdie Dunlap, a local legend whose great-grandfather was Lewis Woodson, the minister and Underground Railroad abolitionist, the Hurricane Club had also helped launch the career of the latest musical prodigy to come out of Pittsburgh, guitarist George Benson, who in his early twenties had already recorded several records with organist Jack McDuff.
Yet to August Wilson's ear, there was something about the blues that captured the world he saw around him on the Middle Hill. When he first moved into the rooming house on Crawford Street, he viewed his fellow boarders simply as down-on-their-luck artists, hustlers, and junkies. Once he heard Bessie Smith, however, he started to realize that each had a story, a cry that you could hear if you paid close enough attention.
For these people, the glory days of the Hill District were a distant memory. Downtown was no longer at the bottom of Wylie Avenue. It was a distant planet of skyscrapers on the other side of a parking lot moonscape, with a Civic Arena that looked like a spaceship in the middle of it. To the north, Sugartop, where the high yellow elite lived, seemed a universe away, now that the Loendi Club and the Crystal Barber Shop and the other venues where the black castes once mingled were gone. So, too, was the Penn Incline, the rickety funicular railway that had connected the Hill with the Strip District to the north. The city had ripped the funicular down in 1953 and never made good on promises to build a new one—because, rumor had it, there were plans to develop the Strip into a shopping district and downtown business interests didn't want Negroes there.
By the mid-1960s, even black sports heroes seemed distant to the folks who lived on the Hill. Once Joe Louis trained at the YMCA on Centre Avenue and dined at the Crawford Grill. Satchel Paige and Josh Gibson played for the Pittsburgh Crawfords at Greenlee Field on Bedford Avenue. Two decades after Wendell Smith and The Pittsburgh Courier helped Jackie Robinson break pro baseball's color barrier, some of the best players on the Pirates were black: outfielders Roberto Clemente and Willie Stargell, first baseman Donn Clendenon, and pitchers Bob Veale and Al McBean. But they belonged to white Pittsburgh now. They played at Forbes Field in Oakland, where ticket and concession prices made going to a ballgame more of a rare treat than a weekly ritual. Hill residents had little interest in the city's latest sports rage: the arrival of a new National Hockey League franchise called the Penguins, who were to make their home at the Civic Center. Nor did they have much use for the Steelers, a virtually all-white pro football team that hadn't won a championship in more than 30 years and was about to move to an expensive new stadium, named after Pittsburgh's three rivers, on the North Side.
The Pittsburgh Courier had gone into steep decline, and was no longer the source of unifying pride, debate, and gossip that it had long been. Ever since the bus boycott in Montgomery, white newspapers had started to cover the civil rights movement and to hire away many of the best reporters and editors from the Negro press. The Courier's national readership had plummeted, and Jesse Vann had struggled to manage its finances after Ira Lewis's death. Searching for a new business partner, she sold a controlling interest to S.B. Fuller, a conservative black businessman from Chicago who had built the largest Negro cosmetics company in the country. Fuller swooped into town just as an upstart local newspaper, the Urban Times-Record, was making inroads covering the fight over urban renewal in Homewood. Fuller persuaded Mrs. Vann to adopt a new strategy that they unveiled at a press conference downtown and on the Courier's front page. Instead of carrying on as a "Negro protest organ," the paper would focus on local issues, seeking to appeal to black and white readers alike by moving "its editorial policy in the mainstream of Pittsburgh's community life."
The new strategy was an utter failure. By 1966, the Courier had gone bankrupt. Hill residents watched as a "For Sale" sign was posted on the window of its Centre Avenue headquarters and desks, chairs, and typewriters were loaded onto a U-Haul truck to be sold to pay a small fortune in delinquent taxes. Robert L. Vann's pride and joy, his Hoe & Co printing press, was ordered to be put up for auction. In a turn of fate that would have appalled Vann and Ira Lewis, the paper was sold to John Sengstacke, the publisher of their longtime nemesis, The Chicago Defender. Sengstacke relaunched the paper as The New Pittsburgh Courier, with a modest footprint that ensured that it would never again match the Defender in readership or influence.
"They were the folks that the city's declining manufacturing economy and the downtown 'Renaissance' had left behind. . . The blues made Wilson yearn to hear their stories, and he went about finding places where he could eavesdrop on them."
Soon the men who had led the Courier through the postwar years were all gone. P.L. Prattis retired, bitter over being called an Uncle Tom because he had come out against violence as a civil rights strategy in his last years as editor. Bill Nunn stepped down as managing editor and died just six years later, shortly after Maybelle, his high school sweetheart and wife of more than half a century. Their son, Bill Nunn Jr., who had risen to sports editor and managing editor, took a job as a scout for the Pittsburgh Steelers, encouraging the team to recruit from black colleges for the first time in its history and helping to build the dynasty that would win four Super Bowls from 1975 to 1980. Mrs. Vann retired to devote herself to charity work. On a late spring day in 1967, she suffered a stroke on her way to a club meeting. She died two days later, a loss that brought an outpouring of tributes from across the country for the quiet orphan from Gettysburg who had made a journey worthy of This Is Your Life, the popular television show that had once featured Mrs. Vann as a guest.
No one August Wilson came into contact with on the Hill in the late 1960s would ever have qualified for that distinction. They were the folks that the city's declining manufacturing economy and the downtown "Renaissance" had left behind: the steel and coal workers who had lost their jobs; the cooks and waiters who worked for minimum wage and tips; the garbage-men and janitors who clung to lowly rungs on the city payroll; the hustlers and pushers who had turned to selling pyramid scheme products and street drugs to get by. But the blues made Wilson yearn to hear their stories, and he went about finding places where he could eavesdrop on them.
Wilson sat for hours in a booth at Eddie's Restaurant, nursing cups of coffee and scribbling down overheard conversations on napkins. He hung out at Pat's Place, a cigar store with a billiard table in the back where pensioners passed their days and where August came to be known as "Youngblood." Days after day, he ate lunch at a diner called Pan Fried Fish so that he could listen in on the conversation of gypsy car drivers who worked out of storefront "jitney station" next door—a collection of young hustlers and loquacious retirees who spent as much time telling tall tales and ribbing one another over games of checkers as they did answering the phone on the station wall that rang with calls for cheap rides around town.
To pay the rent, Wilson took odd jobs, usually as a cook in diners and hotel kitchens around town. The rest of the time, he pursued his dream of becoming a poet. He joined a community of struggling black artists who embraced the politics and aesthetics of the Black Power movement. Meeting in coffee shops and bars, they passed around copies of The Autobiography of Malcolm X. They quoted lines from LeRoi Jones, the radical black poet, playwright, and activist who would change his name to Amiri Baraka. They founded a journal of culture and politics called Connections, and Wilson served as poetry editor. While the others grew bushy Afros and dressed in dashikis, Wilson opted for a professorial look that he copied from his idol Dylan Thomas, whose poems he liked to recite in a Welsh accent. He scoured thrift shops for hand-me-down tweed jackets, knit ties, and porter's caps. After four years of rejection letters, he finally got a poem entitled "Muhammad Ali" published in Negro Digest. "Muhammad Ali is a lion," it began. "He is a lion that breaks the back of wind. . ."
Although Wilson had previously been interested in theater, he dipped his toe into that new art form. In 1968 he helped a friend named Rob Penny form a troupe they called the "Black Horizon Theater." In schools and churches around town, they staged plays by Amiri Baraka, plays they found in issues of the Tulane Drama Review, and original plays that Penny wrote himself, dozens in all. Wilson tried his own hand at playwriting but struggled with creating dialogue, so he settled for directing instead.
By the early 1970s, Wilson had tired of the complications of street theater: the rehearsing after work; the worrying about whether unpaid actors would show up; the hawking of tickets at the last minute. He returned to writing poetry, some of it inspired by his troubled marriage. In 1970 he had wed a dark-skinned Pittsburgh woman named Brenda Burton and she had given birth to a girl they named Sakina Ansari, but they divorced after three years. Later Wilson would attribute the breakup to religious differences—Brenda had joined the Nation of Islam—but his sister Linda Jean offered another explanation. "In a nutshell, she thought his writing was a waste of time, that he wouldn't amount to anything," Linda Jean recalled of Burton.
Five years after his marriage dissolved, Wilson was still scraping by writing poetry in Pittsburgh when he was offered an unexpected change of scenery. A friend from the Hill named Claude Purdy had moved to St. Paul, Minnesota, and co-founded a small drama company. Purdy was looking for new works to stage, and he asked Wilson to fashion a satirical musical from some poems he had written about a fanciful Negro cowboy called "Black Bart." Wilson thought the idea was "ridiculous," he recalled, but he agreed to write a script he titled "Black Bart and the Sacred Hills." While the musical was in rehearsal, Purdy asked Wilson to help with revisions and sent him a plane ticket to St. Paul. Soon after Wilson arrived in Minnesota, Purdy's wife introduced him to her best friend, Judy Oliver, a white social worker with whom he fell in love and would later marry.
Even though the black community was much smaller in St. Paul than in Pittsburgh, Wilson liked the city's leafy calm and he decided to stay for a while. The decision became permanent when he found a job that allowed him to support himself as a writer. The Science Museum of Minnesota hired Wilson to write one-act plays for visiting schoolchildren that dramatized museum exhibits and explained the contributions of scientific pioneers such as Charles Darwin and anthropologist Margaret Mead.
Wilson began trying to write plays for himself again, and he made a stirring discovery. Back in Pittsburgh, he had seen a production of the South African play Sizwe Banzi Is Dead, which impressed him with its powerful yet utterly natural dialogue. In his attempts at playwriting until then, Wilson had tried to force words into the mouths of his actors. His friend Rob Penny had told him that was a mistake. "How do you make characters talk?" Wilson asked. "You don't," Penny responded. "You listen to them."
When Wilson started to listen in St. Paul, he began to hear the voices of the men and women he had overheard in the diners, rooming houses, and pool halls of Pittsburgh. Suddenly words began to pour out of him. Scribbling in notebooks and on napkins at Arthur Treacher's Fish & Chips, one of his new haunts, he took just ten days to write a one-act play called Jitney that consisted almost entirely of the banter he had heard from the gypsy cab drivers on the Hill. As soon as that play was finished, the voices of Southern migrants who had arrived in Pittsburgh in the 1940s began to speak to him, and he wrote a play about them called Fullerton Street. Encouraged by Penny, Wilson submitted both plays to the National Playwrights Conference, a prestigious summer theater workshop in Connecticut, but both times rejection letters came back in the mail.
How could he possibly improve on those plays? Wilson wondered. (After his first application was turned down, he had sent it again, thinking the rejection was a mistake.) But he was determined not to give up. He quit the science museum and took a job as a lunch cook at a Catholic charity, earning next to nothing but freeing up his afternoons to write. He went back to a story idea he had begun to toy with in Pittsburgh, about a studio session in the 1920s involving Ma Rainey, one of the first blues singers to have her voice committed to records. As Wilson wrote, the story grew into a tale about the conflicts between Ma's sidemen: Levee, a brash trumpeter who is trying to ingratiate himself with the record company; and Cutler and Toledo, a trombonist and piano player who are convinced that Negroes would always be kept down in the white-run music business. This time, when Wilson submitted the play he called Ma Rainey's Black Bottom to the Playwrights Conference, he was accepted.
__________________________________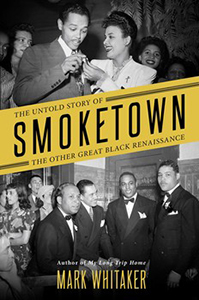 From the introduction to Smoketown: The Untold Story of the Other Great Black Renaissance. Used with permission of Simon & Schuster. Copyright © 2018 by Mark Whitaker.
---