The Cundill History Prize, founded in 2008 by the late Peter Cundill, recognizes and awards history writing in English that demonstrates originality, literary excellence, and public appeal. The award comes with a $75,000 purse, and its two runners-up each receive a Recognition of Excellence Award and a cash prize of $10,000. Previous winners include Julia Lovell, Daniel Beer, and Maya Jasanoff.
This year, the winner, selected from an outstanding shortlist, is Camilla Townsend, Distinguished Professor of History at Rutgers, for her book Fifth Sun: A New History of the Aztecs, which mobilizes previously obscure and rarely-used texts written by the indigenous peoples of Mexico.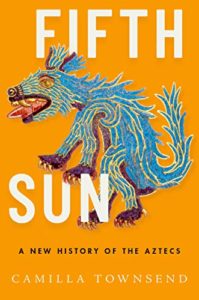 According to the press release, Peter Frankopan, 2020 Chair of the Jury, made the announcement during the virtual winner ceremony of the leading international history prize, administered by McGill University. He said the following on the winning title:
Fifth Sun is a work of breath-taking originality, accomplishment and importance. Camilla Townsend revolutionizes how we should look at Aztec society before, during and after the arrival of Europeans in Central America. After more than five hundred years, we are finally able to see history through the eyes of the indigenous people themselves rather than those of their conquerors. Not many books completely transform how we look at the past. This is one of those that does.
The two runners-up are Vincent Brown, Professor of American History and African and African American Studies at Harvard University, for Tacky's Revolt: The Story of an Atlantic Slave War; and the British historian William Dalrymple, for The Anarchy: The Relentless Rise of the East-India Company.