"Call Me Ishmael": At the Nantucket Book Festival
Beer, Books, and Bluefish on the Dock
"Call me Ishmael."
One of the most famous opening sentences in the history of literature, the first line of Moby-Dick is easily recognizable. But it has special significance on Nantucket, where the book is partially set.
I'm sitting on a hard bench in a beautiful Unitarian church on the island, coarse sand sticking to my sandaled feet. My boyfriend and I are just back from Madaket Beach, where we went for a quick walk along the semi-deserted shoreline, stopping occasionally to pick up cracked but beautiful seashells and ocean-smoothed stones, or in Sean's case, to record a time-lapse of our shadows as we walk back to the car. Before we leave, we climb up on the empty lifeguard's chair, to take in the way the ocean stretches before us like an endless stream of text.
Now we're in a holy place for the opening night celebration of the fourth-annual Nantucket Book Festival. It's an appropriate setting for three writers to talk about the power of words. Ishmael Beah, Scott Turow, and Azar Nafisi come from different backgrounds and experiences, but their love of language is a universal bond. This is one of the many beauties of a literary festival: the bringing together of different types of writers to celebrate the array of voices dedicated to stories, whether true or fictional.
Ishmael Beah, when asked how he wanted to be introduced, cracked the Moby-Dick joke. He's a man who radiates lightness and good energy, despite his horrific upbringing as a child soldier in Sierra Leone.
"Not so long ago, my weapon was a real weapon, an AK-47," he tells the packed church. "But my weapon now is a pen."
Beah grew up revering language, knowing it was not to be taken lightly. When he wanted to read a book, he would have to wash his hands. Books were sacred, and access to them was difficult in his village. But reading allowed him to travel beyond the confines of his life.
Listening to this while on a picturesque island is a bit surreal. Wherever we are as readers, even when surrounded by ocean on all sides, we're constantly looking for a good narrative.
I have my own stories about the island of Nantucket. I vacationed here as a kid. My family stayed with friends who owned a house right downtown on the wharf. To me, the island consisted of blue fish and motorboats and sand getting in uncomfortable places, and cobblestone streets and bookstores and weathered gray houses. It's a place where my childhood is perfectly preserved, caught in a snow globe of memory, my parents still married. The ferry from Hyannis to the island is a vessel of wonder, where lukewarm hot dogs and Cape Cod potato chips are the perfect meal; every bite brings me further away from the mainland and closer to the wharf, where the sun-warmed docks soothe my tiny bare feet.
* * * *
"Nantucket! Take out your map and look at it. See what a real corner of the world it occupies; how it stands there, away off shore, more lonely than the Eddystone lighthouse. Look at it–a mere hillock, and elbow of sand; all beach, without a background. There is more sand there than you would use in twenty years as a substitute for blotting paper.
–from Moby-Dick by Herman Melville
We land at the airport on Thursday afternoon. We flew so that we can have more time on the island, and it feels like a bit of a cheat to board at JFK and skip the long drive to the ferry. After dropping our luggage off at the cottage we're staying in, we make our way to town like desperate seagulls in search of food.
It's three in the afternoon and most restaurants are closed in between lunch and dinner. A tiny store that carries produce from a local farm saves us. We buy egg salad and bluefish spread and gluten free crackers, and it's the best meal of the entire weekend. We devour it all on a table outside the shop.
Afterwards, we stroll over to Mitchell's Book Corner, where my friend Wendy Hudson is busy preparing for the festival. Wendy runs Mitchell's and Nantucket Bookworks, in addition to owning Cisco Brewers with her husband, Randy. She's one of the most upbeat people I know in the book business. We became friends when I ran events at RiverRun Bookstore in Portsmouth, New Hampshire.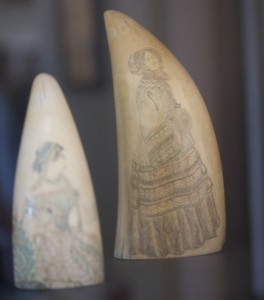 Downstairs in the basement, Percy Sutton of Brown University Bookstore and her husband, Mike Katz, a field sales representative for Publishers Group West, organize the books we need to transport to the Nantucket Atheneum, a historic building where most of the talks are held. Percy and Mike volunteer at the festival, as I'm doing, along with many of the islanders themselves. We load the boxes into Wendy's car and drop them off at the venue. The building dates back to 1847, and has hosted great American thinkers like Ralph Waldo Emerson, Henry David Thoreau, and Frederick Douglass. I admire the painted whale teeth displayed behind glass, featuring intricate drawings of grand ladies from long ago, in 19th-century finery.
Later, Sean and I enjoy a classic Nantucket dinner at The Lobster Trap, where we order enough seafood to feed a family of four, but devour it all for ourselves.
On Friday morning, I sell books at Bret Anthony Johnston's talk. Johnston,the Director of Creative Writing at Harvard, wrote a novel called Remember Me Like This.
He breaks the ice by telling a story he learned from Michael Ondaatje, about a famous author who forgot to remove her lapel mic before excusing herself during a reading to ostensibly get the other half of what she had to read from her car, but really to go to the bathroom and throw up.
Writing isn't all laughs, though. "It's the one thing in our lives that gets harder the more you do it," he says.
"I write what I'm afraid to know," he says. It's the same advice I give to my Sackett Street creative nonfiction students. You have to write what scares you. You have to write your own truth.
No one knows this more than Azar Nafisi, the bestselling author of Reading Lolita in Tehran and The Republic of Imagination.
"Writers are here to disturb the peace," she says from the stage.
On Saturday morning, we walk a few blocks to Jetties Beach, where we wade out to the sand bar and look back at the shore. The whole time I'm thinking of sharks, because I don't swim and I've always been fearful of the water.
I spend most of the afternoon listening to Pulitzer Prize-winning poet Paul Muldoon read some of his poems, Joanna Rakoff (author of My Salinger Year) talk about her time when she worked at the literary agency that represented J.D. Salinger and responded to letters from fans, and Robert Kurson (author of Pirate Hunters) share stories of shipwreck divers who discovered a real-life pirate ship.
We end up at a fancy bar with Blake Bailey, the biographer and memoirist, Joanna Rakoff, and Ann Hood. I'm very underdressed in my cutoff shorts and Nantucket Book Festival volunteer t-shirt. If there's one place where people like to look their best, it's this island. More women than I can count wear white pants. The men look like they are going to a country club in their Nantucket Red pants and their crisp shirts.
We share a martini, but not dirty, because Blake insists that ruins it. Later that night, over drinks and fish chowder with Mike and Percy, I realize that one of the reasons I love attending literary festivals is for the opportunity to hang out with old friends.
On Sunday, we meet them for brunch at The Boarding House, where I enjoy a very expensive bacon Bloody Mary. After brunch, we make our way through spitting rain to The Handlebar Café, where I order a much-needed latte and read more of Mating by Norman Rush. Is there something wrong with me for not liking this book? So many people I respect love it. I'm 300 pages in and I'm frustrated by the narrator.
After the rain subsides, we head to Nantucket Bookworks, where Wendy gives us a sneak peek at the brand new building that will open this summer. It smells of wood shavings and fresh air.
Later, we drive over to Cisco Brewers for a pig roast and celebration. The brewery just celebrated its 20th anniversary, and it's clearly a gathering spot for locals and tourists; a place where one can drink a Whale's Tale Pale Ale and listen to live music.
As the festival draws to a close, I think of words of wisdom from Nafisi. She talked about people risking their lives in order to read and write. She herself relates to the world through books.
"Once I would stop connecting, then I would stop living."
I'll toast to that thought. The festival is one place where these crucial connections can really happen.
All photos by Sean Fitzroy.
---