Bud Smith on the Quintessential "Road Trip" Novel
The Author of Teenager Recommends Tove Jansson, Tim O'Brien, and More
Okay here we go. I'm about to get in my car and drive 14 hours. Rae has picked out twenty albums for us to listen to. All this driving is because my debut novel Teenager is coming out. I have to drive around America a little bit and read it to some nice people. Fittingly, Teenager is a road trip novel, a picaresque love story, a dark comedy, about two teenage lovers split apart.
The novel opens up with Kody in a juvenile detention center, where he gets a letter, which he thinks is from his pregnant girlfriend, Teal. But no, it's from Teal's abusive father, who says she is being put on a plane to Rome and Kody will never see her again—oh, plus the father has a gun now and plans to use it if Kody comes to the house. That night Kody breaks out, goes to talk some sense into the parents and something terrible happens. Now Kody and Teal are on the run from the law, together in a strange America, one stolen car after the other. With the lead up to the release of Teenager, I keep getting asked what are my favorite "road trip" novels. Listed below are some of them.
*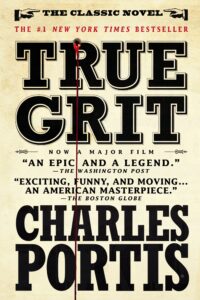 Three by Charles Portis: Norwood, Dog of the South, and True Grit
(Harry N. Abrams)
Incredibly funny and readable books about hitting the road, often by bus. In Norwood his protagonist, Norwood Prat, discharged from the Marines and fed up with his sister, takes a cross-country bus in pursuit of $75. In Dog of the South we're on a bus in Central America, in pursuit of an ex-wife who has fled back to the loving arms of her first husband. True Grit is one of my favorite westerns, all about a little girl chasing down the murderer of her father, on horseback with a gruff U.S. Marshall. Portis is a genius. Start with these three and then I bet you'll get hooked and read his other two.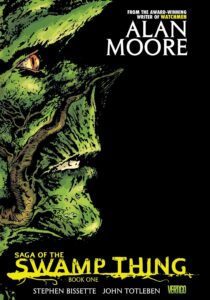 Alan Moore, The Saga of the Swamp Thing
(Vertigo)
The six volume run of Alan Moore's 1983-1987 comic, is one of the most thrilling novels I've ever read. Originally created by Len Wein and Bernie Wrightson in 1973, as a scientist who's killed by a rival, and accidentally transformed into a plant monster subsequently seeking revenge for his own death and the death of his wife. Cool. Moore turns it on its head. And his Swamp Thing is an unforgettable character unlike any I know in literature. Swamp Thing isn't the transformed scientist at all, but that man's consciousness absorbed by the net of interlinked vegetation across our world. The run of comics becomes increasingly zoomed out, as our plant god crisscrosses the earth in search of knowledge and new abilities, enters various spiritual planes, even takes off into the cosmos, on a search that will bring him back to his one true love, the human niece of his rival. A mixture of the pastoral beauty and longing in Willa Cather's My Antonia, Whitman's transcendent poetic oversoul in Leaves of Grass, Dante's Divine Comedy, and a sci-fi leaning reimagining of the Odyssey near the end of the run. An incredible journey across America and far beyond, right back to the heart.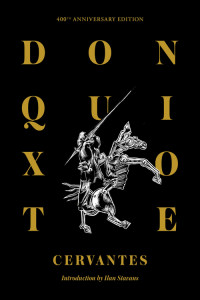 Miguel de Cervantes, Don Quixote
(Ecco)
Again, extremely funny, extremely heartbreaking. Epic in scope but so personal and warm, you never feel like you're reading something you're supposed to have read. The original buddies bumbling around. The fools on an errant increasingly meta errand. Read it. Then read Madame Bovary which is just as good but Flaubert is concerned more with poetry than laughs. Bovary has read romance novels like Don Q and become broken for her regular life, her whole problem is she didn't have a Sancho Panza to talk to, or she did have a Sancho, her husband, Charles Bovary, but she's had enough of his boring shit, so she hits the road to find real romance in the city. To the same disastrous results Don Q met.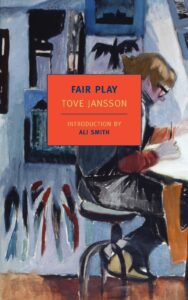 Tove Jansson, Fair Play
(NYRB)
Much of Fair Play, just like Jansson's novel The Summer Book, takes place on a remote island in Finland. In Fair Play two lovers work on their art and blend their lives together. A slim novel, we spend the first forty five pages getting to know Mari and Jonna and their quiet home, halfway through the novel they bust out of Scandinavia and go on vacation, sightseeing as only they can, and we get lucky enough to spy the American Southwest, and Americans themselves, through their incredible eyes. Fair Play is perhaps my favorite novel, period.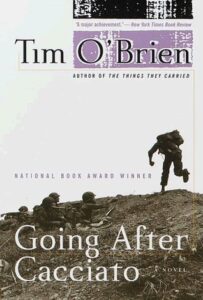 Tim O'Brien, Going After Cacciato
(Broadway)
An absurdist war novel. A high art page turner. A soldier decides to go AWOL, and walk from Vietnam to Paris. His platoon goes after him, on the strangest walk of their lives. Beyond the borders of their war, into the hallucinogenic territory of the soul. The same dream logic that seemed to guide the U.S.'s botched war effort, guides the telling of this novel about fleeing that same effort. O'Brien won a deserved National Book Award for this one. It's hilarious, wrenching, goes farther and wilder than most would ever imagine and then goes a little farther still.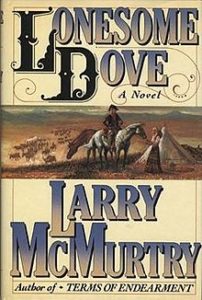 Larry McMurtry, Lonesome Dove
(Simon and Schuster) 
As realistic as any other fairytale, this fairytale is about a cattle drive from Texas to the snow peaked tip of North America in the late 1870s. Two ex-Texas Rangers have heard a rumor that Montana is just about to open up for cattlemen, so they steal a bunch of Mexican livestock and head off on a drive. What follows is a list of every kind of natural disaster, Biblical in scope, a tale of friendship and denial, and a deep love story. Poignant. Sad as hell at the start of the page and then two paragraphs later the highest adventure you've ever seen. Despite its length, a breezy read.
William Faulkner, As I Lay Dying
(Vintage)
Addie Bundren, the matriarch of the family, has died and now her husband and her children will transport her by wagon, through endless harrowing obstacles, but Faulkner is benevolent, wants to make you laugh and move your heart. There's a Cormac McCarthy novel similar in this tone of dastardly high jinx, Child of God, but that one's earth is scorched just a little eviler. It's about a necrophiliac who lives in a cave and doesn't go anywhere, really. So if you read As I Lay Dying and wish there wasn't so much traveling, and more necrophilia, check out Child of God. Both novels are slim and incredible, and when I read them nearly back to back, they seemed to make up some completed whole.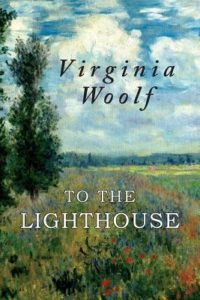 Virginia Woolf, To the Lighthouse
(Harvest)
Woolf takes us to an island in Scotland, lays down some of the most amazing prose I've ever read, elegant and nuts, precise and yet sweeping. You wonder, when are we going to the lighthouse? A hundred pages goes by. What about the lighthouse? Are we going? I thought this was a list about Bud's favorite road trip novels. Yeah it is. Will we ever get to the lighthouse? Go on over to bookshop.org and buy yourself a copy from your local indie or go to the library, they have a copy of To the Lighthouse, I promise, and I guarantee the person at the circulation desk will say, "Hell yeah dawg" as they scan it out for you.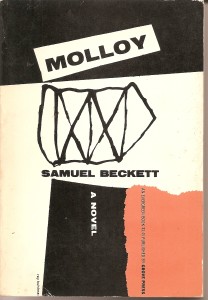 Samuel Beckett, Molloy
(Grove) 
Molloy is on his way to his see his mother but he has great trouble, navigating at first on a bicycle, while simultaneously using crutches, and then later, just crutches, and then crawling through a forest in endless circles. Another one of the most amazing books I've ever read. The rest of Beckett's famous trilogy is very good, and keeps removing narrative devices, until we are left with nothing and no one and just a suffocated whimper. Those ones are vital reads too (to me) but Molloy is the rare novel I would recommend to anyone who wants merrymaking to go along with their suffering.
_________________________________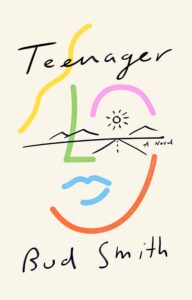 Teenager by Bud Smith is available now from Vintage Books. 
---