Brilliance and Blind Luck: How Did Medieval Europe Invent the Concept of Quarantine?
Edward Glaeser and David Cutler on the History of Medieval Plagues and Its Connections to COVID-19
In the aftermath of Justinian's plague, trade collapsed. Cities shrank to small towns. The population of Rome, perhaps 1,000,000 at the time of the Caesars, fell to 30,000 a millennium later. As humanity retreated into the autarky of isolated rural communities, pandemics abated. To be sure, the life of a medieval serf was far from healthy. Nutrition was terrible. Hygiene was worse. There are plenty of infectious diseases that do not turn into pandemics, and the peasantry of medieval Europe knew many of them.
Gradually, trade reemerged both in the Mediterranean and among northern cities, like Bruges and Lübeck. Ties between European towns deepened and extended through Constantinople to the Silk Road. By the 13th century, Europe had access to a trade network that could move luxury fabrics and spices over vast distances. Cities like Venice and Dalmatia's Dubrovnik were key nodes on that lattice. But a network that can move bales of wool can also move the rats and fleas that carry Yersinia pestis.
Dubrovnik's picturesque red rooftops and sturdy city walls became famous to millions of Game of Thrones viewers as a stand-in for the city of King's Landing. But Dubrovnik has greater historical import than as a fictional victim of dragon fire. It successfully linked the East and West for over half a millennium. Dubrovnik's origins lie in the invasions that overran much of the Byzantine Empire in the wake of Justinian's plague. Refugees from an older Roman city fled before early Slavic invaders and established a refuge protected by mountains and waterways. As Europe recovered in the centuries after 750, Dubrovnik—or Ragusa, as it was known then—grew as a port. The city remained under the loose control of Byzantium until 1205, and it served as a conduit between the ancient empire and the growing cities of Italy.
Ragusa's independence was ended by the freebooting Venetians during the Fourth Crusade. In a sense, Venice was Ragusa on steroids. It was the greatest connector between East and West. It was the greatest trading power in the Eastern Mediterranean. In 1204, Venetians partnered with crusaders to sack Constantinople and conquer the remnants of the Roman Empire. The Venetians and their cross-bearing allies took down the largest city in Christendom and seized Byzantine treasures, such as the four bronze horses they brought back to grace the facade of San Marco.
Ragusa, along with the rest of the Dalmatian coast, was also acquired as war booty. For 153 years, the Ragusans had to pay tribute to their Venetian overlords, much as the cities of the Delian League once paid tribute to Athens. Yet Ragusa, like Venice, was one of the best-governed cities in the world. Ragusa's strong institutions enabled it to become the first Western city to organize a coherent public health response to the plague.
The Black Death reemerged in Asia during the early 14th century, after a 500-year hiatus. Yersinia pestis then tore through the cities of China and blazed its way along the Silk Road to Constantinople and then Ragusa. The fleas that carried the disease could travel on rats or directly on the traded fabrics, like wool, that were such a large part of medieval commerce. Perhaps one fourth of Europe's population died in the first years of this second Black Death pandemic. In 1348 alone, Ragusa lost somewhere between 10 and 50 percent of its population. Plague came again to the port in 1357, 1361, and 1371.
But Ragusans learned how to protect themselves. In May 1363, when "news about the epidemic in Apulia and Marche regions of Italy" arrived, Ragusa's leaders decided to "forbid travelers from those regions to enter the city," and "likewise, Ragusans were not allowed to travel to those regions." Region-specific travel bans can work when one knows where the disease is located, though by the time the US banned travel from China on January 31, 2020, COVID-19 had already spread far and wide.
Fourteen years after their travel ban, the Ragusans went further and adopted the first quarantine regulations, "Veniens de locis pestiferis non intret Ragusium vel Districtum," or "travelers from places of plague shall not enter Ragusa or its environs." The rule established two places of quarantine—the rocky islet of St. Mark and the town of Cavtat. Ragusans were forbidden from visiting these areas, even to bring food, and that prohibition was enforced by a sizable fine.
Quarantines are now so ingrained that it is easy to miss the brilliance (and blind luck) of this initial innovation.
Quarantines are now so ingrained that it is easy to miss the brilliance (and blind luck) of this initial innovation. The Ragusans figured out that the plague could be brought by both the sick and the apparently healthy. They guessed that a lengthy isolation period would enable the plague to run its course. As it turns out, two weeks would have been fine since the plague's incubation period is typically less than seven days. They understood enough to keep the plague victims far away from their major population centers. They imposed a penalty structure that was effective and easy to enforce. England wouldn't have its first quarantine regulation until 1663.
Surrounding visitors with a watery moat provided a model for quarantine that was imitated for centuries. Ships from diseased ports had to shelter on the island of Ratonneau before entering Marseilles. America's own Ellis Island was used to quarantine immigrants until 1954. The fictional Vito Corleone spends a lonely 40 days on the island after immigration officials diagnose him with smallpox in The Godfather Part II.
Quarantine provided a middle way between complete openness and shutting down trade routes entirely. Before 1377, Ragusa had turned travelers away, but that meant an end to all commerce. Quarantine permitted some trade, while still reducing the flow of disease.
Inbound ships and their trading partners will always want to speed things up. The collective interest lies in isolation—the individual advantage comes from connection. This divide between individual and collective interests remains key today. During the COVID-19 crisis, many countries and even US states asked travelers to self-quarantine upon arrival. But self-quarantine is hard to enforce, and it is a good bet that many flouted the rules.
The Ragusans didn't just establish Europe's first quarantine. They created a shared strength to protect the city: elected public health officials were empowered with broad authority to enforce these and other rules. In 1390, the city appointed officiales contra venientes de locis pestiferis (officials against travelers from places of plague). After 1397, these health officers were elected annually and, after 1426, they served without pay. Ragusa, like Venice, was an aristocratic republic, and its leadership positions, including the plague fighters, were almost exclusively patricians. Venice followed Ragusa's lead in 1486, and "by the middle of the 16th century all the major cities of Northern Italy had permanent Magistracies of public health."
Ragusa would eventually up the isolation time to 40 days for travelers arriving on land; quaranta, which means "forty" in Italian, provides the root of the word quarantine. The choice of 40 days may have owed more to biblical authority than strictly scientific knowledge. After all, Jesus wandered for 40 days in the wilderness. Moses spent 40 days in the clouds of Mount Sinai. Noah traveled 40 days on his ark. And the Israelites wandered in the desert for 40 years. Those models of social isolation seemed to place quarantine on solid spiritual ground.
The Venetians called their isolating island Lazzaretto, after Lazarus. During its long history, it held both travelers and sick Venetians. The Venetians embraced social distancing in the 15th century, not only quarantining travelers but also sending their own sick to their "lazaretto." Sometimes, "entire districts within cities were quarantined." Just as in 2020, physical mobility was limited by fiat, and "women and children" were "confined to their homes" or "forbidden from leaving their parish." It is hard to know whether these onerous and highly discriminatory restrictions actually saved lives.
Venice is also associated with the social distancing of doctors through the use of protective equipment. The beaked nose of the plague doctor's mask is a highlight of the Carnival of Venice today, although credit for the mask's invention is typically given to Charles de Lorme. De Lorme was an early 17th-century French court physician who appears to have been smart enough to figure out that wearing some personal protective equipment helped a medical professional's chance of surviving a pandemic.
Venice targeted their system of quarantine with the help of "an information network of daily reports of Venetian consuls in Mediterranean areas" and "detailed interrogation of sailors who arrived in Venetian ports." If there was a plague outbreak anywhere, the Venetian authorities wanted to know and to immediately impose quarantine on ships that had been exposed to that plague. Any successful 21st-century cordon sanitaire will require an even more sophisticated early warning system.
A recurrent theme of this book is that slowing the spread of disease requires both medical knowledge and effective government. Enforcing quarantine is difficult because private interests don't align with social interests. A merchant in 15th-century Ragusa wanted to bring his goods into the city as quickly as possible, rather than sit for a month on a rocky island. The sick of 17th-century Venice would rather stay in their homes than be shipped off to a plague hospital. Plenty of Americans chose to party in August at South Dakota's Sturgis Motorcycle Rally rather than shelter in place. Quarantine was as successful as it was only because the governments of both Venice and Ragusa were among the most competent of their day. In fact, in many ways they look better than the US or UK government did at the outbreak of COVID-19. When governments are less capable, quarantine and social distancing are harder to enforce.
__________________________________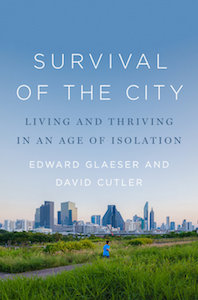 From SURVIVAL OF THE CITY: Living and Thriving in an Age of Isolation by Edward Glaeser and David Cutler, to be published by Penguin Press, an imprint of Penguin Publishing Group, a division of Penguin Random House, LLC. Copyright © 2021 by Edward Glaeser and David Cutler.
---