Brandon Taylor: Writer's Block Is Not Tragic (It's a Part of Life)
The Author of Filthy Animals Answers the Lit Hub Questionnaire
Brandon Taylor's Filthy Animals is out today from Riverhead, so we asked him a few questions about his favorite books, writer's block, and more.
*
Literary Hub: Who do you most wish would read your book? (your boss, your childhood bully, Michelle Obama, etc.)
Brandon Taylor: Mavis Gallant.
LH: What do you always want to talk about in interviews but never get to?
BT: The fact that the House of Habsburg gets a lot of attention for inbreeding, but the House of Valois was also heavily inbred and nobody talks about it.
LH: What time of day do you write?
BT: I don't have a preference. You write when you write and you don't when you don't. Nothing to be gained from trying to min/max your way to creating art. It's art, not a dietary regimen. But I think, if there's a certain time of day you personally feel most productive, then, that's when you should write. For myself, I don't know, it happens when it happens and doesn't when it doesn't. I don't have a copy-paste macro that I can apply and suddenly have a book after a certain number of days. Art may be a process, but I don't think we get much out of trying to life-hack our way to creating literature. Every process and every book is so individual.
LH: How do you tackle writers block?
BT: I don't. When I'm blocked, I'm blocked. Trying to force myself to write just makes me miserable and sometimes culminates in a psychiatric emergency. So I've learned to just back off and let it work itself out. I don't like not writing, but I've accepted that there are just going to blank periods in my life when I can't. So I read and go on walks and just put it out of my mind and when it's time, I'll be able to write again. Or maybe I never will. I just try to accept the possibility that the last thing I wrote might be the last thing I ever write, and in that way, writers block isn't so tragic. It's just a part of life. But maybe that's just Baptist fatalism.
LH: Which book(s) do you return to again and again?
BT: Persuasion by Jane Austen, The Price of Salt by Patricia Highsmith, Varieties of Exile by Mavis Gallant.
Art may be a process, but I don't think we get much out of trying to life-hack our way to creating literature. Every process and every book is so individual.
LH: Which non-literary piece of culture—film, tv show, painting, song—could you not imagine your life without?
BT: Robin Pecknold's cover of Fleetwood Mac's "Dreams."
LH: What's the best writing advice you've ever received?
BT: "It's just a draft."
LH: What was the first book you fell in love with?
BT: I don't really have a strong memory of falling in love with a book. My early reading life was mostly scattershot until suddenly it wasn't.
LH: Name a classic you feel guilty about never having read?
BT: I don't. I think the idea that you need to feel guilty about not reading a classic is a result of living one's life in a mediated way. The guilt has nothing to do with the inherent or intrinsic value of the art, and it has everything to do with this late capitalist illusion that somehow the mores and values of the scholarly leisure class are the set of rules by which we should all be living our lives. It's become basically accepted that we also live under a pecuniary code of cultural capital as well, as read out by the books you've read or the art you've seen or the music you've listened to. That's how we end up with a demimonde whose entire purpose is to be tastemakers. But, anyway, I don't feel guilty about not reading classics. I'll get to it when I get to it. Or I won't. But in the last few years, I've tried to really back off letting other people's value judgements influence my own artistic engagement.
LH: Is there a book you wish you had written?
BT: Louise Glück's Averno. It's a perfect book.
__________________________________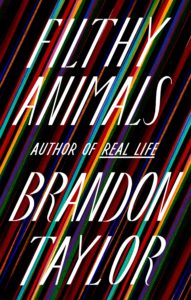 Filthy Animals by Brandon Taylor is available now via Riverhead Books.
---