Bookslut is Dead, Long Live Bookslut
At the Wake of a Pioneering Lit Blog
A small corner of the unprofessional literary Internet became quieter this week as Bookslut published its final issue. During its 14-year run, the site was a haven for the oddballs of literature and criticism, eclectic in its tastes and free-ranging in the topics it covered. Emerging in the early 2000s, it carved out a unique place in the now robust world of literary websites and blogs. Bookslut established its niche with thoughtful and sometimes critical discussions of books that may have been ignored elsewhere, serving as a counterpoint to the more professional and commercial literary establishment.
This past weekend, Melville House held a wake for the site. Attendees were encouraged to mix their own Death in the Afternoon cocktails per instructions scrawled on a loose sheet of paper. Following an enthusiastic round of Bookslut trivia, fans of the site had an opportunity to match familiar names to unfamiliar faces. Many glad to finally meet yous were exchanged as revelers shared stories and pieces they loved. Although a feeling of sadness was certainly present, there was enough alcohol to keep it celebratory, as well as free books to be won and cheese to be eaten. Drinks and snacks were served among the bookshelves, providing a very fitting end as we reflected on Bookslut's legacy.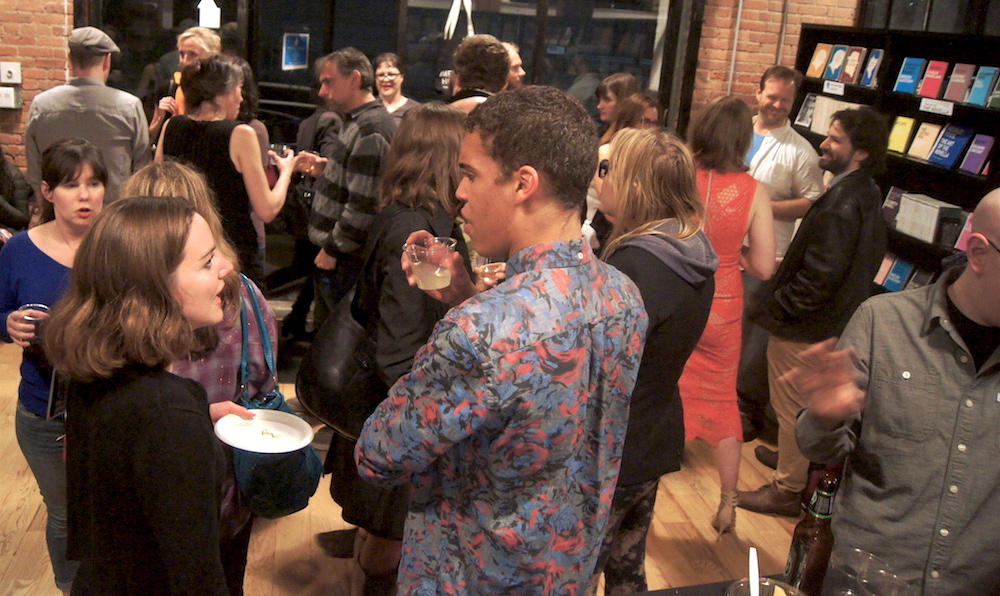 The site's ethos seem inextricable from the character of its founder, Jessa Crispin. Even as she brought on editors and additional bloggers to help manage the Bookslut's growing output, her editorial vision steered the site. The space she cultivated drew eccentric, enthusiastic, and critical eyes. "The best of Bookslut was deeply serious because of Jessa's sensibility, according to which a book could change your life, or ruin it. Reading could be a form of spiritual enrichment or spiritual carnage," explains Nicholas Vajifdar, who wrote for The Forgotten Twentieth Century column. It's this seriousness that gave the site its sense of depth and integrity. "If you really thirst for answers, you don't confine yourself to American books published in the last twelve months; you find yourself compelled to turn to all sorts of dead foreigners, people who made stupid career choices, mad flakes and odd birds of every feather."
When Bookslut began, it was a small affair. "I was 22 and living in Texas when I started Bookslut, and there was absolutely no thought behind it," Crispin notes dryly. Initially a blog, the site was a product of the early Internet, when the field was wide open. It is a time Crispin is nostalgic for. "I miss the Internet, by which I mean I miss the crazy stupid infinite space part of the Internet where absolutely nothing mattered. Where people did things not because they were branding themselves or auditioning for print publications or whatever." As a result of its origins, Crispin says the site always felt very private. "I find it uncomfortable to realize, still to this day, that other people can see it. And I kind of never cared about their reactions, because it wasn't about them." She wasn't trying to gain readers; they simply showed up. Once the reality of their presence hit, Crispin decided they deserved a proper greeting.
Readers were first drawn in by the site's priorities and its tone. As former Comicbookslut columnist Martyn Pedler recalls, "The blog was smart and funny, punching up without talking down, and I found dozens of books I wanted to read through it. The monthly mag always had so many different kinds of voices, too: some appealed to me, some didn't, but I always appreciated that it read differently to anything else around." Bookslut was a site that could rarely pay, that kept its original design from the first issue on, that focused on small presses and highbrow prose. And it influenced (and continues to influence) the way books are discussed, especially in digital spaces.
Readers often became contributors, who became columnists, who occasionally became friends. Clayton Moore, who wrote Bookslut's column about mystery novels from 2005 to 2010, puts it simply: "Everybody who wrote for Bookslut was in it for the love of the game." Crispin remembers the early contributors and readers fondly, and as a boon. "We had good luck. I don't know why or how people found us, but they did. There were always, I guess, kindred spirits. By kindred spirits I mean weirdos." She remembers being both grateful for and surprised by these kindred spirits. "It just felt like I opened up this space and people could swing by if they wanted to. And they did, and I'm grateful, because otherwise I would have gotten lonely." Although it wasn't her intention, the site became a nexus for like-minded readers. "My mentor once said of Bookslut that it was this amazing synchronicity machine that I constructed, that brought the right books, the right ideas, the right people into my life right when I needed them."
As the Bookslut community grew, it became a literary scene unto itself. One of its founding premises was to provide a counter to the New York-centric publishing world. It was this, in part, that made the site unique. Vajifdar remembers, "Bookslut stood out partly because most other book chat is just so fucking tedious: they write what amounts to industry newsletters, commenting on what others are already commenting on in the approved fashion." The critical writing published there was neither viciously negative nor blindly positive, both common modes of engaging with books online.
Bookslut provided a both a platform and a degree of editorial freedom available few other places. Contributor Nina MacLaughlin felt this is what set the site apart for her. "You could write long, you could write weird, and [there were] also very high standards. That's sort of the ideal combo, I think, both as a reader and a writer." Many contributors hold this editorial openness as one of the site's highest values. Pedler, for instance, recalls being "allowed to write about anything, in any form I liked, and that freedom was an amazing thing." Sessily Watts, one of the last columnists to contribute to the site, believes this is responsible for the depth of content. "[It] was a place where it felt like interests could be indulged and explored. Passions could take over, and it wouldn't be weird. Or rather, it would be weird and that weirdness would be celebrated."
This approach extended to each of the site's columns, where writers centered their criticism on specific topics or genres. Each one was run by a writer with a singular focus and personal canon, from which they would draw to address more general readers, weaving together criticism, autobiography, and occasionally, philosophical discourse. The title "Bookslut" became a badge of pride. As Roohi Choudhry, who ran South Asian Bookslut, recalls, "I really did love that as columnists, we were Booksluts. That I didn't just write a column about South Asian books, but was, in fact, a South Asian Bookslut for a while… This seemed to be an integral part of Bookslut, to take ownership of our particular book fetishes, wear them proud, shout them loud." Lisa Marie Zapata shared similar sentiments over Twitter about her experience discovering the site. "I went home and put 'bookslut' in the search bar. The site directed my search for [the] wonderful but obscure. I did find many writers especially women and PoC that I probably wouldn't have heard of. The site did that without being self-aggrandizing."
The site provided more than a platform; it also gave writers permission to have unpopular or dissenting opinions. "I feel much more comfortable thinking critically about—or outright disliking—things a lot of people love," shares Lauren Oyler, who ran the blog from 2014 to 2015. "I am quite certain that the room [Crispin] gave her reviewers and writers to go to the corner of the unexpected is what so many of us have adored about the project," explains Cara Benson, one of the site's regular reviewers. "Bookslut is not about soundbites or fitting [into] categories. It has been a truly discursive endeavor."
The combination of wide-ranging material and genuine, intellectual interest constituted Cripsin's vision for the site from its inception. As she explains, "It was super important to me that it not be fucking insipid. That it not follow the dominant literary culture, which was, absolutely sexist, racist, and nepotistic. And I was hated for a while, that was fun… People in power do not like it when you question how they fucking got their power, that is what I learned from that whole mess."
Though her relationship to the publishing industry at large is combative, Crispin and her site have been embraced by some insiders. Dennis Johnson, the co-founder of Melville House (who will publish Crispin's third book), began the blog MobyLives around the same time as Bookslut. As he wrote recently, Bookslut's closing is a real loss. "Luckily [Crispin] kept it up long enough to influence a generation of outsiders… and, I'll bet, made a good number of insiders consider escape. That's a serious accomplishment few of us from the pioneer days [of the early internet] can claim."
As the wake wound down and the champagne bottles emptied, it was clear everyone who had made it to Melville House was deeply appreciative of the space Crispin and her editors has created. With the Death in the Afternoon fully consumed, the remaining guests disbanded into the dark quite cheerfully, some arm in arm, the evening appropriately misty and chilly. The rain paused just long enough to allow them an easy exit.
---