Bookselling in the 21st Century: Notable Customers, Illustrated
Hannah Kingsley-Ma's Customer Log, Illustrated by Madeline Gobbo
My first job out of college was working at a bakery. There every food option available was a treat—caloric and glorious, self-assured in its identity as something decidedly "bad." It meant dealing with a lot of people's food issues, which they would bring to the most simple of transactions. "I did yoga this morning," the customers would confide. "That's why I'm allowed to eat this." It was unbelievably tedious, to be the invisible receptor to the kind of internal monologue all of us have and none of us want to hear out loud. I left this job to fulfill a lifelong dream—I went to work in two fantastic independent bookstores, where I would be surrounded by words and the people who worshipped them. Books, as I understood from being an avid reader all my life, were always good for you. Unlike brownies, there was no question they made you better. I looked forward to leaving the neurosis of other people behind.

Once I started bookselling, I found that the idea of bookstore life I had imagined was close to the truth. Fathers and mothers sat amongst the stacks reading William Steig out loud to their young children, who granted them the gift of their attention. Authors proudly shared their life's work in intimate readings. Strangers flirted in the Science Fiction section and young activists sought out the texts that would show them the shape of this imperfect world and what they could do to fix it. These wholesome moments, of which there were countless, showed me time and time again the value of a brick-and-mortar bookshop, the likes of which can't be replicated in the sterile He-Who-Must-Not-Be-Named online shopping model so many consumers opt for these days.

But these heartwarming scenes also became mixed up in all the daily strangeness of tending to other people's interests. I was naive to think that all my interactions with customers would be muted into quaint rapport between two book-loving people. I learned that people's relationships with books can be personal, complex, and are often rooted in a very specific and bizarre field of fascination. The more idiosyncratic and unnerving the exchange was, the more likely I was to remember it. Hence this log, which I have kept in my capacity as a bookseller. Hopefully it serves as testimony to the fact that, 

as in the case of any service job, the person stationed behind the counter is hopelessly subject to tidal waves of personality, whether they want to be or not.

A LOG OF NOTABLE CUSTOMERS, ILLUSTRATED (all illustrations by Madeline Gobbo)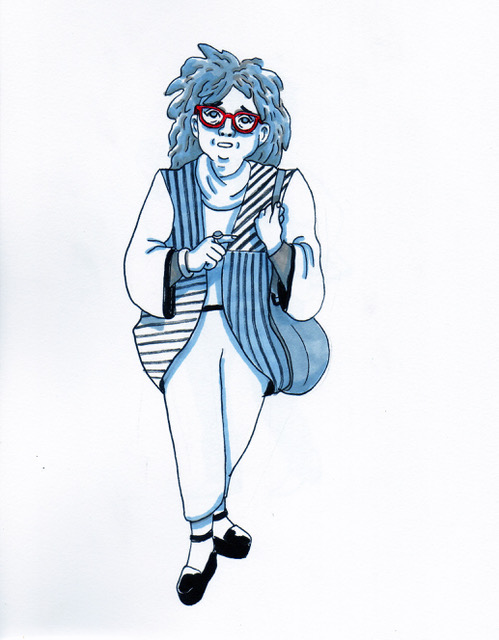 –Older woman with red-rimmed glasses and untamed hair. Her boyfriend just broke up with her, she tells us. She wants a book she can write in.
–Teenage boy, neatly groomed, consciously dressed. Comes in with a sense of urgency looking for an assigned summer reading book he neglected. "I was too busy reading Vonnegut," he tells me, voice full of disgust.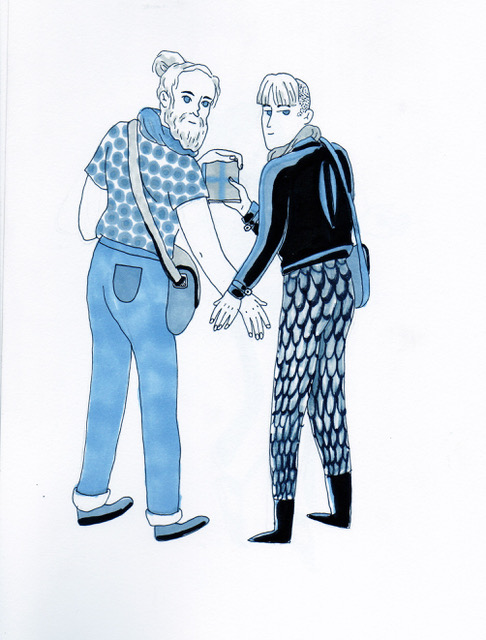 –Blonde Nordic tourists. Enviably tall, enviably handsome. Browse jubilantly but do not buy. Siblings or lovers? Too hard to tell.
–Woman in her eighties, lips painted red, her hair long and white and parted at the side. She sits on a bench and reads obscure fashion magazines with her leather gloves resting beside her.
–A mustached man donning a USA-emblazoned trucker hat, and a camouflage jacket. Asks if we have any books on "adult babies." When I tell him no, he expresses his disappointment gently: "I thought you guys were cutting edge," he says, shrugging his shoulders.
–A middle-aged man with a one-eyed pitbull. He has a kind smile surrounded by cultivated stubble and wears a motorcycle jacket and is looking for a dystopian novel about drought. He later refers to me to my white coworker as the "vaguely Asian one."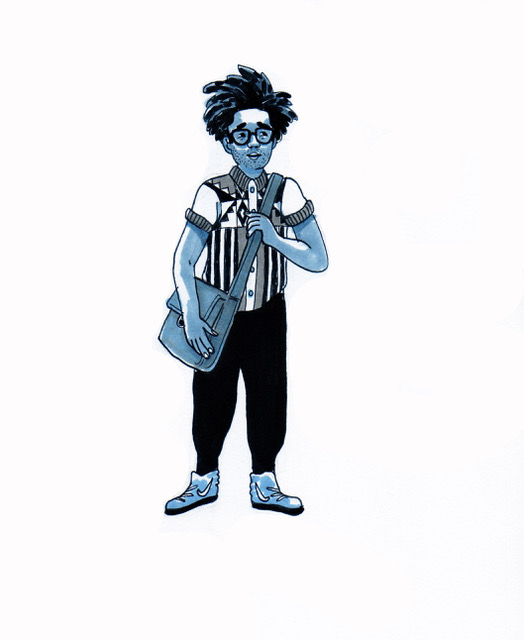 –Good looking shy boy who likes to read. I try to relate to him on a basic human level but instantly get weird.
–No-nonsense septuagenarian buying a book of Sunday crossword puzzles. When I ask her how she got to the big leagues, she tells me she had a husband who was very good at them. So she practiced till she far surpassed him and then "divorced his sorry ass."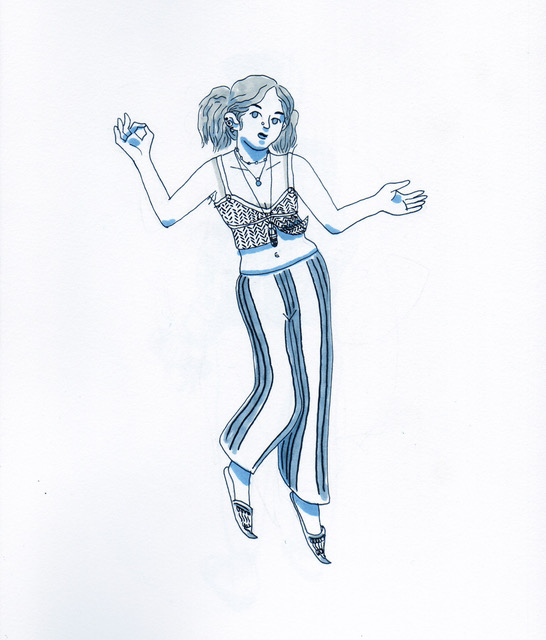 –Girl in crop-top asking for book on "Buddha Stuff." She has thick parted eyelashes, like a misguided 1960s fashion model.
–A little boy rifling through books about LEGO. He hears me coming. "I think we are about to get in trouble," he whispers to his baby sister. She is not old enough to talk.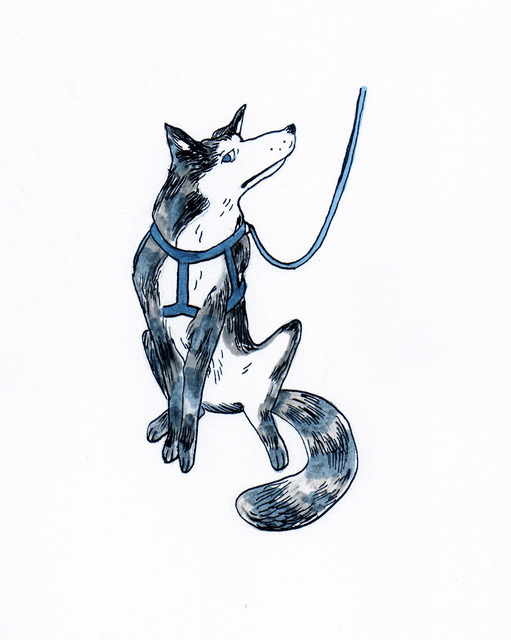 –A wolfie dog, tall and slobbery. We sit at his feet and hug him around the neck. He will not eat our treats because he is discerning, dining only on refined meats and cheeses.
–A hurried man wearing glasses and a thick parka, purchasing self-help books on will power and focus. He asks me about our return policy as he runs out the door.
–The woman buying Kitchen Confidential with the stated plan of stalking Anthony Bourdain outside his hotel to try and get him to sign it.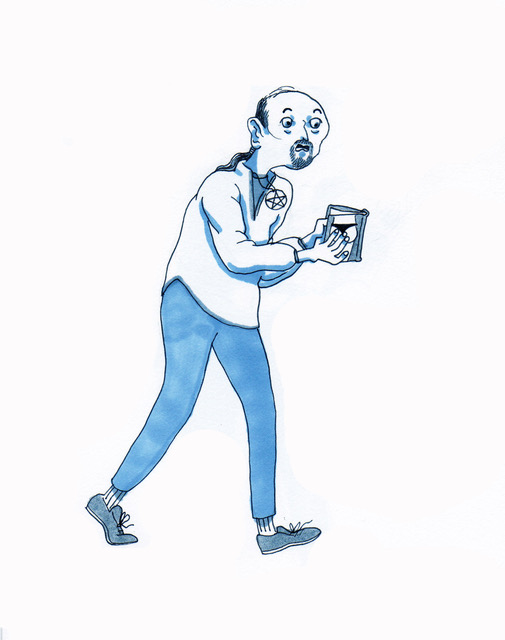 –Balding man with dancing pupils who is a self-proclaimed necromancer but "NOT A SATANIST!" He tells me he heard Big Foot speak via YouTube recently. He used to be a deputy coroner, he shares, so he is very familiar with "the decomposition of the human body." He spends 35 minutes looking at the Taschen's Little Book of Pussy.
–Couple browsing in the fiction section, pausing at Infinite Jest. "Isn't that the guy Jason Segel played?" one asks the other.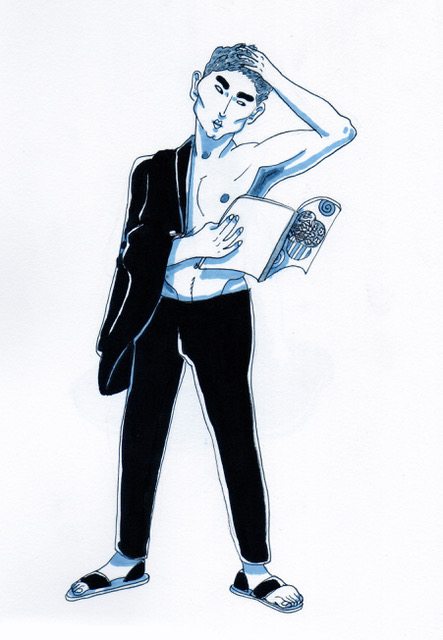 –Male model buying adult coloring book.
–Teenage girl who talks through a curtain of hair. She asks me if we have The Cannabis Bible, and makes her mother hold her purse while she fetches it.
---