Books That Showcase the Bond Between Horses and Riders
Mimi Matthews Explores a Unique Relationship
You don't have to be an equestrian to appreciate a novel that showcases the emotional connection between a horse and their rider. It's a bond that's almost spiritual in nature. A soul-forged partnership, built on mutual respect, devotion, and—quite often—love. Not every horse and human have this alchemy. But when it exists, in life and in fiction, it's the impetus for both to accomplish extraordinary things. For the right person, a horse will work harder, run faster, and achieve the seemingly impossible, whether on the racetrack, in the arena, or on the family farm.
That unique bond is at the heart of my newest novel The Siren of Sussex, a historical romance featuring a bold horsewoman who, in company with her magnificent dressage-trained Andalusian stallion, plans to take Victorian London by storm. It's also at the core of some of my favorite novels, from the formative horse-girl texts of my youth to horse-narrated historicals that reaffirm my love for all things equestrian. Here are five of my favorites.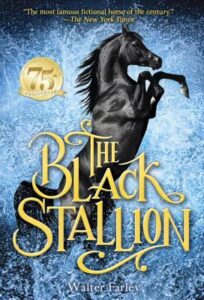 Walter Farley, The Black Stallion
(Random House Trade)
When I think of novels about the horse and rider bond, there's one that stands head and withers above the rest. I am, of course, talking about Walter Farley's classic The Black Stallion. Published in 1941, it's the story of young Alec Ramsay and the wild Arabian stallion who saves his life after a shipwreck. Stranded together on a desert island, there are plenty of quiet moments of connection as the two learn to trust and depend on each other. But it's when Alec begins to ride the Black that the true fun begins.
Interspersed with bareback gallops on the beach, an exciting rescue at sea and tumultuous voyage back to New York, and culminating in an epic horse race. Alec and the Black have the bond to end all horse and rider bonds. It's the sort of connection I always aspired to have with my own horses as a girl—a predictable result, I suppose, after years spent reading Farley's novels and watching the movie adaptations.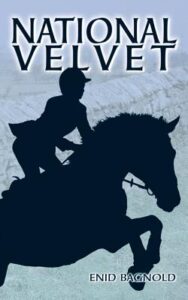 Enid Bagnold, National Velvet
(Dover Publications)
If The Black Stallion is the definitive novel about a boy's bond with his horse, then British author Enid Bagnold's 1935 novel National Velvet is surely the horse-girl equivalent. The story's heroine, Velvet Brown, is a horse-mad Sussex lass who, Bagnold tells us, "dreams of bits as women dream of jewellry." Velvet is an excellent rider. All she lacks is an equally worthy mount. When she meets a spirited black-and-white piebald gelding, she knows he's the one for her. Her feelings are further confirmed when The Pie, as she calls him, is seen to jump a cobbled wall that's more than five feet tall. "A horse like that, you'd win the National," Velvet's friend, Mi, announces.
The Grand National is a grueling four-mile steeplechase. After casting the winning bid for The Pie in an auction, Velvet begins to train him for the competition. As The Pie reaches his full potential, so does Velvet. She gains confidence and strength, truly showing what she's made of. And she isn't the only one. There are brilliant moments between Velvet and her formidable mother, Mrs. Brown—a former athlete herself, now portrayed as a stolid woman of few words. But Velvet and The Pie are the true stars of the story. Astride a horse that "springs to the surge of her heart," Velvet rides her way to a happy ending for all, never once failing to put The Pie's welfare above personal glory, even if it means giving a pass to fame, fortune, and a career in films.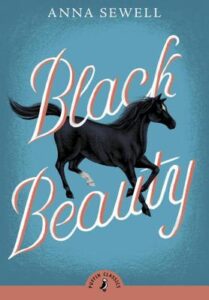 Anna Sewell, Black Beauty
(Puffin Books)
First published in 1877, Anna Sewell's novel Black Beauty is as much a treatise on animal welfare as it is a beloved children's novel. Told from the eponymous gelding's point of view, the story casts a harsh light on the plight of horses in Victorian England. To most, they were merely beasts of burden, disposable creatures used for pulling cabs and carriages or carrying a doctor out on his rounds. Beauty's own life begins on an idyllic farm, but as with so many four-legged creatures, both then and now, he soon becomes a victim of human circumstance.
Passed from hand to hand, Beauty experiences a succession of owners—kind, vain, cruel, and careless—as he sinks further down the social ladder. It's a hard tale in many ways. (Who can forget the bearing rein? Or the death of poor Ginger?) It's also a profoundly moving and illuminative one. By the time Beauty is at last reunited with his human friend Joe Green, he's more than earned his tranquil retirement in the English countryside; and we, the readers, have earned a new compassion for the uncertain lives of equines. Though not necessarily a story of a single horse and rider pairing, it's a definite must read for animal lovers everywhere.
Richard Adams, Traveller
(Knopf)
Much like Sewell's Black Beauty, Richard Adams's 1988 novel Traveller is a story told from the title horse's point of view. Best known for being the favored mount of General Robert E. Lee, Traveller was a big, brave, battle-tested gray gelding. From the safety of his post-civil war Virginia stable, he recounts the story of his life, southern accent and all, to a barn cat named Tom. Traveller begins by recalling the early training he received from his original owner, Jim; however, the bulk of the narrative concerns Traveller's life with the famous Confederate general.
From their earliest days together, Traveller and General Lee develop an unshakable trust in each other. Traveller carries Lee into some of his most famous battles, but their relationship is more one of personal friendship than that of two soldiers—human and animal—brought together by wartime necessity. According to Traveller, Lee had no human friends. "I'm his best friend," the noble steed asserts. It's that which makes him willing to do or die for the General. As for the greater import of the war, Traveller remains largely ignorant, recognizing the enemy as simply "the blue men." For him, his rider is all, so much so that, at the close of the conflict, Traveller is convinced that General Lee has prevailed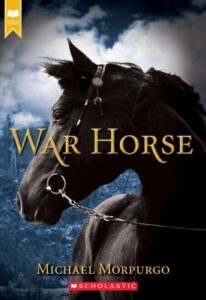 Michael Morpurgo, War Horse
(Scholastic Press)
In horse fiction, it's often the case that a reader must settle in for a certain degree of heart-rending poignancy. This is particularly true when the story is set against the backdrop of war. And Michael Morpurgo's 1982 novel War Horse takes place during the Great War, a conflict that was especially brutal to horses. The hero, and narrator, of the tale is a farm horse named Joey who, as a weanling, is bought at the local horse sale by a drunkard named Ted Narracott. But it's Ted's thirteen-year-old son, Albert, who falls in love with Joey and makes him his own. The two form a bond that can't be broken, not even when—years later—Albert's cruel father sells Joey to the British Army.
Taken far from his home, Joey relates his often-harrowing experiences as a war horse. Through him the reader learns about the pitiless conditions suffered by those fighting in World War I. Like many horses subject to the whims of man, Joey changes hands several times throughout the years. Battered and broken, he eventually finds himself in an army veterinary stable. There, he's finally reunited with Albert. "It's him," Albert says, realizing the wounded horse he's been caring for is his long-lost friend. "It's my Joey. I've found him."
__________________________________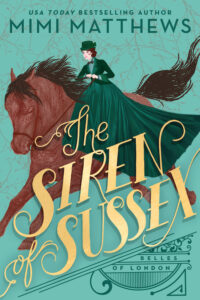 The Siren of Sussex by Mimi Matthews is available via Berkley Books.
---