Bombs and Books: On Graham Greene's Life During
World War II
Richard Greene Charts How a Great Writer Navigated a Period of Destructive Tumult
"He was staying near the Ministry [of Information] in a little mews flat where I spent an occasional evening with him, the invariable supper dish being sausages, then still available. Whatever his circumstances, he had this facility for seeming always to be in lodgings, and living from hand to mouth. Spiritually, and even physically, he is one of nature's displaced persons." That was how Malcolm Muggeridge recalled Graham Greene's way of life in the second year of the war. He was trying to get some money together to support Vivien and the children once he was called up, so having signed a £2000 scriptwriting contract with Korda, he took a job as head of the writers' section in the Ministry of Information, which allowed him to leave the Officers' Reserve.
Located in the University of London Senate House, the ministry set up a huge bureaucracy to manage awkward facts and expound useful falsehoods. Famously, George Orwell drew from it his inspiration for the Ministry of Truth in 1984. Greene saw it as trivial, and his short story "Men at Work," published in 1941, satirized it as a self-​contained universe of committee meetings. Mainly, he commissioned patriotic books and pamphlets, and suppressed some others deemed harmful to the war effort.
According to Muggeridge, also employed at the ministry, Greene took a "professional" approach to his job, "coolly exploring the possibility of throwing stigmata and other miraculous occurrences into the battle for the mind in Latin America to sway it in our favour." Greene was only a little ahead of his superiors in thinking his work useless. At the end of September, the Director-​General of the Ministry of Information, Frank Pick, a former transport administrator responsible for, among other things, London's Tube map, "Pick-​axed" him—his position was eliminated. The following year Greene was invited to return but refused.
*
The Germans had been bombing Britain through the summer, with the objectives of strangling the war economy and eliminating the RAF, so to force a negotiated peace or to facilitate an invasion. In a change of tactics, they began heavy bombing of London on 7 September. The assault continued for fifty-​seven nights, and in its first two months caused thirteen thousand fires. By the time the Blitz ended on 11 May 1941, 28,556 Londoners had been killed.
Greene was spending his nights with Dorothy in a shelter accommodating two dozen people off Gower Street. Walking about after the all-​clear at 5:45 in the morning, he was excited by the scenes of wreckage, though shocked by the worst of the destruction. A little later he would remark flippantly to Anthony Powell: "London is extraordinarily pleasant these days with all the new open spaces, and the rather Mexican effect of ruined churches."
Graham and Vivien knew that the Clapham Common house was likely to be hit, as this had already happened to at least one house in their row, so they made plans to remove the contents to Oxford. But they were too slow. At 1:30 am on 18 October the back of the house was hit either by a group of bombs or by a parachute mine. Vivien would remark that because Graham was with Dorothy on the night of the bombing his life had been saved by his adultery. He arrived at the house at 8:30 am to find it roped off. The structure was still standing, but it was impossible to move beyond the hallway because of debris. He decided to tell Vivien in person, but she was furious with him for breaking the news in front of the children. Hearing of this long after, Muggeridge supposed that her reproach, though reasonable, arose from the knowledge that when the house went the marriage was likely to go as well.
Vivien would remark that because Graham was with Dorothy on the night of the bombing his life had been saved by his adultery.
Greene wrote to his mother: "Rather heartbreaking that so lovely a house that has survived so much should go like that. And I feel over-​awed without my books." With the help of two laborers, he was able to salvage many of his books, sending them down a makeshift chute, but most of the fine furniture that Vivien had collected was lost. He was able to pull out of the wreckage a set of Victorian chairs made of rope in commemoration of Trafalgar, a gas refrigerator, some china, and a few other household objects.
After the initial shock, the destruction of the house had a strange effect on him, as if he had been paroled. Muggeridge noticed this: "Soon after his house on Clapham Common had been totally demolished in the Blitz, I happened to run into him . . . and he gave an impression of being well content with its disappearance. Now, at last, he seemed to be saying, he was homeless, de facto as well as de jure." Greene would later tell Muggeridge that his sense of relief had come from getting rid of a heavy mortgage, but Muggeridge thought that Greene actually felt relieved of a moral burden.
Derek Verschoyle had gone into service so Greene took over as literary editor of the Spectator, a "reserved occupation" that kept him out of military service until the following summer. By the end of 1940, he was offered five jobs doing propaganda, including one in Lisbon, but turned them all down, preferring to stay with the magazine. He actually hoped to go to West Africa to do propaganda for the Free French.
In his Bloomsbury studio, Greene slept on a sofa directly beneath a skylight; at times it was necessary to take refuge in the basement. One evening the house next door was hit, and he had to flee a possible gas explosion. Soon, both he and Dorothy were working as ARP (Air Raid Precautions) wardens. For him, this meant patrolling three nights a week, from ten until two, or later, depending on the severity of the raids. He and his fellow wardens worked from Holborn Post Number 1 under the School of Tropical Medicine in Gower Street, and he kept a journal of his experiences, publishing sections of it in Ways of Escape.
He was on duty during the enormous raid of 16 April 1941, launched in retaliation for an RAF attack on Berlin a week before. Eight hospitals and several churches were hit. A parachute mine destroyed the King George and Queen Elizabeth Victoria League building in Malet Street where 350 Canadian airmen were sleeping. This huge explosion blew out a plate glass window directly above where Greene and two other wardens were standing in Tottenham Court Road—a distance of at least 300 yards from the main impact. They had just enough time to crouch as the shards rained on their helmets. Running to Gower Street, he and three others helped rescue an injured woman in the Royal Academy of Dramatic Arts building.
The fires, the parachute bombs, the flying glass, and the corpses provided an improbable backdrop for discussions of the antiquarian book trade.
Although the sight of wreckage often excited him, Greene found this night unbearable, with salvos falling about every three minutes. Sent to the Victoria League building to rescue a trapped man, he spotted a head and shoulders resting in the debris. He later wrote about this to his mother: "One's first corpse in the Canadian place was not nearly as bad as one expected. It seemed just a bit of the rubble. What remains as nastiest were the crowds of people who were cut by glass, in rather squalid bloodstained pyjamas grey with debris waiting about for help."
Back outside, more bombs fell and Greene dropped to the ground, a sailor on top of him. This time his hand was cut by glass so he went to the dressing station, and while being bandaged another stick of three bombs landed near by, and there was nothing for him to do but utter an Act of Contrition. As the night wore on he assisted in the rescue of other people, including an old man just out of hospital and still fitted with a catheter tube; he had been told that he would never walk again, but the bombing proved otherwise. The wretchedness of people caught in the bombing was "disquieting" to Greene, as it "supplied images for what one day would probably happen to oneself."
It was an extraordinary night, affecting everyone who lived in the city. One of Greene's friends, the Dominican priest Gervase Mathews, to whom he dedicated The Power and the Glory, was called to administer conditional absolution to people injured in the bombing and was asked by a soldier, who had been away from the sacrament for forty years, to hear his confession. Mathews told Greene that another priest had gone to a pub and crawled under a billiard table to hear the confessions of the landlord, his wife and daughter, all trapped in rubble. When challenged about what he was doing, he said, rather stiffly, "I am a Catholic priest and I am under the billiard table hearing confessions," to which came the response, "Stay where you are a moment, Father, and hear mine too." It was a Catholic among the rescue crew.
*
The fires, the parachute bombs, the flying glass, and the corpses provided an improbable backdrop for discussions of the antiquarian book trade. Among Greene's fellow ARP wardens at Gower Street was David Low, who for many years kept a bookshop at 17 Cecil Court. Since his sojourn with Kenneth Richmond, Greene had been a frequent visitor to the bookshops on and near Charing Cross Road, and Low had become a friend. Both Dorothy and Hugh shared Graham's particular interest in collecting detective fiction, spy stories, and thrillers. Over many years Graham and Hugh would go on long marches across the English countryside in search of bookshops and beer. Graham collected, among other things, seventeenth-​century plays and Thomas Nelson's red seven-​penny editions of Victorian classics. In his introduction to Low's memoir "with all faults" (1973) he remarked: "Secondhand booksellers are the most friendly and most eccentric of all the characters I have known. If I had not been a writer, theirs would have been the profession I would most happily have chosen."
Given Greene's knowledge of writers and Cole's of books, they seemed a natural pair, and they discussed setting up a shop to be called Cole and Greene
Another warden, known as "Little" Cole, was a "runner" in the book trade, buying low and selling high between one bookshop and another. On one occasion, he and Greene were sent out to investigate a reported landmine, but did not find it; instead, he took Greene to his room and showed him his treasures. Given Greene's knowledge of writers and Cole's of books, they seemed a natural pair, and they discussed setting up a shop to be called Cole and Greene. But as the summer passed, Greene went on to other duties and the idea of the shop came to nothing.
__________________________________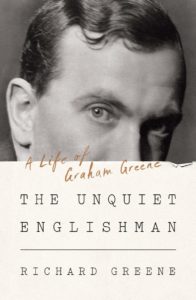 From The Unquiet Englishman: A Life of Graham Greene by Richard Greene. Used with the permission of W. W. Norton & Company. Copyright © 2021 by Richard Greene .
---