Bill McKibben: Thoreau Suggests You Put Down Your Smartphone
On the Foresight and Ongoing Relevance of a Great American Thinker
If "How much is enough?" is the subversive question for the consumer society, "How can I hear my own heart?" is the key assault on the Information Age. How do I know what I want? What is my true desire?
To understand Thoreau's genius, remember that he raised this question in a time and place that would seem to us almost unbelievably silent. The communications revolution had barely begun. Advertising had not yet been invented, but the few shop signs in Concord, which we would preserve as quaint markers of a vanished age, appeared already to Thoreau as billboards "hung out on all sides to allure him; some to catch him by the appetite, as the tavern and victualling cellar; some by the fancy, as the dry goods store and the jeweller's; and others by the hair or the feet or the skirts, as the barber, the shoemaker, or the tailor." No Internet, no television, no radio, no telephone, no phonograph; and yet somehow he sensed all that this would mean to us. He did not need to see someone babbling into a cell phone as he walked down the street to sense that we'd gone too far; he was such a hypersensitive, such an alert antenna, that he was worried before Alexander Graham Bell was born. "We are in great haste to construct a magnetic telegraph from Maine to Texas," he writes. "But Maine and Texas, it may be, have nothing important to communicate. Either is in such a predicament as the man who was earnest to be introduced to a distinguished deaf woman, but when he was presented, and one end of her ear trumpet was put into his hand, had nothing to say." Emerson rushed back from a summer in the Adirondack woods when he heard the great news that the trans-Atlantic telegraph cable had at last been laid; Thoreau wrote "perchance the first news that will leak through into the broad, flapping American ear will be that the Princess Adelaide has the whooping cough."
Most of us still believe—with yellow-eyed ferocity—in the goddess Information. We want data, we want connections; we want email. We are all the Emperor in his finery, and Thoreau is nearly alone in his calm assurance that he could do without the post office, that "if we read of one man robbed, or murdered, or killed by accident, or one house burned, or one vessel wrecked, or one steamboat blown up, or one cow run over on the Western Railroad, or one mad dog killed, or one lot of grasshoppers in the winter—we never need read of another. One is enough." Even in his day, "hardly a man takes a half hour's nap after dinner, but when he wakes he holds up his head and asks, 'What's the news?'" He would not be shocked by MSNBC.
It's not that he's in favor of ignorance or self-absorption. He was well read, politically committed enough to have engaged in civil disobedience, and obviously steeped in the minutest changes in the world around him (the precise quality of the ice, the texture of the mud). But he understood the danger of the big Hum—both the constant barrage of chatter from the world (two, three, four hours of television a day) and its lingering echoes. Even when you turn the set off, even when you hike deep into the Adirondack woods, your mind keeps up a constant vibration, playing and replaying words and images and ideas so that you hardly notice your surroundings. So that you rarely notice your thoughts.
Try disconnecting for a while and see what the hum has done to you, see what it's made of you. Thoreau liked his small library of books, but he recognized the danger even there: "While we are confined to books . . . we are in danger of forgetting the language which all things and events speak without metaphor."
Often, he says, he laid aside his books and even his gardening. "There were times when I could not afford to sacrifice the bloom of the present moment to any work, whether of head or hands." He would merely sit in his door and the hours would somehow pass. Try this—see if you're still made for musing. How long can you watch a sunset before you get bored? How long can you look at the night sky before you seek some entertainment?
The idea that we know what we want is palpably false. We've been suckled since birth on an endless elaboration of consumer fantasies, so that it is nearly hopeless for us to figure out what is our and what is the enchanter's suggestion. And we keep that spell alive every time we turn on the radio or the television or the Internet. Because when someone is whispering something in your ear, there's no way to think your own thoughts or feel your own responses. The signals that your heart sends you are constant, perhaps, but they're also low and rumbling and easily jammed by the noise and static of the civilization we've lately built. That's why Thoreau had to run away for a while, and it's why another small but growing number of people are beginning to question some of the premises of our Information Age. For example, a group called TV-Free America has been organizing nationwide "Screen-Free Weeks" throughout schools since 1995; since then, millions of youngsters have turned off the tube for a week, and perhaps some few of them glimpsed the huge pleasure that comes from hearing your own true voice.
This is an environmental problem not only because the main function of the Information Revolution is to sell us stuff we don't need, stuff that gives off carbon dioxide or gathers in dumps. It's a problem most of all because it confuses us as to our place in the scheme of things. Without silence, solitude, darkness, how can we come to any sense of our true size, our actual relationship with the rest of the world? Some years ago I took a group of kids from the local high school for a camping trip. We live in a remote wilderness town, where no city lights blur the view of the sky. And it was the night of the new moon, so the heavens were an absolute velvet black, studded with stars. But as we were looking up and talking, it became clear that two-thirds of the kids had never been shown the Milky Way, that most potent symbol of our own true dimension. They'd been inside watching the other stars on television, the ones that insist that each of us is so central that the world orbits around us.
What nature provides is scale and context, ways to figure out who and how big we are and what we want. It provides silence, solitude, darkness: the rarest commodities we know. It provides reality, in place of the endless electronic mirages and illusions that we consider the miracle of our moment. "There is a solid bottom every where," Thoreau insists—and it is this insistence that gets him in trouble with so many academics, committed to the postmodern notion that all is idea, stance, mutable. You cannot believe that if you have spent enough time out of doors.
"Let us spend one day as deliberately as Nature, and not be thrown off the track by every nutshell and mosquito's wing that falls on the rails," writes Thoreau. "Let us settle ourselves, and work and wedge our feet downward through the mud and slush of opinion, and prejudice, and tradition, and delusion, and appearance . . . till we come to a hard bottom and rocks in place, which we can call reality, and say This is, and no mistake." Only when we have some of that granite to stand on, that firm identity rooted in the reality of the world, only then can we distinguish between the things we're supposed to want and the things we actually do want—only then can we begin the process of satisfying "non-material needs in non-material ways," which environmentalist Donella Meadows has identified as our chief hope. Only then can we say "How much is enough?" and have some hope of really knowing.
In the 160 years since Walden, Thoreau has become ever more celebrated in theory, and ever more ignored in practice. "Men think that it is essential that the Nation have commerce, and export ice, and talk through a telegraph, and ride thirty miles an hour," he writes. How sleepy that protest sounds to an age that thinks we must travel supersonically, communicate instantaneously, trade globally. Each week in our world, as many as two billion people—twice as many people as lived on the planet in Thoreau's time—can watch the TV program Big Brother. Literally, consumption has become national policy—in the days after 9/11, the president's main (and obscure) advice was that all good patriots should get out there and shop.
And yet the battle could still swing; we live at a pivot in history when, quite suddenly, ideas like Thoreau's might suddenly flourish. To understand why, remember something I said earlier. He is the American incarnation in a line of crackpots and gurus from Buddha on. Jesus, St. Francis, Gandhi, and the holy men and women of every branch of the ethical religious tradition share an outlook: Simplicity is good for the soul, for the right relation with God. In the Christian formulation: Do not lay up treasure here on earth; you can't serve both God and money; give away all that you have and follow me. Except, occasionally, for clerics and monks and saints, these are not injunctions we've tried very hard to put into practice. We've adopted the competing religious worldview, the one that worships an ever-growing Economy. But such spiritual notions have not disappeared, either; they've flowed like a small but steady river through world history, never completely drying up.
Thoreau helped add a new tributary to that stream. His nature writing is raw, wild, and haunting. He comes to the marsh at night to hear the hooting owls: "All day the sun has shone on the surface of some savage swamp, where the single spruce stands hung with usnea lichens, and small hawks circulate above, and the chicadee lisps amid the evergreens, and the partridge and the rabbit skulk beneath; but now a more dismal and fitting day dawns, and a different race of creatures awakes to express the meaning of Nature there." In his wildness he harks back to the ancient pantheistic traditions, older by far than the Buddha and still alive in remnant form among some native peoples, traditions that might have understood his eagerness to eat a woodchuck raw. And he presaged the 20th-century, American-led boom in his affection for nature. When he wrote, most of the civilized world still regarded the forest and the mountain with distaste; but in his wake came Whitman, Burroughs, Muir, and a thousand other writers, and right behind them came a million people toting backpacks. If the lakeshore cottage colony and the backcountry subdivision can be numbered among his legacies, so can the national parks and wildernesses. This stream grew larger; the concern for right relation with God joined with love of the physical world. It was still not large enough to jump its banks and flood the city where Economy sat enthroned, but more and more people could hear the roar of its rapids.
Now, quite suddenly, at the beginning of the 21st century, a whole new tributary of thought swells that countercultural river. The saints in their robes and the nature lovers in their Gore-Tex jackets are suddenly joined by men and women in lab coats, clutching computer printouts. The students of the largest environmental changes taking place around us come with a message eerily similar to those we've heard before. When the International Panel on Climate Change reported recently that humans were likely to raise the earth's temperature 3.5 degrees this century, that they had begun to alter the most basic forces of the planet's surface, the implication of their graphs and charts and data sets was, simplify, simplify. Not because it's good for your relationship with God, but because if you don't, the temperature of the planet will be higher by the year 2100 than it's been for hundreds of millions of years, which means crop withering heat waves, daunting hurricanes, rising seas, dying forests. They were calling for community, not because it's good for the soul but because without it there's little chance we'll become efficient enough in our use of energy or materials. The math is hard to argue with; business as usual and growth as usual spell an end to the world as usual. This is the one overwhelming fact of our lifetimes.
And so this river rises, gathers new freshets, drains ever more valleys. Perhaps it is nearly ready to flood our joint consciousness, to submerge our current idols, to cut a new channel for us in some as-yet-unseen direction.
But if—to paddle a little further along this metaphor—this new Concord or Merrimack really is swelling with runoff from every direction, we must take care that it is not polluted by fear. Though we need to understand and feel the depth of our dilemma, panic will only make it harder for us to simplify, to retreat from our fortresses of wealth, to back off. Thoreau understood this; his overpowering confidence, in himself and in the world, rings through every page of Walden. One day, feeling an uncustomary melancholy, he sat in his house during a rain. "I was suddenly sensible of such sweet and beneficent society in Nature, in the very pattering of the drops, and in every sound and sight around my house, an infinite and unaccountable friendliness all at once like an atmosphere sustaining me." That's the secret Thoreau has to offer, that promise that the world is sweet. That's the rain which must feed this new river. "I learned this, at least, by my experiment; that if one advances confidently in the direction of his dreams, and endeavors to live the life which he has imagined, he will meet with a success unexpected in common hours." We must trust that he is right—for ourselves and, though he couldn't have guessed it, for the planet.
__________________________________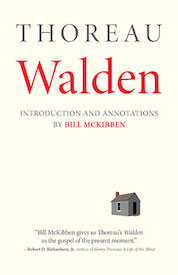 Excerpted from Walden by Henry David Thoreau, with introduction and annotations by Bill McKibben (Beacon Press, 2017). Reprinted with permission from Beacon Press.
---