Beyond Good and Evil: Reconsidering the Toxic Myth of the "Transgressive" Artist
Martha C. Nussbaum on What We Forgive in the Name of Art
Performing arts are seductive; passion is central to their content and mode of influence. Because passions are everywhere in theater, opera, and even symphonic music, it is easy for corrupt uses of these passions to creep in. "You're too stiff. Show me that you really feel the part. Let it all out." And because the performing arts use the body to express passion, the body is hard to leave out of the whole employment relationship.
In arts teaching, coaching, and, often, directing, bodily touching—usually off-limits in law firms and academic classrooms—is ubiquitous, necessary, and usually good. Singing teachers, for example, often have to put their hands on the student's back, chest, and jaw. Dance teachers always touch legs, arms, backs. Moreover, the intimacy of what is explored in performing art means that there are very proper uses of solitude à deux for teacher and pupil. If all singing lessons were in a group setting, much less would be learned, and this is also the case for instrumental music.
Acting typically combines various types of boundary-crossing. Scenes are often rehearsed by just two people before they are presented to the group. Scenes may, and often do, include various forms of touching, as suggested by the script. And later on the director or coach may step in, perhaps playing bits of the scene with one or the other actor, or goading them both to more authentic expression. And there is also emotional boundary-crossing: you often have to act erotic love, or sexual attraction, or other complicated passions.
Add to this a standard way of teaching acting since the early days of the Group Theater in the United States, channeling Konstantin Stanislavski (highly selectively). Namely, the way of achieving authenticity as an actor is to use various pieces of emotional memory from your own life, so that you are showing what, at that moment, you are yourself really feeling on the basis of such memories. This means that a teacher will feel entitled to try to summon up real emotions of various kinds in the performer, on the hypothesis (often false) that such emotions, once they have been displayed toward the teacher in a class, will be available for use henceforth where appropriate in a scene.
I vividly recall being humiliated in front of my NYU class by a very famous acting teacher (whose origins were in the Group Theatre). I got angry, and (encouraged by the overall atmosphere he created in the classroom) I slapped him in the face. He heralded my reaction as a breakthrough in my development as an actress. Unsurprisingly, this authentic expression of emotion was not deposited in my expressive repertoire.
I know of no case in which this particular teacher used erotic seduction to "achieve" a similar "breakthrough," but the theory, at any rate, supported such teaching. And if the teacher didn't try to seduce you, your fellow actor usually would. Since we all believed that acting was a piece of your reality, we were encouraged to believe that the only way to play an erotic scene was to develop erotic feelings for your scene-mate. In those days (the late 1960s), many also thought that drug use was a passport to greater authenticity, and I have been an interested observer of whose careers in my cohort lasted and whose didn't: typically the heaviest drug users are unknown today.
There were dissenters. Another equally famous acting teacher at NYU was shocked at the excesses of soi-disant realism in our work. In one scene of jealousy, my scene partner internalized the mindset of the domestic abuser so well that he twisted and badly bruised my arm. I thought then that this was cool, a mark of our authenticity. Seeing my bruises, this teacher reproved us in the sternest possible terms.
Some lines must never be crossed, he said. His own method of freeing our bodies, far more congenial to me, and I think far more compatible with ethical norms, was to have us rehearse a scene from Shakespeare, for example, while galloping around the room like horses. We were so focused on strenuous activity that we could not freeze up, and our voices rang out in a new way. But to the Group Theatre guy this was heresy and falseness. The Group Theatre attitude and similar attitudes greatly increase actors' vulnerability to abuse even today.
This attitude, or myth, is much less present in the world of classical music, but insofar as opera is merging into or at least requiring acting, in this era of HD productions, sometimes the myths of the acting profession creep in.
Abusers are often shielded not only by this "myth of authenticity," but by another myth, which pervades all the performing arts, and indeed all the other arts as well. This is an age-old myth, at least as old as Romanticism. The myth is that the constraint of usual social norms and rules is bad for artists. They have to be permitted to be transgressive, to break the rules, or else their creativity will be stifled. Genius is beyond good and evil. This myth is basically false: there are many artists who are perfectly capable of maintaining a boundary between their inner freedom in the realm of creation and the way they live outside it.
The myth is that the constraint of usual social norms and rules is bad for artists.
However, the myth is so pervasive that for many it can become a self-fulfilling prophecy. An artist who sincerely believes that breaking society's rules is necessary for success, by long habit actually becomes unable to create without transgressing. It's revealing that the myth is overwhelmingly about male creativity, used by males for males. And it's revealing, too, that the myth mainly concerns sexual rules. I can't think of an artist I've known who believed that being creative licensed him to commit theft or burglary. It's just a handy way, for a small number of talented men, to arrive at a conclusion so often coveted by male pride: I am above sexual laws, and other people aren't fully real.
Victims are often confused by this myth. Art and artists are dazzling. People are easily lured by charisma, as in the familiar phenomenon of the "groupie." (The Underneath Their Robes blog character who writes as "Article III Groupie" plays on the similarity between artistic and judicial glamor.) Sometimes artists even create a cult around themselves, seducing an entire group, as repeatedly happened with James Levine. Powerful men often get willing volunteers for sex, but they also, all too often, feel entitled to take the sex they want, whether fully voluntary or not.
As for the rest of the world: we, too—spectators and fans—are bewitched, dazzled, and confused by the glamor of the powerful, and often by the real illumination they give us. We love being swept away by the power of the passions and erotic feelings they summon up, and to that extent we are reluctant to criticize their conduct, or we think of it as "natural."
There's another factor: if the arts we love are to thrive, they need star power. Star power generates both ticket sales and donations. Even if we dislike star power and star influence, but just want the art we love to persist and do well, we can ill afford to get rid of the star, however badly behaved. And some people may not care so much about the health of the art, but more about making money on their investments. Hence the fact that some stars whose gifts make money for others are held to account only when they are too old and ill to make money for others any longer.
*
We've already seen that what is helpful, where sexual harassment and sexual assault are concerned, is a well-defined workplace, where it's clear who is a member and who is not. Such workplaces (universities, most corporate environments, law firms, etc.) can establish clear rules that educate, deter bad behavior ex ante, and set standards of fairness for ex post sanctions.
One key concept of sexual harassment law, the "hostile work environment," is designed for such workplaces, and the other key concept, the "quid pro quo," is easiest to apply there, where rules for promotion and dismissal are well understood and there's at least some shared understanding of who deserves what. Of course there is turnover: new students, for example, enter a university each year and old ones leave. At any given time, however, it is clear who is a student and who is not, and therefore who is governed by the rules concerning students and who is not. (Or it should be clear: irremediable muddiness about this issue is one of the several fatal flaws in Division I college sports, as we'll see in my next chapter.) The same holds for other roles in such institutions.
In the performing arts, it is not like this at all, with a few exceptions. Clear exceptions are players in symphony orchestras, who typically stay in one workplace for a long time, who even may eventually have tenure, and whose employment follows clear rules stated in their union contract. Singers in opera choruses are similar exceptions. Even where orchestras and choruses use extra part-time members, the terms of that use are usually spelled out in the contract. Dancers who are employed long-term in a single dance company are also exceptions.
But most employment in theater, film, television performance, dance, and solo music (vocal and instrumental soloists, small ensembles) is temporary, and even if the performers are union members there's a limit to the protections that unions can offer. Actors are hired for a single engagement, which may be longer or shorter, but is rarely extremely long. Even stars in long-running hit TV shows usually renegotiate their contract each year. Dancers in a hit Broadway show that runs, say, ten years are usually not hired for the entire run of the show, since their skills may deteriorate. Yes, orchestras and choruses sometimes have to re-audition, but that process is spelled out in the contract, and this is rarely the case in live theater or television. In any case few shows run for very long.
Actors, however established, always have to audition and have every reason to be insecure. As Heidi Klum often said on Project Runway: "One day you're in, the next day you're out." Short of world-famous stardom, even fame is never solid (and is always beset by aging, a stigmatized identity). Actors must depend on connections, usually mediated by agents who help them secure the next audition, whether in theater, television, or film.
The whole art world, in each of these arts, is, for the most part, one big borderless workplace.
Auditions are not rule-governed, and are notoriously unpredictable. (Contrast, again, symphony orchestras, where rules for auditions are described in the union contract, and where gender- and race-blind auditioning, behind a curtain—at least until the final round, when the player must play with the orchestra—has created a revolution in the cast of characters of US orchestras, especially by contrast to those in Europe today, where there's no such practice.) The same is basically true of solo musicians and singers, whether in cabaret or opera.
Basically, you are always selling yourself to someone, and your good fortune only lasts so long. In Europe, national repertory companies sometimes offer tenured employment, but even in those US repertory companies that have "regulars," those people cannot be assured of employment year to year. In short, while you are engaged in one job, you must always have your mind on two or three others. And even if the current job involves no abusers, you still have to fear the predation of those who control the next opportunity.
In short, the whole art world, in each of these arts, is, for the most part, one big borderless workplace. This means that certain people with great power and wealth can influence everyone's chances, more or less. Even if you are not currently employed by Harvey Weinstein or seeking employment within his production company, in a very real sense you always are seeking employment and you don't know when you will need the good favor of a person of such wealth, power, and ubiquitous influence.
Even if you are not employed in one of the orchestras that James Levine used to conduct, he was such a towering figure that he influenced the perception of the talents of musicians not directly hired by him, particularly because he regularly taught in programs that trained much younger musicians and charted their path upward. Even if you are not performing alongside Plácido Domingo now, you might perform with him next year; even if you have no current connection with the Los Angeles Opera, where he was general director until 2019, you don't want to rule out the possibility of ever being hired there in the future.
In the academy, figures of towering influence can also block the path of someone who wants to move to that person's university or some other place where that person has outsize influence. But academic stars don't have a wide sway over all hiring, which is typically done by a vote of the entire department, and it is perfectly possible to get secure and, eventually, tenured employment that is not vulnerable to that individual. In the performing arts, you are always auditioning, always vulnerable.
Big stars in this way insulate themselves against whistleblowing. They don't need a judicial clerk's requirement of confidentiality. The neediness of the performer is their insulation.
__________________________________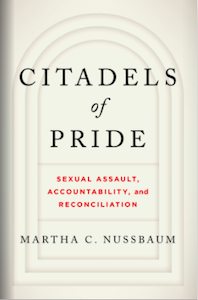 Excerpted from Citadels of Pride: Sexual Abuse, Accountability, and Reconciliation. Used with the permission of the publisher, W. W. Norton & Company, Inc. Copyright © 2021 by Martha C. Nussbaum.
---