Betina González on The Little Prince, Walden, and A Wizard of Earthsea
Book Recs From the Author of American Delirium


Welcome to the Book Marks Questionnaire, where we ask authors questions about the books that have shaped them.
This week, we spoke to the author of American Delirium (out now in paperback), Betina González.
*
Book Marks: First book you remember loving?
Betina González: Little Women by Louisa M. Alcott when I was 8, A Wizard of Earthsea when I was 15.
BM: What book do you think your book is most in conversation with?
BG: Oryx and Crake by Margaret Atwood, Walden by Thoreau, and many others that tell stories about humans trying to go back to "nature."
BM: A book that blew your mind?
BG: So many! The first one, read when I was 12: Fictions by JL Borges.
BM: Last book you read?
BG: In Defense of Secrets by Anne Dufourmantelle. It is also the last book that blew my mind 🙂
BM: A book that made you cry?
BG: The Little Prince by Saint Exupéry.
BM: What book from the past year would you like to give a shout-out to?
BG: The Dangers of Smoking in Bed by Mariana Enriquez.
BM: Favorite book to give as a gift?
BG: The Hour of the Star by Clarice Lispector.
BM: Favorite book no one has heard of?
BG: Sweet Days of Discipline by Fleur Jaeggy.
BM: Favorite book of the 21st century?
BG: So soon to tell!
BM: Favorite book you were assigned in high school?
BG: The Invention of Morel by Adolfo Bioy Casares.
BM: Book(s) you're reading right now?
BG: Hamnet by Maggie O Farrell.
*
Betina González is the bestselling author of several novels and short-story collections, for which she has won several awards, including the prestigious Premio Tusquets. She earned her MFA in bilingual creative writing at the University of Texas at El Paso and her PhD from the University of Pittsburgh. She lives in Buenos Aires and teaches at the University of Buenos Aires and New York University Buenos Aires. American Delirium is her first book to be published in English.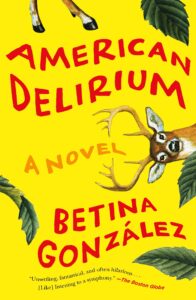 Betina González's American Delirium is out now in paperback from Holt McDougal
*
---