Behind the Republican Judge-Picking Machine
David Litt on Our Theoretically Independent Judiciary
Most drummers aren't allowed to name the band after themselves. Then again, Jay Sekulow isn't most drummers.
What distinguishes the leader of the Jay Sekulow Band (or "JSB" to superfans) isn't his musical pedigree. While the group's guitarist and singer are professional musicians, the band's namesake is an amateur, a 64-year-old attorney who shows up to gigs sporting a blazer and what looks very much like either a hairpiece or plugs. Nor is Sekulow a hidden talent. I recently ran some JSB samples by my friend Brent Katz, an indie rock drummer and journalist. He told me Sekulow is "sticking to his basic high-hat snare beat the way a kid learning to swim sticks to the shallow end." Among percussionists, this is apparently a withering insult.
No matter how uninspiring Jay Sekulow may be as a drummer, I can confidently say that as a lyricist he is much, much worse. A few of JSB's dad rock covers are actually kind of catchy. But the band's catalog of originals is—and I say this as someone who respects the creative process, and who appreciates how hard it is to make something new and put it into the world for public judgment—bad. Their biggest original hit, "Undemocratic," sounds like something from a Guns N' Roses tribute band whose members are simultaneously on mushrooms and in dire need of a nap.
Strummin' on my Gibson
singin' my song now,
Hopin' that the Feds
won't take it away now
Later in the song, Sekulow's band rhymes "become problematic" with "smell of melodramatic." Like I said, not good.
And yet here's the remarkable thing about JSB: they're popular! They book talk shows, rocking out in front of adoring studio audiences. They do massive livestreamed concerts on Facebook, where their page has 135,000 fans and counting. They're not world-famous. But somehow, despite a glaring lack of quality, they're for real.
Today, judges who would have been laughed at just a few decades ago have soared to the top of the charts.
Fall deep enough down the JSB rabbit hole, and you start questioning everything you thought you knew. After all, in pop music, there's no truly objective way to judge good from bad, so who's to say those Sekulow superfans aren't right? Perhaps 50 years from now, Beyoncé will be forgotten. "Undemocratic," grating lyrics and all, will be remembered as the defining anthem of the 2010s.
While such a transformation in taste may seems unlikely to you, the drummer leading JSB has every reason to believe it's possible. Because when he's not jamming on Huckabee, or holding a benefit concert for the right-wing nonprofit run by his family, Jay Sekulow is one of the most influential conservative lawyers in America. These days, he's probably best known for defending Donald Trump during the president's impeachment trial, but his real specialty is constitutional law Over his nearly five-decade career, Sekulow has seen firsthand that the way we interpret our nation's bedrock document is largely a matter of taste. And with his help, the judicial branch of our government has been transformed into a far-right hit parade.
Today, judges who would have been laughed at just a few decades ago—the JSB of the judiciary—have soared to the top of the charts.
If you want to understand how Donald Trump and Mitch McConnell have transformed the once-independent federal judiciary into a de-facto wing of the Republican Party, you have to start with Jimmy Carter. Carter was the first president to seize full control of the judicial nominating process. Before then, most nominations were what Time magazine called "political plums," rewards bestowed on loyal friends of Senators or supporters of political machines. Rather than pack the courts with liberal true believers, however, Carter used his leverage to appoint more women and nonwhite judges to the bench.
When Ronald Reagan took over the White House in 1980, he retained control of the control of the judicial nominating process. But where his predecessor prioritized diversity, Reagan prioritized ideology. He saw the courts as a tool for shifting American policy rightward.
Fashioning that tool became the job of the Justice Department's Office of Legal Policy. I know that sounds like the kind of bureaucratic backwater where staff wear green visors and speak in nerdy Jerry Lewis voices, but the Reagan presidency the OLP was a judicial war room. This was especially true after 1985, when Stephen Markman, one of the earliest members of a new organization for right-wing lawyers called The Federalist Society, took charge.
If you wanted to become a judge in the Reagan years, here's how the process worked. First, the Justice Department's Office of Legal Policy team would scrutinize everything you'd ever written. Then, you'd fly to Washington, where a team of lawyers would interrogate you for hours. These interviews included questions not just about judicial philosophy, but about specific rulings, a topic long considered off limits for nominees. "Of course we discussed particular cases, real as well as hypothetical," said Grover Reese, a top Justice Department advisor at the time. "Otherwise, you're settling for somebody's slogans."
At the end of Reagan's two terms, the courts didn't just have more Republican-appointed judges than before—thanks to a new and far more political nominating process, those judges were far more aligned with the Republican party's agenda than previous GOP appointees.
Both President Bushes kept Reagan's nominating process in place, and each added his own little flourishes. Before the George H.W. Bush took office, the American Bar Association would give a "not qualified" rating to judges it thought were insufficiently independent. Under pressure from the White House, the ABA changed course, agreeing to rate nominees as qualified even if they were likely to issue partisan decisions once on the bench.
Eight years later, when his son took office, he hired a host of young Federalist Society members to help him continue to transform the federal judiciary. (The most notable of these was Brett Kavanaugh, a Yale Law graduate and leading authority on malt beverages consumed at scale.) Compared to his predecessors, W's greatest contribution to the court-packing effort was to bring influence-peddlers directly into the process. The White House's outside advisors were known as "the Four Horsemen" and each served a specific purpose. Jay Sekulow (of JSB drumming fame) connected Kavanaugh and the White House to the evangelical community. C. Boyden Gray and Ed Meese, who had handled nominations for the first President Bush and Reagan, respectively, provided institutional knowledge.
The final horseman, Leonard Leo, was the Federalist Society's executive vice president. Under Leo, the FedSoc, which had been officially nonpartisan, began to change. As Leo himself later put it, "Judicial confirmations these days are more like political campaigns." The Society spun off a sister organization, the Judicial Confirmation Network, which along with other conservative groups ran commercials backing Bush's nominees. These ads were virtually indistinguishable from Republican campaigns for senator or president—a typical spot warned listeners that if Sam Alito were not confirmed to the Supreme Court, the war on Christmas would be lost forever. (Alito was confirmed, and Christmas was saved.) Supreme Court nominations had always been fundamentally political. But political donors and operatives had never been so directly involved in the nominating process.
Since the end of the Bush administration, America has been home to the following contradiction. On one hand, a small group of extraordinarily wealthy people fund the campaigns of presidents who nominate the judges; the campaigns of senators who confirm the judges; the law schools and seminars that educate the judges; the Federalist Society that reeducates the judges; the nonprofits who write friend-of-the-court briefs that persuade the judges; the lawyers who argue cases in front of the judges; and sometimes, as you may remember from Antonin Scalia's hunting trips, the travel expenses of the judges themselves.
On the other hand, we have a theoretically independent judiciary.
What is perhaps most remarkable about the Republican judge-picking machine is that, for better or worse, Democrats have nothing like it. When Obama took office, there was no liberal equivalent to the Federalist Society. No judicial philosophy mapped neatly onto Democratic Party goals. The deep institutional knowledge—the kind of long-game approach that could elevate a judge up the ranks over decades—simply didn't exist among progressives. Nor was Obama eager to fill the bench with ideologues. He wanted judges who broadly agreed with him, but like presidents of both parties prior to Reagan, he also wanted judges who thought for themselves. Mitch McConnell's Republicans filibustered them anyway. In 2015, Republicans took control of the Senate and judicial confirmations virtually ceased.
This brings us to the current administration. "In my first day," President Trump later recalled, "I said to one of our assistants, 'How many judges do I have to pick? How many are there?' And I figured I'd hear none or one, maybe two. They said, 'Sir, you have 142.'" For McConnell, who had spent his entire career trying to amass power without needing popular support, this was a once-in-a-lifetime opportunity.
President Trump has now appointed more Supreme Court and Circuit Court judges in less than four years than President Obama appointed in eight.
To say he's taken advantage would be a bit of an understatement. The American Bar Association found that Republican Senate aide Jonathan Kobes was "unable to produce sufficient writing samples of the caliber required" to demonstrate that he was qualified. He's now a judge on the Eighth Circuit. John Bush wrote a right-wing blog that compared abortion to slavery. He was roughly as undistinguished a lawyer as he was a blogger, but he chaired the Louisville chapter of the Federalist Society. Today, he's a Sixth Circuit judge.
Other Trump nominees, while not necessarily incompetent, seem to have trouble following the law. A few years ago, serving as general counsel for President Trump's Education Department, Steven Menashi devised a plan to access students' Social Security data in order to deny them student loan forgiveness. In a harshly worded reprimand, a judge found the scheme illegal. Just eighteen months later, Menashi became a federal judge himself, on a court far more powerful than the one that overruled him.
President Trump has now appointed more Supreme Court and Circuit Court judges in less than four years than President Obama appointed in eight. When we zoom out to look at all the judges appointed in my lifetime, the numbers are even starker. Sixty-two percent of the active federal judiciary, including a majority of Supreme Court justices, has been now appointed by either Reagan, George H. W. Bush, George W. Bush, or Trump. A supermajority of judges has now been chosen through an ideological screening process that did not exist as recently as forty years ago.
Picture a cartoon bill, the kind you may recall from Schoolhouse Rock!, sitting on the steps of the Capitol. (We'll call her Belle, because it's 2020 and our reboot deservers a female protagonist.) Once upon a time, a plucky animated scroll had to go overcome three hurdles before becoming a law: the House, the Senate, and the White House. Today, if Belle is supported by Republicans that's still the case. If she marches to the beat of JSB's drummer, our refashioned judicial branch won't bother her at all.
If Belle is a priority for Democrats, however—if she makes drinking water cleaner, reduces gun violence, expands health insurance, protects workers, addresses climate change, or defends a woman's right to choose—then she will face a veto point unlike any in American history. After passing the House, passing the Senate, and being signed by the president, she will inevitably wind up before a brand-new kind of Court.
The people who will render final judgment on Belle were not elected. Nor are they politically independent, by any reasonable definition of the term. Instead, after completing her journey, Belle will have to win the approval of the conservative movement, and by extension the party it controls. If these judges, groomed over decades and handpicked for ideological purity, reject her, then the entire political process will be rendered irrelevant. Belle will die.
I can't promise we can save Belle from a partisan Court, at least not immediately. But regardless of what happens to her, we should be at least about why it's happening. For hundreds of years, politicians have tried to break down the judiciary's independence and seize its power. At long last, they've succeeded. The question we face now is what to do about it.
How do you unpack a court?
__________________________________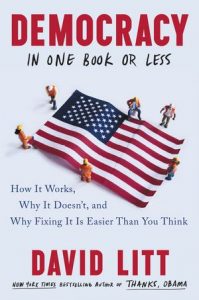 From Democracy in One Book or Less by David Litt. Used with the permission of Ecco. Copyright © 2020 by David Litt.
---