Becoming a Zoom Typewriter Poet for Hire
Brian Sonia-Wallace on Finding Unlikely Work with a Multinational Tech Company
On May 25, 2020, I got an email:
Poet wanted for corporate zoom event!
The sender, it turned out, was the event coordinator at a multinational tech company. She was looking for ways to keep her employees engaged while working remotely, and had seen my work writing custom poems for people on a typewriter. Something I hadn't been able to do again since the beginning of quarantine.
That month, the event coordinator told me, they'd worked with caricature artists to great success. Employees logged onto Zoom to get their faces rendered as cartoons. People were delighted. Could the same thing work with poetry next month?
It was a tiny stopgap to fill a gaping void. Working remotely, a friend who designed office spaces for tech companies in the old world told me, companies are facing a crisis of culture. Employee on-boarding is tough, retention is tough, satisfaction is tough. Introverted employees fall off the map completely. The water cooler culture that inspires exchanges in which ideas break free of work silos becomes impossible. It boiled down to this question, he said: in a workplace without a place, how is it possible to make people feel like they are a part of something bigger?
I got on the phone with the event coordinator to discuss what she wanted.
A 30-something guy in front of a white wall in Turkey told me he wanted a poem about basketball.
We had a month to set everything up, to hold a rehearsal for the additional poets I'd bring in, with access suddenly to poets across the country, and to put an invitation to the Zoom on Slack for 5,000 employees in offices from San Fransisco to Sydney. The poets would talk to the employees and write them poems on manual typewriters.
Each person would have ten minutes, we decided. Ten minutes to have their pain witnessed, their joy celebrated, their story uplifted, and their work day not too profoundly interrupted.
And then June happened. George Floyd was murdered by police and cities across the world erupted into protest. The national guard was in the street with tanks. Businesses boarded themselves up. Coronavirus infections, which had dipped, started back on the rise.
This was what had been happening on the morning of June 23, when I woke up at 4:30am, showered, made coffee, and sat down at the desk next to my bed with a typewriter in front of me and a computer perched awkwardly facing it. Log in: Zoom.
Open window.
I wasn't sure what to expect. Sign ups for people to get poems were slow to start, with our 5am session attracting just a few curious onlookers at the end of their workday from the Philippines and India, where religious rites were being cancelled for the first time in 300 years on account of the virus.
"That laughter is as much a part of me as my own skin," I wrote an Indian woman with a sandy beach set as her Zoom background, for her husband. She loved their trips together, but those were not possible now, and being home in each others' hair all the time was taking its toll. She wanted a poem for him as a reminder of the good times. "We eat anything, we go anywhere," she told me, describing their boundless adventures.
"We are hungry with each other," I add, a poetic flourish.
A 30-something guy in front of a white wall in Turkey told me he wanted a poem about basketball. He was living with his father again, aware, for the first time, of his body aging as he ran solitary drills on the court. "This discipline…it's part of you," I wrote him, "one of the old timers, trying to be like Hakim."
"What barrier are kilometers / to memory? / To the way you tender me / with your voice, / just that voice / on the other end of the line."—this for Indian lovers in a long distance romance, with the prospect of reunion a distant blur, holding onto the intimacy of video calls.
Not everyone took the offer for a poem so seriously. "Do you long for me / as I long for you?" I wrote with all the melodrama I could muster for a Russian with a twinkle in his eye who asked for an ode to the comfortable office chair, abandoned in the empty office.
Do I mean warmth as much
as you mean comfort? Or am I
just another butt
sore from sitting at home?
Employees started getting wise to the possibility of a poem in the coming days. They would show up every ten minutes on our Zoom screens, from Australia, from New York and San Fransisco. Their stories mirrored each other, folks making sense of change and coping with anxiety.
"8 months fold into 17 days, / the whole world into a teenaged / bedroom, minus the rebellion," I wrote a woman in Australia who was supposed to be on an eight-month trip around the world, but had moved back into her parents' house and got this job instead. Australia's borders remained closed, but at the end of this week restrictions on gathering would be lifted.
Being in people's homes with them, almost whispering through the screen, made it feel like every story was a shared secret.
Much of the great "company culture" touted by tech giants boils down to free beer and ping pong, according to a friend of mine in the field. Her company tried to give continuing education and yoga but free beer remained the most popular and most important offering on the table. Those office happy hours were essential, though, she conceded, as a space for people to get stuff off their chests, folks whose tension would otherwise build up with no valve for release.
Another woman shared a personal trauma almost as soon as she appeared on my screen, rushing to get the pain out with this a stranger at a typewriter on Zoom. She was in full business attire, with exercise equipment in the background. "Life is not going according to plan," she told me, "but I'm exercising and keeping busy."
Being in people's homes with them, almost whispering through the screen, made it feel like every story was a shared secret. In our bedrooms, everything is more immediate. We are startling to each other, over and over again, in all the usual mundane ways.
One of my favorite interactions was with a couple who Zoomed in from bed. They were laying there, in each others' arms, like a younger reflection of the old couple in Titanic who lay in each other's arms as water rushes in.
"What do you need a poem about?" I asked, by way of pillow talk.
"Our dog!" Was the enthusiastic reply. And, sure enough, they shifted the camera to show a set of paws and perky ears curled up at their feet, on the bed there with us. Just them and their dog. And me.
"paw-dancer, / heart-warmer, / bed-snuggler," I write, "the glue between two people / is sometimes just a triangle head…You teach us to be good / at love."
Most of our patrons were here and gone, we had their names but no way to follow up with them. But then, on the final day, a familiar face popped up on the screen—I'd gone on a hike with this guy at the beginning of the year, before everything shut down! It was a first date, a whim, he had been visiting spontaneously from the Bay area. We climbed up a mountain, and down, and got hamburgers, and took a picture, and went into lockdown in our respective cities. I knew he was in tech. I had no idea this was his company!
"Pause — get a / photo." I wrote him. "Document. Each moment, / a sharpening. A finding / clearer paths."
After writing each poem, I'd take a picture to send to the event organizer, who would forward it to the folks we wrote for. My old flame scoffed at that. "Here's my address," he told me. "You have to send me the typed poem."
"What did you do with it?" I asked him, months later.
"I laminated it and keep it on my desk," he said.
Some people laughed or cried when their poems were read, but the vast majority smiled and gave polite "thank you's" and logged off to go back to their emails. The world was cataclysmic. A poem was worth a smile, but usually not much more.
I poked the event coordinator—how was the reception within the company? Some employees were sharing their poems with each other on Slack, she told me. Oh, and another employee had also asked for a hard copy of his poem to be mailed. "Who?" I asked her, and was surprised at the person she named. This guy had talked the whole time in abstract terms about meaning and happiness and the world, but every time he started to hint at what felt like a personal detail, he'd shy away.
"Narrator," I wrote him, "get yourself / a trajectory!"
How can we celebrate ourselves? In this age of glass half empty, how do we fill ourselves? To remember that our stories are small, but that they have value because they are ours?
A poem isn't going to fix a world on fire. But it can remind people to take care of their own stories.
__________________________________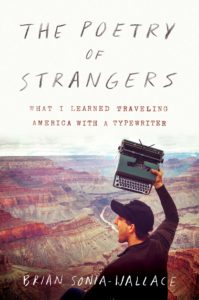 The Poetry of Strangers by Brian Sonia-Wallace is available via Harper Perennial.
---