AudioFile's Best Audiobooks of September
The Month in Literary Listening

Each month, for your literary listening pleasure, our friends at AudioFile Magazine bring us the cream of the audiobook crop.
This month's arsenal of aural wonders includes Anthony Doerr's Cloud Cuckoo Land (read by Marin Ireland and Simon Jones), Colson Whitehead's Harlem Shuffle (read by Dion Graham), and John Lewis' Carry On (read by Don Cheadle).
*
FICTION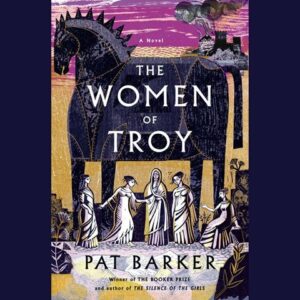 The Women of Troy by Pat Barker | Read by Kristin Atherton
AudioFile Earphones Award
[Random House Audio | 12.25 hrs.]
Author Pat Barker and narrator Kristin Atherton combine their considerable powers in this second volume of Barker's Trojan trilogy, giving us a remarkable listening experience. Filled with clever sketches of such mythic Greek figures as Agamemnon, Menelaus, Helen, and Clytemnestra, the story revolves around the now-enslaved women of Troy, and Briseis, a former Trojan slave who is pregnant with Achilles's son. Atherton imbues her clear, firm, warm voice with the intensity of a bard speaking across a campfire. Measured and vivid, she offers subtle vocal portraits of the protagonists and relishes every perfectly chosen word in this tale of honor, pride, and survival.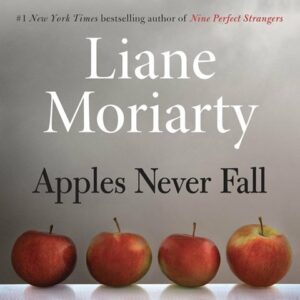 Apples Never Fall by Liane Moriarty | Read by Caroline Lee
AudioFile Earphones Award
[Macmillan Audio | 18 hrs.]
The Delaneys are not an ordinary family, and Joy and Stan, well-respected retired tennis coaches and parents of four near-pros, find themselves immersed in the mystery of a lifetime. Australian narrator Caroline Lee is an amazing performer who digs so deeply into her characters' personas that listeners will become addicted to each witty, insightful, and gutsy one. Lee's captivating dialogue reveals Joy's frustration with her adult children, her husband's lament for what could have been, and the tedium of retirement, setting the stage for uncharacteristic behavior.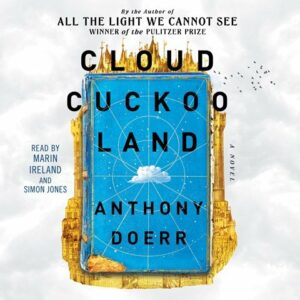 Cloud Cuckoo Land by Anthony Doerr | Read by Marin Ireland, Simon Jones
AudioFile Earphones Award
[Simon & Schuster Audio | 14.75 hrs.]
Marin Ireland and Simon Jones sparkle as they narrate this immersive time-traveling novel. They vividly deliver the stories that weave through this audiobook. A gifted mimic, Ireland performs subtle and effective accents. When she slows down to enunciate the classical Greek sprinkled throughout the text, her reading shimmers with meaning. Both Ireland and Jones are masters of pacing and cadence, which matters in an interwoven narrative that shifts in time from the fall of Constantinople (1450s) to present-day small-town Idaho and to a future set on a spacecraft.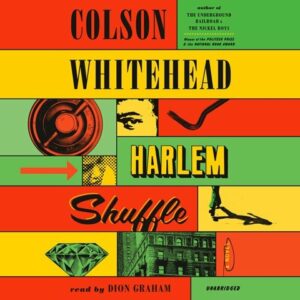 Harlem Shuffle by Colson Whitehead | Read by Dion Graham
AudioFile Earphones Award
[Random House Audio | 10.5 hrs.]
Dion Graham's performance invites listeners into the world of New York in the early 1960s. As his voice captures the feel of the times, he skillfully brings listeners the coffee shops, storefronts, and conversations of the era. Whitehead's audiobook centers on Ray Carney, who operates a struggling furniture store but is unable to escape his background in crime. Graham embodies the audiobook's many characters vividly, hitting all of the rhythms and nuances of Whitehead's outstanding period novel.
* 
NONFICTION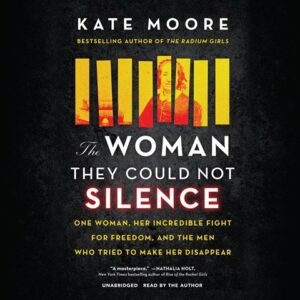 The Woman They Could Not Silence by Kate Moore | Read by Kate Moore
AudioFile Earphones Award
[Blackstone Audio | 14.5 hrs.]
Author/narrator Kate Moore delivers her stunning biography of Elizabeth Packard (1816-1897). Packard became an advocate for the rights of women and patients unjustly committed to insane asylums. Elizabeth's vindictive husband, a minister, had her forcefully committed because he feared her intelligence, opposed her defense of women's rights, and loathed her deviation from his religious beliefs. Packard's battle with powerful male figures, incendiary writing, and eventual triumph are enthralling. Moore's performance shines a light on Packard, a mother of six, who never stopped fighting against gender-based prejudice.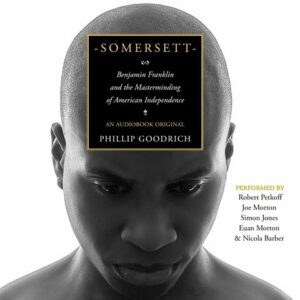 Somersett by Phillip Goodrich | Read by Robert Petkoff, Joe Morton, Simon Jones, Euan Morton, Nicola Barber, Phillip Goodrich [Note & Afterword]
AudioFile Earphones Award
[Phillip Goodrich | 13.75 hrs.]
With a sense of unbound curiosity, narrator Robert Petkoff and cast narrate this fascinating account of the background and backroom dealings that crafted and sustained the American Revolution—from its financing to its persuasive pamphlets and battle plans. A 1772 judgment by the Earl of Mansfield gave a single enslaved man, James Somersett, his freedom, creating a devastating dichotomy between abolitionist New England's creed and what the South viewed as "property rights." Benjamin Franklin hoped that the fledgling U.S. Constitution would resolve the issue of slavery. In his afterword the author provides more details on why it did not.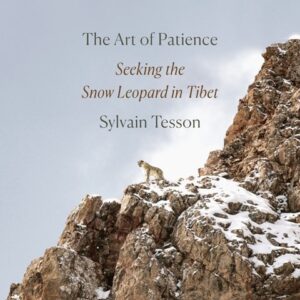 The Art of Patience by Sylvain Tesson, Frank Wynne [Trans.] | Read by David Pittu
AudioFile Earphones Award
[Penguin Audio | 4.25 hrs.]
Narrator David Pittu unpacks his full valise of vocalizations in this exceptional story of encountering one of the planet's least seen animals—the snow leopard. He narrates this all-too-brief audiobook, modulating its quiet drama, poetic riffs, and personal asides at a careful pace in a style that reveals the workings of the famous French travel writer's philosophical mind. Tesson's normally active life—he's walked around the globe—is set aside when he joins the great French naturalist photographer Vincent Munier on an excursion to Tibet, where they seek the elusive leopard.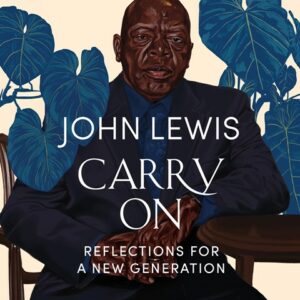 Carry On by John Lewis, Andrew Young, Kabir Sehgal | Read by Don Cheadle
[Hachette Audio | 2.5 hrs.]
This short but powerful audiobook collects the wisdom of the late Civil Rights activist and congressman John Lewis. Covering a wide variety of topics, narrator Don Cheadle wisely does not attempt to mimic Lewis's distinctive speaking voice but creates a similar effect of thoughtful consideration tempered by subtle humor. As Lewis's subjects range from reflections on racism and institutional violence to his love of cats and distaste for peanuts, Cheadle nimbly adapts his tone and style to match. A powerful foreword written and read by Andrew Young adds valuable context on Lewis's life.

---