At the World's Preeminent Feminist Speculative Fiction Convention
A Report from WisCon, Site of Decades of Debate & Safe Spaces
WisCon, the world's pre-eminent feminist speculative fiction convention, has naturally been the site of decades of debates—and even wars—over the definition of "feminism" and what that field encompasses. Founded in 1977 at the University of Wisconsin, WisCon was a product of "feminist science fiction": a moment where a group of second wave feminists started writing work addressing gender issues within a new wave of "literary" science fiction. This form has continued to evolve; at the beginning of the 2010s, under the leadership of third- and fourth- wave feminists, the convention experienced a sea change in its ethos and direction, resulting in a broadly inter-sectional outlook that makes it probably the most diverse and welcoming conventions in fandom. From their statement of principles:
At base, we recognize that a commitment to feminism means a commitment to social justice of all sorts — we might not be able to focus equally on every issue, but still we cannot pick and choose which people deserve justice and which issues we are more comfortable with.
The way this 5-day, 1000-attendee, multigenerational festival plays out is not quite what you might expect from a bunch of futurist nerds. Public bathrooms (separated genders—to be determined by the user—and all-gender bathrooms alike) have bottles of Dr. Bronner's at each sink, for the chemically sensitive. The convention reserves a quiet place for those with a tendency to become overwhelmed by sensory input, as well as "safer spaces" dedicated to trans/genderqueer people, people of color, and people with disabilities. WisCon's accessibility policies are a model of thoughtfulness.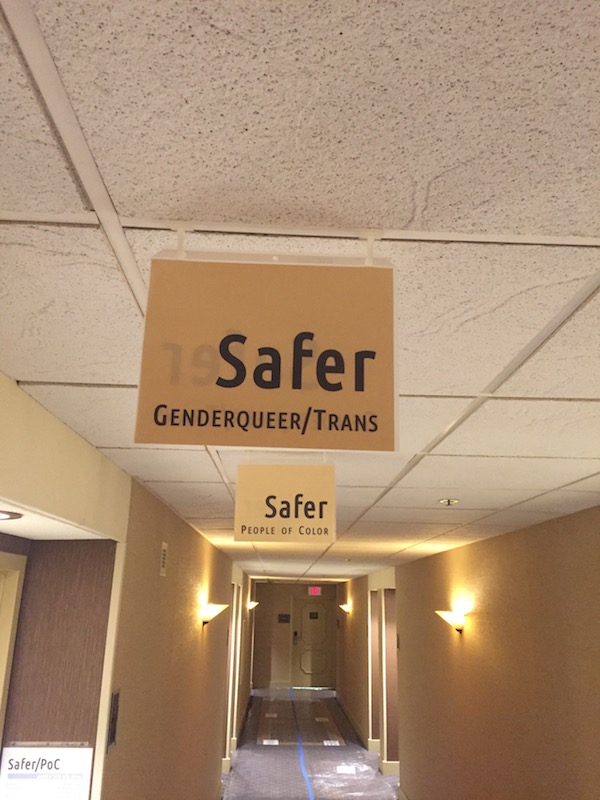 Although technically interdisciplinary, WisCon functions like a literary conference, dominated by panels, readings, and academic papers. The WisCon-y twist is that almost all of the programming is proposed, voted on, and then volunteered for by registered hoi polloi online. This anti-expert, egalitarian method sometimes results in confusing or outright retrogressive panels—or panel wars—but more often births such events as "Not Another F*cking Race Panel" (a game show populated by POC), "It's Okay To Not Like Things (But Don't Be A Jerk About It)," and "This Genre Kills Fascists."
The anything-goes programming approach also leads to a lot of programming: we're talking twelve separate tracks throughout three full days (and one half day), not including the program tracks for teens, children, and workshops, as well as the separate reading track (there are also readings interspersed among the main twelve tracks.) Every year I make some political, some educational, and some pure entertainment picks.
This year, having too much to see and do, I skipped The Gathering on Friday afternoon—a sort of fun-fair where activities include hair braiding, a clothing exchange, learning how to pick locks or sew a textile (and working!) circuit board, a gadget petting zoo, and a scavenger hunt—as well as the Opening Ceremonies that evening, which included speeches by the convention's organizers and various sub-organizations and several group filks (sing-alongs of well-known songs with humorously rewritten lyrics.)
Instead, I attended the panel "10,000 Worlds, 10,000 Feminisms: What Even IS Feminist Science Fiction Anyway?" to jump-start my convention with an overview of feminisms in SFF today, because I hadn't attended an overview panel in a long time. The conversation ranged, but grew pointed when organizer and fanfic writer Ladyjax talked about dystopias and how when "things go bad, women go to the woods; we seem to go to the woods a lot."
I spent Saturday swathed in social justice, ducking my head into "Silence Equals Death: Histories of Resistance and Activism," in which ACT-UP and Queer Nation activists applied AIDS epidemic lessons to today's issues. "Stay In Your Lane 2: Bigger, Badder, and More Intersectional," had panelists talking about the Eudocia Tomas Pulido case, Alex Tizon's Atlantic published mea culpa, and whose "feels" (the panel's word of choice) should get the main stage in that issue. I then sat on a panel, "Fighting the Erasure Within: The Journeys To Reclaim Our POC Identities," telling extremely personal stories and making use of the boxes of Kleenex the moderator provided. Finally, my reading with Mark Oshiro (Speculative Fiction 2015,) Annalee Newitz (Scatter, Adapt, and Remember,) Charlie Jane Anders (All The Birds In The Sky,) and Sunny Moraine (Singing With All My Skin and Bone,) was the fourth in a series about urban-based fantasy and sci-fi; without planning to, everybody chose to read passages about queer robot sex.
Sunday, after moderating a panel on #ownvoices in Young Adult fiction, with wonderful contributions by Anya Johanna DeNiro (Tyrannia and Other Renditions) and short story writer T.J. Berg, I sat in on a "comic matchmaking" session at the "Comics Are For Everybody" panel, where con Guest of Honor Kelly Sue DeConnick (Bitch Planet), indie comics writer Jaime Garmendia, and AV Club critic Caitlin Rosberg matched a described reader—usually a friend of the audience member—with the perfect set of comics for them.
For the final event of the night, in accordance with deep, nerdy tradition, we all dressed up in our finest long dresses and tuxes (don't assume, however, which gender was wearing which) for the dessert salon (two desserts each! Civilized!) and Guest of Honor speeches. Comic book writer Kelly Sue DeConnick (Captain Marvel, Pretty Deadly, Bitch Planet) focused most of her speech on calling out her own whiteness to decenter it, and naming the responsibility privilege confers. "Whiteness is not an absence of racial identity … it is a debt." Fiction writer, poet, and critic Amal El-Mohtar (The Honey Month) told us in her speech that her main concern, per the Bechdel-Wallace test, is how conversations between women are missing from mainstream culture. She quoted the song of a kickass female Crystal Gem from Steven Universe: "I am their fury. I am their patience. I am their conversation. I am their love," and exhorted the audience to carry the conversation at WisCon out into the world, "meet fury with patience," and "become giant women."
As much a community as it is an event, WisCon hosts a variety of sub-organizations and events that become WisCon traditions, as well as giving birth to others that eventually leave WisCon to find their way into the world.
The Tiptree Award, a literary award named after seminal feminist sci-fi writer Alice Sheldon's male pseudonym that "encourag[es] the exploration and expansion of gender," is just one of the many organizations and efforts seeded in the fruitful soil of WisCon. It kicks off with the infamous Tiptree Auction, an annual fundraiser, on Saturday. This year, interested parties could buy a superhero mask, a signed Octavia Butler first edition, or a bottle of lube signed by Gamergate target Zoey Quinn on behalf of queer dinosaur porn writer Chuck Tingle (whose latest title on Amazon is "Pounded in the Butt by Covfefe.") On Sunday night, Anna-Marie McLemore won the award for When the Moon Was Ours, and was awarded a tiara, chocolates, and a trophy, all handmade and custom. Following her speech about trans identities and trans soldiers coming home to an America that welcomes them, came the annual Tiptree filk, a song of praise for the winning title—this year sung to the tune of "Those Were The Days."
Other events founded at WisCon and becoming convention staples include the Floomp, an annual queer dance party, which started out seven years ago as "The Gender Floomp" to bring a new generation of queer and genderqueer issues to the forefront in a fun and celebratory way. As WisCon has come to increasingly demarginalize queerness, the Floomp has been folded into the traditional social programming of the convention and is now its primary and most popular party.
There's also the POC dinner, once a table for 11 at a restaurant, and now an annual organizational headache for short story writer and Angry Black Woman blogger Tempest K. Bradford, who has to find a room to fit nearly 10% of the convention's attendees every year. And last year, a group of Asian attendees got shabu shabu together; as they've already repeated the dinner once, it's already well on its way to becoming a new tradition.
Unlike the Tiptree, the Carl Brandon Society (where I once served on the board), a nonprofit dedicated to increasing racial diversity in SFF, was founded at WisCon and created its annual literary awards there, but now exists on its own as a national organization and rotates its awards ceremony among a number of conventions. Other now-independent efforts include Con or Bust (a fund to help fans of color attend conventions) and my own Traveling POC Comics Library (which debuted at WisCon this year before heading out to San Juan for NorthAmericon.)
The unapologetic nerdiness; the constant, silly, and twisted humor; the openness to difference, learning, true debate, and change; and most importantly, the room WisCon gives every attendee to impact and shape the community together with every other attendee … these are the reasons why WisCon is my "home" convention, even though I live on the other side of the country. This 2017 WisCon is not the same event as the WisCon I first attended in 2005, and I can see my own impact on that change, as well as the impact of many, many others. Next year, the event will be even more different, yet in intent and possibility, fundamentally the same, and it will move the culture incrementally forward.
---