Deep in the Heart of the Dallas Lit Scene
Just Another Thursday at The Wild Detectives
It could be any Thursday night in Dallas. But it has to be at the Wild Detectives. Because everything in the Dallas-Fort Worth literary scene today begins and ends at the Wild Detectives.
This particular Thursday night at the Wild Detectives local author Kendra Greene, an Iowa MFA and Book Arts alumna is reading from her newest book, Anatomy of a Museum, a creative essay on the Reykjavík Phallogical Museum (and museums in general) just published by Anomalous Press. Thirty or so people are gathered in the tight confines of The Wild Detectives just to hear Kendra read. I know roughly 20 of them. We come to all the literary events in town. If there's such a thing as a Dallas literary scene (and I'm here to tell you there most certainly is), we are it: Merritt Tierce, finalist for the PEN debut novel prize; Joe Milazzo, prolific author and publisher of wonderfully experimental fiction; Kim Alexander, artist, teacher, and true literary patron who believes more than most others that the written word is pure art; Sebastian Paramo, poet and Pegasus Poetry Reading Series planning wunderkind; Karen Weiner, literary aficionado, owner of an art gallery called, fittingly, The Reading Room. This list could go on. Then there's me. Founder and director of Deep Vellum Publishing, a nonprofit literary arts organization that publishes translated literature, promotes translation, and advocates for literature's place in the arts.
Then there are 20 to 30 more people hanging out inside the store—inadvertent audience, hopeful converts to the literary cause—and outside in the rustic, picnic table-strewn backyard. We've all got a mix of drinks in our hands—coffee, local beers on tap, liquor, wine, Topo Chico (nectar of the gods)—because the Wild Detectives is one of the new wave of bookstores opening up across the country that offer a little something extra on top of books. Like booze. Like their tag line: "Booze or books—it doesn't have to be just one."
Kendra's reading is funny, as one would expect from a book about the Reykjavík Phallological Museum (!), and her Q&A lasts about twice as long as her reading time. The audience ate it up. Myself included. After her reading wraps up, the audience lingers, buys copies of the book, gets them signed, and we all make some small talk, "See you at the next reading?" Yeah, we'll all be there. We always are. We are the Dallas literary scene in the flesh.
The Wild Detectives enters the scene. And creates the scene in the process.
Before the Wild Detectives opened up in early 2014, there was nowhere in town for the literarily-inclined to gather and meet each other in the flesh. To share stories and ideas. To feel the presence of a literary scene, rather than living as a smattering of individuals spread across a broad metropolitan area, all with a passion for the written word, left gasping like a fish out of water wishing somebody would throw us back into some literary waters—or to help us build a lake to live in.
In the Wild Detectives' cozy 1,000ish square foot space inside a converted house in the Bishop Arts District (the "oh my god I didn't know Dallas had a neighborhood that looked like this!" neighborhood), you can only get so many books. Pressed tight to the walls and on a display table in the middle of the room, the books wrapped around tables where customers drink and type and write and mingle; space is tight, there are roughly 1,000 books in stock, primarily damn good books from a mixture of indie presses and noteworthy authors, with an impressive selection of translated works, with roughly 20 percent of the stock dedicated each to poetry (!) and Spanish-language works. The owners—Javi and Paco—are two engineers—Spaniards who came to Dallas after stints in global cultural capitals like Barcelona, Dublin, and Mexico City—who arrived to Dallas and said, "You know, it's alright here. But you know what this city really needs? A place like back in Barcelona where we can drink some wine and hang out and where writers like to hang out too." And they named their new bookstore the Wild Detectives as an homage to Roberto Bolaño's novel (in their, and many translators', preferred translation of the title) of a literary scene.
They announced their plans to open that European-style book-café-bar just when I moved to Dallas with the plan to start Deep Vellum. If they hadn't started their store when they did I would have had to invent them to open the store that they did. Before them, we had no bookstore in Dallas.
But you can't start a publishing house in a place like Dallas without a local bookstore you can lean on to sell your books, host your events, to give you hope during dark stretches when somebody asks you for the thousandth time if Deep Vellum is a "self-publisher, like Amazon." So I reached out to the Wild Detectives the second I heard they were thinking of opening their store, and we had a lot of meetings and coffees and fun and paired up to help each other from the start. I hosted Deep Vellum's launch party there, and have brought numerous authors to town to read at the store—from Deep Vellum's own Carmen Boullosa to John Darnielle before his Wolf in White Van was shortlisted for the National Book Award. And together we've started piecing together what it means to go from a city not on the radar of the national or international (or local) literary community to a tangible literary scene, as we work to build something from the ground up. Dallas is a city of infinite entrepreneurial spirit, and a supportive place for good ideas and interdisciplinary collaboration. So you can't just start a publisher, or a bookstore, without help from people who know more than you do about things you can't imagine. As they say, the best place for a book review is out of the books section and in the rest of the paper. It's the same for a literary scene—to build it into a community you have to work as more than bookstore, more than a publisher. You have to become an entrepreneur and work to build an idea. The idea of the written and spoken word as something that is lacking, currently, but vital to our community.
Work with what you have. Work together to make what you have more awesome.
But there were literary people here before us, and neither Deep Vellum nor the Wild Detectives have been able to find success without all of their help: Wordspace, with their ever-growing calendar of literary events hosted in spaces throughout the city across numerous genres, from the Pegasus Poetry Reading Series to their Off World sci-fi book club to their bigger events in the beautiful Kessler Theater; The Writer's Garret, one of the oldest and most important literary organizations in north Texas, who host numerous writing workshops and classes, and who provided Deep Vellum with a fiscal sponsorship before we got our own 501c3 status; Carve Magazine and their staff of dedicated writers and teachers, and the damn fine magazine they publish; Arts & Letters Live, for a long time the only reading series in town, part of the Dallas Museum of Art; the Dallas Institute of Humanities and Culture, who regularly host book clubs and literary events; and then all the authors, the gems of our community, a growing number of award-winning writers across genres, styles, disciplines, like Ben Fountain, Merritt Tierce, Sanderia Faye, Joe Milazzo, Kathleen Kent, Harry Hunsicker, Sebastian Paramo, Will Clarke, Luke Goebel, Joaquin Zihautanego, LaToya Watkins… and this is all without even mentioning the great nonfiction writers at our area universities and magazines.
Defining a Dallas literary scene: the importance of place
Dallas is the biggest city in a region with a rich literary history, yet Dallas has never been known for its literary scene. Not internationally, not nationally. Definitely not locally. But like many residents of inland Sunbelt cities, I get defensive when asked to describe what's going on in my city, as if I have to contextualize two centuries of Dallas (and Texas) history so that everything today—good and bad—can make more sense.
But where to start? Literally: where? Dallas. Fort Worth. Denton. Richardson. Arlington. Plano. McKinney. Archer City.
From Fort Worth in the west (with its TCU Press & Wildcatter Exchange literary festival) to Denton in the north (with its UNT Press & Mayborn Literary Nonfiction Festival) to Richardson (my favorite suburb, with UT-Dallas' Center for Translation Studies) to Irving (with the University of Dallas and its influential English department) Arlington (with UT-Arlington and its strong, growing translation program) to Dallas itself, with its mix of writers, budding bookstore culture, and literary festivals (Dallas Book Festival, SMU Literary Festival, Highland Park Literary Festival, Big D Reads, Tulisoma South Dallas Book Fair), the Metroplex is stacked with literary endeavors—but spread out across a mind-bogglingly massive, sprawling geographic area.
Dallas is the quintessential crossroads city—where South meets Southwest, where Plains meet Hills, where Texas in its purest essence is distilled into hyperbolic historicity. Would it be fair to write about what's going on in Dallas without mentioning our sister city Fort Worth, the famous cowboy town 30 miles to the west? Or what about Denton, often described as the current version of what made Austin unique in the 80s and 90s. What about all of the sprawling suburban cities—Richardson or Plano or McKinney or Arlington—which are surprisingly diverse and increasingly culturally interesting—in ways that can't be ignored—in no small part because they hold the vast majority of the universities in the region?
Dallas has changed a lot in the two years I've lived here—when I arrived there was no independent bookstore in town selling new books. And not just in town, but across the entire Dallas-Fort Worth "Metroplex." Now that we have the Wild Detectives the region has that one independent bookstore. This is an area as big as some European countries, with over seven million people. That's way more people than Norway.
Before the Wild Detectives, we had Half Price Books, based in Dallas, with their massive and awesome flagship headquarters on the northern edge of the city serving as our local literary hub. And they are a truly great independent used and remainder bookstore, though their stock lacks any non-bestselling new titles. No Deep Vellum. No other local, regional, or national indie publishers. But it's where you and I go to stock up on remaindered first edition hardcovers that our favorite New York and London publishers release into the wild. And it's also worth mentioning that they have 19 (!) stores across the Dallas-Fort Worth Metroplex, among all those suburbs I mention, and among all the suburbs I never mention. NINETEEN. In most of the cities and towns in our area, Half Price Books isn't just the only bookstore in town, they're the only bookstore that has EVER been in town. Which is a real benefit to our fledgling literary community—think about those high school kids growing up in the suburbs and drifting into a Half Price Books and hopefully stumbling across a copy of a Kurt Vonnegut or Italo Calvino. So Dallas does have a robust used bookstore community that needs to be engaged, because they have the same goal we all do: connecting readers with books and authors they will love. And that's the noble mission that drives all of us every day. It's what's driving me to write this right now.
"in dallas the literary arts are as fecund as winter horticulture in toronto" –tweet by a member of the Dallas media on May 12, 2015
The New York literary community doesn't care about building a readership in Dallas. So it's up to us in Dallas—and every other city in the country—to do it ourselves. It all makes me feel so optimistic about the future of the literary community in not only north Texas, but in every corner of this gigantic country we call home. Because the future of literature in the US will not be in the traditional cultural capitals, but in the cities that have lacked literary recognition in the past. The cities of untapped potential. Because you could look at Dallas and see a wasteland. Or you could look at Dallas and see opportunity: to build a new readership; to build a literary community; to make a difference in the life of the literary arts that have sustained my life.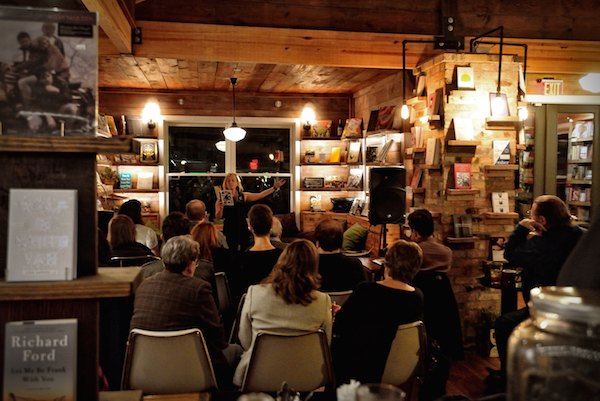 This is what drives me every day to make Deep Vellum into a long-lasting, impactful literary organization cultivating the next generation of readers—readers who understand the power of the written word, the power of literary culture—benefiting readers, writers, and publishers everywhere across the country. It's what's driving me to open another bookstore in town—because I truly believe every neighborhood in Dallas should have a bookstore that reflects that neighborhood's character. And I believe every reader deserves access to books. Books are power, and bookstores and libraries give access to that power. And in a city like Dallas, that access has to grow if we want to survive and flourish into the future. That's the power of the Dallas literary scene right now. It's small. Growing. Powerful. And filled with infinite potential.
---