At the Intersection of Journalism and Memoir: A Reading List
Daisy Hernández on the Six Books That Helped Her Find the Way She Needed to Write
Featured image by Ana Teresa Fernandez (cover detail from All the Agents and Saints).
For years, I labored on a memoir in the margins of my life (weekends, vacations), and I spent my days working as a journalist and editor. It was the perfect marriage. The memoir demanded solitude, silence, and many boxes of tissues. The journalism countered all of that by pushing me out into the world to talk to people, hold their stories, and, ultimately, to assemble stories that were not my own. Maybe it was an unconventional marriage; readers wanted to know how much I had struggled to write my own story, trained as I was to write the stories of others. But I had not struggled, at least not in that way. Having complete strangers trust me with their stories reminded me over and over that our most intimate stories can reveal the most public truths. I could not imagine working on a memoir without my life in journalism.
Then, my marriage hit the rocks. I'm speaking here of journalism and memoir. I wanted to bring them together for my new book, The Kissing Bug: A True Story of An Insect, a Family and a Nation's Neglect of a Deadly Disease, and yet, I had spent years keeping journalism and memoir separate from each other in my life. I knew how to write memoir and how to generate a traditional work of journalism, but the fusion of the two felt utterly mysterious.
I realized with a jolt that my writing life had become like Frida Kahlo and Diego Rivera's marriage. The two artists famously lived and worked in Mexico City in twin home studios that were connected (and separated) by a bridge. I had done the same with journalism and memoir, situating these two forms of nonfiction in their own homes, so to speak, and now I was asking them to move in together and share the same bed and coffeepot. Everyone was very unhappy, by which I mean that I was unhappy and frustrated with the writing.
I turned to my book shelves and started studying nonfiction books for the ways that other authors had mixed journalism with memoir. Some of these books were written by journalists, and a number were penned by writers who wedded research or oral histories to memoir. Here are six of the books I found particularly helpful.
*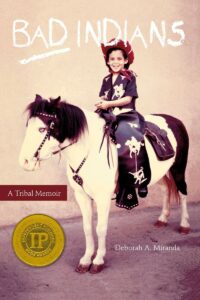 Deborah Miranda, Bad Indians: A Tribal Memoir
(Heyday Books)
California elementary schools have long insisted on teaching children a glorified version of the missions erected in the state when the Spaniards arrived in the 1700s, painfully ignoring the barbaric treatment and exploitation of indigenous people. Miranda, a poet and member of the Ohlone/Costanoan-Esselen Nation, set out to interrogate and complicate this historical record. She dove into the archives, studying government documents, photographs, field notes, and even the diaries of priests and so-called explorers. While she used broad time periods to organize her narrative, Miranda's resulting text moves deftly from found poetry to lyric prose to micro essays. The result is a marvelous and complex work of nonfiction that blurs the boundaries of genre.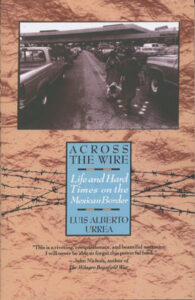 Luis Alberto Urrea, Across the Wire: Life and Hard Times on the Mexican Border
(Anchor Books)

A mentor once told me that you can often learn more by studying a writer's first work than their most celebrated book. This brought Urrea to mind. A prolific writer who has authored more than 15 books, including the nonfiction narrative The Devil's Highway, which was a finalist for the Pulitzer, Urrea first published a work of immersion journalism—a book of nine essays based on his time with relief workers in Tijuana. "When I was young, I went to war," he writes in the book's opening line, then plunges into a description of a never-ending fight against poverty, violence, and despair. His lengthy prologue is divided into "Border Story" and "My Story," allowing him to seamlessly shift from the perspective of the observer to his own family's account of the border. Each essay that follows is a poignant and often breathtaking portrait of the women, children and men who make their homes and lives in Tijuana's trash dumps.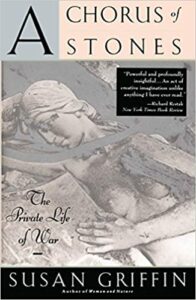 Susan Griffin, A Chorus of Stones: The Private Life of War
(Anchor Books)
Griffin, the celebrated feminist author, started this book with a question: when and how did it become acceptable, even commonplace, to target civilians during war? She consulted diaries and historical documents. She interviewed survivors of war. She studied war photography. But she begins her book with a redefinition of memoir, writing, "I do not see my life as separate from history. In my mind my family secrets mingle with the secrets of statesmen and bombers." Rather than battle to make memoir and journalism come into alignment, Griffin insists on the artifice of such divides as well as the fabrication of a divide between public and private matters, between the wars waged at the border and those waged against the bodies of young girls at home.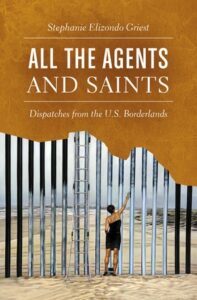 Stephanie Elizondo Griest, All the Agents and Saints: Dispatches from the U.S. Borderlands
(University of North Carolina Press)
Call it the journalist's paradox, but it is often harder to write about your hometown than it is to write about a city you're visiting for the first time. This is what makes Griest's book so intriguing. After years of chronicling places like Russia, China, Eastern Europe, and the Caribbean, the journalist returns home to Corpus Christi, Texas, and the US-Mexico border to find people deeply marked by environmental abuses, drug violence and a steel border wall. "Did you listen to my tree?" a woman demands of Griest, because in this in-between world, people are finding answers, at least spiritual ones, in the most unlikely of places. Moving to the US-Canadian border, the journalist discovers that Mohawks from the Akwesasne Nation are facing a similar legacy of colonialism as Tejanos. Griest is clearly a journalist at work and yet memoir is the framework for her journalism. Her journey as both a daughter and reporter of the borderlands drives this incredible book.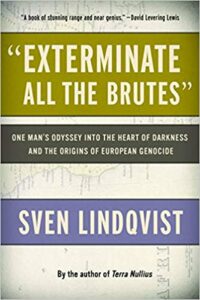 Sven Lindqvist, "Exterminate All the Brutes": One Man's Odyssey Into The Heart of Darkness and the Origins of European Genocide
(The New Press)
I turned to this book because I wanted to write about the histories of medicine, disease, and race, and I wondered how a writer could make such a famous line from Joseph Conrad's The Heart of Darkness intriguing for readers. Frankly, I also questioned how he could link this book and the serious topics invoked to anything resembling memoir. In 169 numbered sections, the Swedish Lindqvist narrates his travels by bus across the Saharan desert, as well as his quest to find the origin of Conrad's phrase. There are also numbered sections on philosophy and history, as well as the mundane, like the author turning over his luggage for a bus trip covering more than a hundred miles. In short, this is a book-length braided essay. That choice of structure allows the writer to effortlessly move across genres both within nonfiction and beyond it.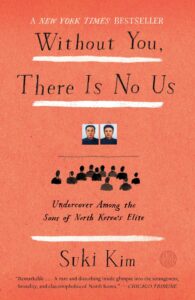 Suki Kim, Without You, There Is No Us: Undercover Among the Sons of North Korea's Elite
(Crown)
At first, Kim's book carried the term "memoir" in its subtitle, an editorial choice that she resisted during the publication process and chronicled in a must-read, blistering essay for The New Republic. She points out that the subtitled indicated "I was being moved from a position of authority—What do you know?—to the realm of emotion: How did you feel?" Kim's book eventually got the subtitle it deserved, as it does it indeed chronicle her months undercover in North Korea, where she taught the sons from elite families and tried to understand how people live and survive under an authoritarian regime that has closed North Korea to the world for so long. Kim is, of course, risking her own life in the process of reporting, and that risk is apparent throughout the book. The memoir element here is the book's entry point: Kim left South Korea at the age of thirteen, and she writes poignantly about this forced departure and its legacies. It's a poignant reminder that a personal narrative can be an important starting point for a critical work of journalism.
__________________________________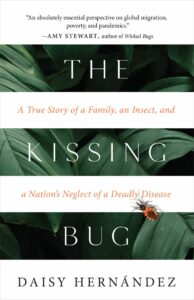 The Kissing Bug by Daisy Hernández is available now from Tin House Books. 
---