At Ellis Island, Imagining My Father's Journey to America
"Perhaps They Sat on These Very Benches, Stood Where I am Standing Now"
Old suitcases, the leather worn and scratched, others of thick patterned fabric, still others woven baskets, lids tied down by rope, a large old wooden trunk—all piled up chaotically—either left behind, their contents not passing inspection during the waves of European immigration in the early twentieth century, or donated much later by descendants of parents and grandparents who had carried them from old-country homes to ships that would take them across the Atlantic to America. Entering Ellis Island in the early years of the 21st century, I am impressed by the restorations: the original white tile floors preserved, their cracks and stains visible, dismal rooms where immigrants like my father Bill and his parents and sister would have been questioned, given basic literacy tests, submitted to mental and physical medical examinations. All is left as it was then with no attempt at romantic distortion: a museum, not a testimonial.
In the wide hall where crowds must have waited their turns for admittance to the rooms where they would be subjected to various evaluations, hoping, most no doubt praying, for admission to a promised land, a red-tiled floor stretches beneath a huge domed ceiling. Benches of pale gray stone line the sides of the room for the few—I imagine—who were first in line and could sit as they waited while hours passed, sometimes days. Steerage passengers like Bill, then still Itzrael, his parents, and younger sister Sima, might already have waited for many days on the ships before the ferries to the island retrieved them for their turn to enter the immigration center; or perhaps they sat on these very benches, stood where I am standing now. A descendant but also a tourist among many others—I gaze into glass cases containing old photographs, worn prayer books, yellowed health cards, some of them marked "passed." "Everyone was terrified," reads one page of an opened diary translated from the original Russian on a printed card; "Men in uniforms. In Russia, we learned to be frightened of uniforms." Again, I am aware of all the lost family stories, the sisters and brothers-in- law long dead, my living cousins having little or no information themselves.
There is a Hearing Room, where relatives already in America can testify that the new immigrants will not become "public charges." Did Rose and Leza, or their husbands, Dave and Abe, come to vouch for the brother and sister, the parents who had left everything known for this new, promising exile? There is a gate at the end of the rooms of examinations named "the kissing gate." Here, new arrivals and relatives already settled in America can finally meet and touch. I imagine my grandmother, Sliva Lazarovitz, seeing her two eldest daughters for the first time in years—Raisela and Eleza—rushing to embrace them, to feel their bodies in her arms; or holding back, an exhausted and confused mother confronted by these young Americans, married women, here to take her to someplace called Philadelphia. How much if anything at all did she and their much older father know of their sons' involvement in revolutionary politics, a commitment that both of them would keep in different ways until their own deaths? One is right here under their noses, only nineteen, his blond hair grown long on the long voyage, having led them from Kishinev to the trains crossing Europe and finally to a faraway place where they would board the huge ship that was to take them to this new unpredictable life, his obligations as a son overriding his own desire—despite the Cossacks, the pogroms, the anti-Semitism all around them—to remain at home. The other son God knew where, traveling toward them perhaps even now, or maybe lost or dead years before. Itzrael and Itzaac, soon to be William and Isaac, then Bill and Buck.
*
Was it the Yiddish language, I wondered—though I did not then have words for my wondering—that opened the door to my father's passing happiness as his sorrowful songs sung to us before sleep, also in Yiddish, gave lyrics to his despair?
One night, to my regret, I had asked for a translation:
You ask me my friend, how old am I? I tell you I do not know.
If living means sorrow, then I have lived so long; I've lived for many a year.
But if living means sharing the slightest bit of joy, then I wasn't yet born.
He says "borrun"—with heavily rolled r's. "It's 'born,' Daddy," I murmur wearily, hoping for sleep, turning my back to him, "not borrun." I roll my r's even more heavily than his, angry, yet also teasing him, trying to get him to laugh. Secretly I believe he is purposely exaggerating his accent, because I have heard his English, I know his capacity for beautiful phrasing and articulate rhetoric on many subjects, the voice of a deep alto tenor, words pronounced oddly at times but always perfectly chosen. I am fascinated by and attracted to his voice.
Years later, when I begin to write his story, to read the documents of his trial in Philadelphia in 1928, at which he will be accused and convicted of sedition, and even later his brilliant, sardonic, yet unfailingly principled testimony before HUAC in 1958, when I begin to imagine his first sighting of the Statue of Liberty in New York Harbor, it is his facility and devotion to language that will fill my mind and my page.
After nearly a lifetime, still determined to find an indisputable connection to him.
*
1921
The SS Kroonland has arrived in New York Harbor after weeks at sea. The famous imposing green statue stands where he has always seen her stand, in postcards, in pictures. He cannot read the words, not in English, not yet, though he already has a careful plan to study as soon as he arrives in Philadelphia. Hoping his brother-in-law will meet them on the mainland, he almost prays to the old god in whom he has long since stopped believing. He crowds onto the deck with the others, the "huddled masses"—among the few words and meanings he knows, the English letters engraved somewhere on the base on which she stands, the phrase engraved in his memory. His father has put on his thick glasses, trying to see as much as possible. His mother's eyes, red-rimmed from crying, might be mistaken for eyes filled with infection by examining officials, and he tries to quell his anxiety, always an accompaniment to his courage and determination, always nearby, threatening to drag him down. He and his sister are fine. Nothing at all wrong he could find in his own meticulous inspection that morning. And yes, he tells himself, his mother's eyes are clearly red only from tears. He turns his thoughts from fear to hope. His sister Raisela has told him in a letter that within walking distance of her home there is a public library, open to all, even to Jews. There he will be allowed to borrow books to learn English, maybe even an evening course if he can find one for free.
Over the past months he has learned the English alphabet, ever since it became clear he'd have no choice—he would have to go—bring the others, leave comrades and meetings he loved, his dreams, all his plans. He had never finished primary school, but his mind was good. He learned fast from the books he devoured whenever possible, books describing a better world, a revolutionary movement sweeping the land. His learning is accelerated by his passion to understand, his understanding deepened by the clarity—the logic—of the lessons learned from pamphlets, newspapers, borrowed books. There was no one else. No one had heard from Itzaac. An older brother, Dovedal, had left so early for America Bill hardly knew him. Bubbe was old, would soon die. So in between the evening meetings and rallies, after long hours working in the old man's tearoom, sometimes in a stolen afternoon sitting in the hills looking down on the city he hated yet still loved with all his heart, he studied the alphabet in an old English dictionary he found in the shul.
He has memorized through t, was now practicing u, v, w (always confusing the two); x ("Ecks," he says out loud, practicing, glad it was rarely used); y or vy? (the problematic w again); and z, easiest of all.
As the ship moves slowly past the statue toward the island where they will disembark, he reads the words letter by letter, copies them into his small black notebook so that later, with Raisela's help (she calls herself Rose now—the name given to her when she arrived, an American Rose), he will be able to read them in English. As they were meant to be read.
"Keep, ancient lands, your storied pomp! Give me your tired, your poor, your huddled masses yearning to breathe free, The wretched refuse of your teeming shore. Send these, the homeless tempest-tossed to me. I lift my lamp beside the golden door."
Into the tiny notebook he has written the letters of the words that will inspire him through all the years, that will name his own relation to her—Mother of Exiles—and he will one day be able to say, "The wretched refuse of your teeming shore, send these, the tempest-tossed to me."
And to me, he silently adds, vowing lifelong commitment as he copies the letters of the words he knows only in the Russian translation. But one day he will read the poetry correctly, exactly as it is etched into the stone. He closes the notebook and shoves it deep into his pocket. He will learn English. He will master it. He will continue his work here, he will join the Party, but he will be an American.
__________________________________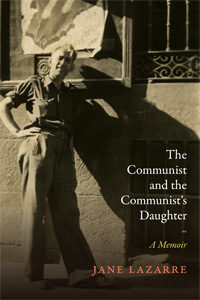 From The Communist and the Communist's Daughter. Used with permission of Duke University Press. Copyright © 2017 by Jane Lazarre.
---