Arthur C. Clarke's Scientific Romances Eschew Spectacle for Dumbstruck Wonder
John Clute on Rendezvous with Rama
As the 1960s progressed, it was clear that Arthur C. Clarke was losing his taste for the game of science fiction (SF), a decade which climaxed, for him, with the publication of 2001: A Space Odyssey (1968), in conjunction with Stanley Kubrick's Cinerama spectacle. In his rendering of the 2001 story, Clarke may be marginally more emollient than Kubrick when it comes to assessing humanity's chances of genuine uplift at the hands of a transcendent superbeing, but compared with contemporary in-house American SF visions of the future, both novel and film are baths of cold water.
Both were tortuously understood by many genre viewers as optimistic paeans to technological progress, with a bit of hoo-ha at the end; and Clarke himself never directly contradicted Kubrick's dramatic rendering of his own exceedingly measured presentation of his clear message—also articulated in Childhood's End, and hinted at strongly in Rendezvous with Rama—that as a species we may simply not quite measure up.
But this calm magisterial verdict, couched smilingly, mattered little to his own career, even when understood correctly. The huge success of 2001 had both made him rich and transformed him into a world gure; an addressable, venerated guru whose declarations on the shape-of-things-to-come were now given to the world at large. The best of this nonfiction work was collected years later as Greetings, Carbon-Based Bipeds! (1999), a huge volume whose title perfectly sums up the coign of vantage from which he wrote: which is to say, as though from the future itself, from somewhere on the far side of the slingshot ending.
Here we begin to understand how Clarke could be a ringer in America, a chastening, ageless voice from beyond, telling stories that seemed to remember how the future happened, while all about him SF was full of tales of youthful heroes who thought they were creating something new. But it was more than that. Clarke was born in England in 1917, too young to have any direct experience of living in wartime; but he grew up in an England deeply shaped by the catastrophe of the First World War.
What suffuses Clarke's work is more than a simple trick of perspective. Like the work of so many of the children of H. G. Wells, from Olaf Stapledon to the nonfiction of J. D. Bernal and J. B. S. Haldane to Aldous Huxley to George Orwell, and on down to authors less well known but equally reflective of their times, like J. D. Beresford or S. Fowler Wright, Clarke is a European writer of the 20th century. He is a writer whose work is suffused with a profound sense of aftermath.
He is therefore a significant contributor to that kind of SF which, in general, critics of the field tend to call the Scientific Romance. Typical examples of the form variously contain certain elements in common: tales lacking a hero protagonist, told from a remote evolutionary perspective, and frequently depicting the world to come as doomed cyclically to repeat the catastrophes already experienced in the early years of the 20th century.
Unlike the case with American SF, there are few frontiers to be penetrated, because beings greater than us have already occupied the territory. Scientific Romances are usually narrated by a human being, who often gains insight from a mentor gure, often an alien observing Homo sapiens from some coign of vantage beyond our understanding. Whether or not such a gure actually appears in a typical Clarke story, the beyond-slingshot remoteness of his usual narrative voice seems to be that of some mentor observing us from afterwards, dropping hints to carbon-based bipeds.
The point of Rendezvous with Rama is to open our eyes very wide to something, being Homo sapiens, we may not understand. But we can see.
After the publication of 2001, with an income stream for life, Clarke might easily have taken early retirement as an author fiction. He had already declared that he was pretty well finished writing short stories, certainly in the sheep's clothing of conventional SF. But the temptation remained. He was now free to write anything he wanted, without any collaborator to share the spotlight and no magazine editors to impose their restrictions. He was soon offered an enormous advance for three more novels. He said yes. Rendezvous with Rama, which was serialized only after its book publication, is the first and nest fruit of his new freedom. It is a Scientific Romance.
Rendezvous with Rama is a first-contact narrative describing humanity's response to the perhaps inexplicable intrusion into our Solar System of a vast interstellar craft, whose mission is unknown and perhaps unknowable, though no monkey-brain human being in 2131 is willing to countenance that thought. We soon call the great visitor Rama. For more than 100,000 years Rama has been traveling at 100,000 kilometres an hour from a star system many thousand light-years distant—Clarke no longer has any use for the magic science of faster-than-light travel—but will pass through the Solar System and out of human reach in weeks.
An exploratory mission is soon mounted. The story begins. We meet Commander Norton of the Endeavour, who leaves much of the action inside Rama to his team, as a responsible commander (or Clarke protagonist) should, but he provides a consistent point of view, and a steady pair of hands.
Rama spins rapidly around its longitudinal axis, so the Endeavour lands at the top of the cylinder. Once locked down, Norton calmly and safely directs the operations necessary to get inside. The rest is pure Scientific Romance: various crises must be faced, but there are no agonistic jousts, no betrayals, no irrational feuds, no internecine anguishes caused by trivial misunderstandings, no love interest, no villains. In the last chapter of the tale, Norton is able to take pride in having accomplished his mission "without a single casualty."
The mission is to penetrate the triple airlocks and descend the triple staircases to the labyrinthine landscape along the inner rim, and to see what's inside. Rama turns out to be what the cast calls a "Space Ark." SF before 1973 is full of Generation Starships, immense artifacts constructed to convey generations of colonists, most of them typically in cryonic suspension, to new planets (the human flotilla in "Rescue Party" is an example).
But this Space Ark is more huge than that; it is a "World Ship," a new-ish critic term that usually describes a vast hollowed-out macrostructure that, by spinning on its axis, provides through centrifugal "force" the effect of gravity around its inner rim (the space station in 2001 is a miniature example). The interior of Rama measures 16 kilometers wide, 50 kilometers long—rather smaller than the World Ship featured in a companion volume to Gene Wolfe's great Book of the New Sun (1980-3)—but big enough to serve.
What it contains are marvels, and a deep secret. We are inside this world. The point of Rendezvous with Rama is to open our eyes very wide to something, being Homo sapiens, we may not understand. But we can see. The transparency of the cast, and the almost total lack of dramatic crises, leaves us able to gaze without interruption at the miracle unfolding through the enabling eyes of a cast whose only goal is to gaze upon the miracle, agape with a sense of wonder, like characters in an early Jules Verne novel. Rendezvous with Rama is easy to read fast; but perhaps it should be read slow.
The miracles within are for the reader to discover, as children discover a new playground. The deep secret of the novel, on the other hand, cannot exactly be seen, though it is implicit in every word. The slingshot ending of Rendezvous with Rama is in a sense every word of the novel. The slingshot is that the makers of Rama are beyond the reach of slingshot.
A last sentence, "The Ramans do everything in threes," may seem to hint at sequels—indeed, many years later, plagued with a debilitating illness, Clarke essentially franchised his concept to an American writer named Gentry Lee, who domesticated the wonders inside Rama into space opera—but the truth of the matter is that there can be no sequel beyond the miracles we witness inside this world, which are beyond our species' wildest imaginings. What we see inside Rama is what we get. There is no answer within, only the wonders before our eyes.
__________________________________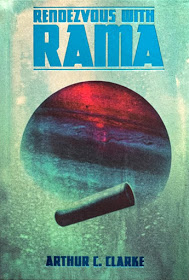 From Rendezvous with Rama. Used with the permission of the publisher, The Folio Society. Illustrations and cover design © Matt Griffin for The Folio Society's edition of Arthur C. Clarke's Rendezvous with Rama. Introduction copyright © 2020 by John Clute.
---