Are Christian Churches the Next Bastion of American Socialism?
Jack Jenkins on the Religious Left's Attempts to Fight Poverty
When Rev. Liz Theoharis told her Presbyterian Church (USA) ordination committee about her dream of eradicating poverty, she assumed it would play well. Jesus, after all, is well known for his concern for the poor.
They dismissed it entirely.
"[They] said to me, 'Well, you better not come back to us farther along in this process talking about ending poverty, because the Bible says the poor will be with you always,'" Theoharis told me.
The offhand remark was a reference to Matthew 26:11, a Bible passage in which Jesus tells Judas, "For you always have the poor with you, but you will not always have me." It's a line sometimes cited by Republicans to push back against governmental efforts to eradicate poverty, but the members of Theoharis's committee were hardly archconservatives. They were liberal mainline Christians from Theoharis's hometown of Milwaukee, Wisconsin. "Folks," as she put it, "that believed in feeding the poor and singing and praying for justice."
The exchange rattled Theoharis, who once broke into an abandoned Philadelphia church to provide homeless people with a place to sleep. She wasn't easily dissuaded from pursuing what she saw as her holy mission to fight for the poor, however. The child of activists, she remained dedicated to her call: she continued with her ordination process despite her committee's rebuke, attending Union Theological Seminary in New York City. Like most candidates for ministry in the PC (USA), she took four ordination exams, including a one-question essay test focused on theology.
When she looked down at her test paper on exam day, a familiar question awaited her: "What should the church's response to poverty be?" Her fellow test takers, familiar with her interest in the topic, all turned to her expectantly.
Several weeks later, Theoharis received her test results. She had failed.
"I was in the ordination process basically struggling with the church at every stage about what their response to poverty should be," she said. "I saw that part of my call was to move the church."
Theoharis's experience is a reminder of just how complicated discussions of economics and poverty can be among people of faith, even in progressive religious communities. It's a topic rife with different opinions and approaches, and it still triggers disagreement among various factions of the Religious Left.
While studying at Union, Theoharis became consumed with Matthew 26:11, determined to unearth its true meaning. She crafted her doctoral dissertation (which she later developed into a book) around the question of how best to interpret the passage. Unlike her ordination committee, the seminary embraced her work and allowed her to set up a poverty initiative to equip faith leaders with the theological tools to address poverty.
The new Poor People's Campaign also received cooperation from several major faith groups—including, to Liz Theoharis's surprise, her own denomination.
But when it came to envisioning a faith-fueled movement to help the poor, Theoharis kept circling back to King's Poor People's Campaign. The movement proved so inspiring to her that in 2013 she rebooted the poverty initiative as the Kairos Center for Religions, Rights, and Social Justice, "with a very explicit focus on relaunching a Poor People's Campaign for today."
She knew just whom to invite as the keynote speaker for the kickoff: Rev. William Barber.
"[We] had very closely tracked this powerful [Moral Monday] movement of impacted folks and faith leaders, who were not just speaking and praying but putting themselves on the line and doing long-term nonviolent disobedience," she said.
After their initial meeting, Barber and Theoharis quickly became partners in their pursuit of social justice. It started small, with Barber emailing the Union exegete whenever he wanted help interpreting troublesome biblical passages. Their spiritual synergy escalated quickly, and before long the two were openly planning to relaunch the Poor People's Campaign to coincide with its 50th anniversary. In December 2017, after months of preparation and training, they officially unveiled their new project: the Poor People's Campaign: A National Call for Moral Revival. It echoed King's ambition, aspiring for a series of protests to spread their message from Washington, DC, to smaller cities across the country.
It also updated King's vision, refining it for the modern era. Whereas the civil rights hero had focused his Poor People's Campaign on the three evils of racism, poverty, and militarism, Barber and Theoharis added "ecological devastation" and a "distorted moral narrative" to the list. It was part of an aggressively intersectional approach that used the power of protest to dramatize the links between poverty and issues such as racism, xenophobia, voting rights, Christian nationalism, the mistreatment of women, the cost of war, climate change, health care access, and income inequality, among others.
Barber and Theoharis worked to highlight these disparate concerns over the course of 40 days during May and June 2018, when demonstrators affiliated by the Poor People's Campaign descended on some 30 state capitals and Washington, DC. Their tactics ranged from petitioning state legislators to stopping traffic, and their protests resulted in roughly 2,000 arrests in 37 states.
The new Poor People's Campaign also received cooperation from several major faith groups—including, to Theoharis's surprise, her own denomination. The PC (USA) declared "full participation in the campaign—from our grassroots to our highest levels of leadership" when the initiative launched in December. And at the end of the 40 days of action, the denomination invited Theoharis to address its General Assembly—a major meeting that convenes every two years. When Theoharis asked how many in the assembly audience had participated in Poor People's Campaign demonstrations, "dozens if not hundreds" raised their hands.
"It was pretty amazing," she said, "I was like, 'Wait, am I among Presbyterians?'"
*
For all the talk of changing society in the Poor People's Campaign, its politics remain a strangely touchy subject.
The movement is unapologetically political in the broad sense and has accrued enough attention to catch the eye of prominent elected officials. Lawmakers hosted a hearing with the group on Capitol Hill in June 2018, offering poor and marginalized people organized by Barber and Theoharis a platform to speak about economic inequality, Indigenous rights, health care, union rights, voter suppression, and other issues. Participating lawmakers included the late Rep. Elijah Cummings and Sen. Dick Durbin as well as future presidential candidates Elizabeth Warren, Cory Booker, and Bernie Sanders—all of whom spoke at length to attendees.
Still, Theoharis acknowledged that their campaign takes something of a catchall approach, which at times can appear unfocused. The strategy isn't laser-targeted on one policy proposal, but instead embraces a generational mission to change the national narrative on a slate of issues that impact the poor.
"We have to do this big work of going broad and deep," she said. "Because we know that . . . one program, one policy isn't gonna get us out of the situation we're in."
But as Barber and Theoharis have come to learn, a shared critique of America's economic and political systems does not a unified policy agenda make, nor does it create consensus for how best to bring about the change they seek. Some of the calls for reforming their movement came from inside the house: one of the earliest critiques of the Poor People's Campaign emerged from Union Theological Seminary itself, specifically from seminary students who identify as Christian socialists.
It's a group experiencing something of a renaissance. While their numbers in the US remain small, Christian socialists I spoke with told me demand for their ideology is increasing, as evidenced by a slate of new Christian socialist podcasts created for what they say is a rapidly growing audience. "I think a lot of Christians are sympathetic to [socialism], in the sense that you've always heard a critique of capitalism," said Sarah Ngu, host of Religious Socialism, a podcast operated by the Democratic Socialists of America (DSA). "It's a pretty standard sermon to have a pastor preach about the ills of consumerism, or how people are overworked, too tired, burdened in debt, and how Jesus frees us . . . but [what] if you connect all the symptoms together and be like, 'Why are we in a rat race?'"
This conglomerate of Christian socialists, which includes such organizations as Christians for Socialism (CFS) and the DSA's Religion and Socialism Commission, was initially jubilant about the Poor People's Campaign. But CFS members at Union grew concerned about the campaign's approach and rhetoric and were particularly frustrated by Barber's rejection of the term Religious Left—a moniker CFS members claim proudly in what they insist is its most accurate political meaning. But the North Carolina pastor often said that he preferred to characterize the Poor People's Campaign as representative of the "moral center."
"CFS people at Union were saying that [Barber's rhetoric] was kind of becoming a rhetorical trope that they feared was stopping people not just from being critical of capitalism, but also from signing on to a positive vision of socialism," said Dean Dettloff, cofounder of CFS.
Religious socialists appear interested in bolstering both their own influence and that of their fellow democratic socialists.
Another activist group, the Philadelphia-based Friendly Fire Collective (FFC), echoed these concerns. FFC is a complex, multifaith religious community that was originally founded as a Quaker entity but which now transcends religious categories. Its members identify as "antifascist, anti-imperialist, and anticapitalist" and are bound together by "revolutionary leftism." FFC member Hye Sung explained the collective's position to me this way: "God's love, when it's poured out, looks like tearing down the mighty and lifting up the oppressed."
Hye Sung lamented what he said was Barber and Theoharis's aversion to speaking at length about the core evil at the heart of the US economic system.
"They don't talk about capitalism," he said.
Together, FFC and CFS published "A Christian Left, Not a Moral Center: An Intervention in the Poor People's Campaign"—a 1,500-word open letter listing their concerns. They never heard back, but Barber did find a roundabout way to address the issue while speaking at an August 2019 meeting of the Democratic National Committee.
"When we embrace moral language, we must ask: Does our policy care for the least of these? Does it lift up those who are most marginalized and dejected in our society? Does it establish justice? That is the moral question," Barber declared. "If someone calls it socialism, then we must compel them to acknowledge that the Bible must then promote socialism, because Jesus offered free health care to everyone, and he never charged a leper a co-pay."
It was not a direct endorsement of socialism per se, but it was perhaps telling that the crowd responded well to the line—and that DNC chairman Tom Perez, who was sitting behind Barber during the address, rose to his feet to join in the standing ovation. Equally telling was the outraged response from conservatives, such as FOX News host Laura Ingraham, who, in a televised conversation with Faith and Freedom Coalition chairman Ralph Reed, implied that Barber's interpretation was "dangerous."
Reed, for his part, insisted that Jesus is not a "Birkenstock-wearing socialist" and that the Bible "talks about the importance of work." He also invoked subsidiarity—a concept embraced by many conservative Christians, but especially Catholics—to argue that scripture promotes small government.
In the meantime, religious socialists appear interested in bolstering both their own influence and that of their fellow democratic socialists. When unabashed democratic socialist Bernie Sanders ran for president in 2016, Gary Dorrien, a charter member of DSA, stumped for him in front of religious audiences (something he said he did for Obama as well). Linda Sarsour, a veteran of Muslim American activism and a co-chair of the 2017 Women's March, also campaigned for Sanders at rallies and tweeted that she was a "proud member of DSA."
Cornel West, a longtime DSA member and Union professor at the time, endorsed Sanders in 2015 and campaigned for him in places like South Carolina, where he told a crowd that the Vermont senator "represents so much of the best of the legacy of Martin Luther King Jr., and Rabbi Abraham Joshua Heschel, and Dorothy Day, and Mary McLeod Bethune." He then name-checked the "one percent" before describing Sanders's vision for a political revolution as "predicated on a moral and spiritual awakening."
"The [DSA] religion and socialism caucus is strong," Dorrien told me. "It's vital."
__________________________________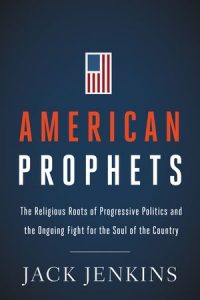 Excerpt from American Prophets: The Religious Roots of Progressive Politics and the Ongoing Fight for the Soul of the Country by Jack Jenkins. Published by HarperOne. Copyright © 2020 HarperCollins.
---