Annie Dillard on How Writers Learn to Trust Instinct
"Original writing fashions a form."
The following is excerpted from Annie Dillard's The Writing Life and appeared in Lit Hub's Craft of Writing newsletter—sign up here.
*
To comfort friends discouraged by their writing pace, you could offer them this:
It takes years to write a book—between two and ten years. Less is so rare as to be statistically insignificant. One American writer has written a dozen major books over six decades. He wrote one of those books, a perfect novel, in three months. He speaks of it, still, with awe, almost whispering. Who wants to offend the spirit that hands out such books?
Faulkner wrote As I Lay Dying in six weeks; he claimed he knocked it off in his spare time from a twelve-hour-a-day job performing manual labor. There are other examples from other continents and centuries, just as albinos, assassins, saints, big people, and little people show up from time to time in large populations. Out of a human population on earth of four and a half billion, perhaps twenty people can write a serious book in a year. Some people lift cars, too. Some people enter week-long sled-dog races, go over Niagara Falls in barrels, fly planes through the Arc de Triomphe. Some people feel no pain in childbirth. Some people eat cars. There is no call to take human extremes as norms.
*
Graham Greene noticed that since a novel "takes perhaps years to write, the author is not the same man at the end of the book as he was at the beginning… as though [the novel] were something he had begun in childhood and was finishing now in old age." The long poem, John Berryman said, takes between five and ten years. Thomas Mann was a prodigy of production. Working full time, he wrote a page a day. That is 365 pages a year, for he did write every day—a good-sized book a year. At a page a day, he was one of the most prolific literary writers who ever lived. Flaubert wrote steadily, with only the usual, appalling, strains. For twenty-five years he finished a big book every five to seven years. If a full-time writer averages a book every five years, that makes seventy-three usable pages a year, or a usable fifth of a page a day. The years that biographers and other nonfiction writers spend amassing and mastering materials match the years novelists and short story writers spend fabricating solid worlds that answer to immaterial truths. On plenty of days the writer can write three or four pages, and on plenty of other days he concludes he must throw them away. These truths comfort the anguished. They do not mean, by any means, that faster-written books are worse books. They just mean that most writers might well stop berating themselves for writing at a normal, slow pace.
Octavio Paz cites the example of Saint-Pol Roux, who used to hang the inscription 'The poet is working' from his door while he slept."
The notion that one can write better during one season of the year than another Samuel Johnson labeled, "Imagination operating upon luxury." Another luxury for an idle imagination is the writer's own feeling about the work. There is neither a proportional relationship, nor an inverse one, between a writer's estimation of a work in progress and its actual quality. The feeling that the work is magnificent, and the feeling that it is abominable, are both mosquitoes to be repelled, ignored, or killed, but not indulged.
*
The reason to perfect a piece of prose as it progresses—to secure each sentence before building on it—is that original writing fashions a form. It unrolls out into nothingness. It grows cell to cell, bole to bough to twig to leaf; any careful word may suggest a route, may begin a strand of metaphor or event out of which much, or all, will develop. Perfecting the work inch by inch, writing from the first word toward the last, displays the courage and fear this method induces. The strain, like Giacometti's penciled search for precision and honesty, enlivens the work and impels it toward its truest end. A pile of decent work behind him, no matter how small, fuels the writer's hope, too; his pride emboldens and impels him. One Washington writer—Charlie Butts—so prizes momentum, and so fears self-consciousness, that he writes fiction in a rush of his own devising. He leaves his house on distracting errands, hurries in the door, and without taking off his coat, sits at a typewriter and retypes in a blur of speed all of the story he has written to date. Impetus propels him to add another sentence or two before he notices he is writing and seizes up. Then he leaves the house and repeats the process; he runs in the door and retypes the entire story, hoping to squeeze out another sentence the way some car engines turn over after the ignition is off, or the way Warner Bros.' Wile E. Coyote continues running for several yards beyond the edge of a cliff, until he notices.
The reason not to perfect a work as it progresses is that, concomitantly, original work fashions a form the true shape of which it discovers only as it proceeds, so the early strokes are useless, however fine their sheen. Only when a paragraph's role in the context of the whole work is clear can the envisioning writer direct its complexity of detail to strengthen the work's ends.
Fiction writers who toss up their arms helplessly because their characters "take over"—powerful rascals, what is a god to do?—refer, I think, to these structural mysteries that seize any serious work, whether or not it possesses fifth-column characters who wreak havoc from within. Sometimes part of a book simply gets up and walks away. The writer cannot force it back into place. It wanders off to die.
*
The line of words feels for cracks in the firmament.
The line of words is heading out past Jupiter this morning. Traveling 150 kilometers a second, it makes no sound. The big yellow planet and its white moons spin. The line of words speeds past Jupiter and its cumbrous, dizzying orbit; it looks neither to the right nor to the left. It will be leaving the solar system soon, single-minded, rapt, rushing heaven like a soul. You are in Houston, Texas, watching the monitor. You saw a simulation: the line of words waited still, hushed, pointed with longing. The big yellow planet spun toward it like a pitched ball and passed beside it, low and outside. Jupiter was so large, the arc of its edge at the screen's bottom looked flat. The probe twined on; its wild path passed between white suns small as dots; these stars fell away on either side, like the lights on a tunnel's walls.
Now you watch symbols move on your monitor; you stare at the signals the probe sends back, transmits in your own tongue, numbers. Maybe later you can guess at what they mean—what they might mean about space at the edge of the solar system, or about your instruments. Right now, you are flying. Right now, your job is to hold your breath.
__________________________________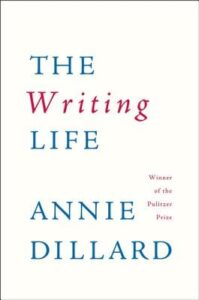 From THE WRITING LIFE. Copyright © 1989 by Annie Dillard. Reprinted here with permission from Harper Perennial, an imprint of HarperCollins Publishers.
---