Ann Patchett on Creating the Work Space You Need
The Author of These Precious Days on Navigating the Limitations of the Writing Life
There was a time I prided myself on being able to write in airports. I could write in my quiet office, sure, but I could also write in a high school gymnasium during a volleyball tournament. I could type on the bleachers. I could go to Italy and sit at a shaky little table made out of twisted wire and type. On the airplane going home, I could type on the plastic fold-down meal tray. I could work no matter where I was.
But then my right shoulder began its incremental journey upwards, creeping in the direction of my right ear. After writing all morning, I would meet a friend for lunch. "Did you do something to your shoulder?" my friend would ask. I looked over and there it was, chin level. I looked like I was holding a phone between my shoulder and ear but without the phone. I consciously eased it down. My husband never asked about my creeping shoulder, he just tapped it lightly whenever he passed, reminding me that I was askew.
Because my shoulders remained in a perpetual state of misalignment, my neck hurt all the time. My upper back grew knots the size of tulip blurbs. I bought a new desk chair which didn't help. I started to notice my hands weren't working so well anymore. My fingers would freeze and stick like keys on a manual typewriter. Bright bursts of pain ignited in my wrists and shot up my arms. I developed a relationship with a physical therapist and a massage therapist. I did the exercises they gave me with religious fervor: squeezing squishy balls, flexing my hands back, flexing my hands down, putting one hand flat against the wall and turning my body. I went to a wrist specialist who told me I had carpal tunnel syndrome and would require surgery to release the pressure on my tendons. I declined the surgery. I started answering emails with a voice activated program but the spelling came out strangely and I could never remember to verbally insert punctuation. I had made my living typing. I was starting wonder if I would need to be retrained.
I told my friend Margaret about my problems. Margaret writes a weekly column for the New York Times. She writes books. She has struggled mightily with her tendons. "Let me come over and look at your set-up," she said.
Margaret had figured out some things about ergonomics as a means of survival. She came upstairs to my office, a room that had once been the bedroom of a child. She looked at my little notebook computer. "You type on this?"
I told her I did.
She shook her head. "You have to use a full size keyboard, and you need a wrist rest. Never type on a little keyboard again. Your hands have to be straight, not turned in." She demonstrated. I saw her point.
After I bought the full-sized keyboard, I asked her to come back.
My hands were still painful but now they were painful in an entirely new way. Margaret picked up the keyboard and flipped the little kickstands back. "It has to be flat," she said. "Never tip it up. Otherwise you're pulling the tendons in the tops of your hands."
I typed a sentence and could immediately feel the difference.
"And get a stand to raise your computer. Raise your computer, lower your keyboard."
I did what she told me and then I did more. I bought a kneeling chair, which causes the veins on the fronts of my shins to swell but takes every ounce of tension out of my shoulders and neck. I went to Catholic school for twelve years, so maybe it's a matter of muscle memory, but as soon as I kneel my right shoulder floats back into alignment. Later, I bought a walking desk, because I didn't like the standing desk. When I get tired of kneeling, I get on the treadmill and walk while I type, which is not only good for my heart (sitting is the new smoking, or that's what they say), it's good for my hands. I could buy a walking desk and kneeling chair, a full-size keyboard and a computer stand for what I saved by not having carpal tunnel surgery. I could buy all those things in a multiple of ten.
I had loved writing while sitting cross-legged on various sofas, the computer in my lap, but now that those days are over, I can see it is a very small loss. Gone for me are artists' colonies and cafes. It would feel ridiculous to show up at a café with a giant keyboard and a kneeling chair. Instead I stay home and stare out one window at one tree and that's absolutely fine because I'm writing. I can still write.
__________________________________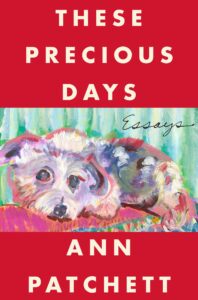 These Precious Days by Ann Patchett is available now from Harper. 
---